© 2023 Blaze Media LLC. All rights reserved.
Horowitz: Why the political class needs Ukraine to end discussion about COVID
There's a reason why Putin and Ukraine evidently cured COVID. They no longer want us discussing COVID because the daily revelations about the safety and efficacy of the shots – along with all the other lies about the pandemic – will create a frenzy of poignant and consequential questions from the public directed at elected officials. It's precisely for that reason that we must not allow them to move on. They dragged us into COVID against our will; now it is our job not to allow them to distract us from it until justice is served.
COVID is not really over. In fact, it's raging through all the countries in east Asia that seemed to escape it ... until they engaged in mass vaccination and are now suffering from their worst waves. It's just that the gas has run out of the tank on all the fascistic policies – from lockdowns and mass testing/tracing to masks and vaccines. They figured they could mask the waning (and then negative) efficacy of the shots by promoting boosters, but now the boosters are turning negative in spectacular fashion because those people have depleted immune systems. Hence, the needle and mask Twitter banners had to be replaced with Ukrainian flags.
Hong Kong is a perfect example of why COVID cannot remain in the news. "Hong Kong hospitals can't keep up with the deaths amid an Omicron surge," reads the headline of a recent New York Times piece. "Dead bodies are piling up on gurneys in hospital hallways as Hong Kong's health system is overloaded by its biggest Covid-19 outbreak of the pandemic," claims the Gray Lady. Unlike Africa, which breezed by the other variants including Omicron, far East Asia is getting hit hard ... after having been mass-vaccinated: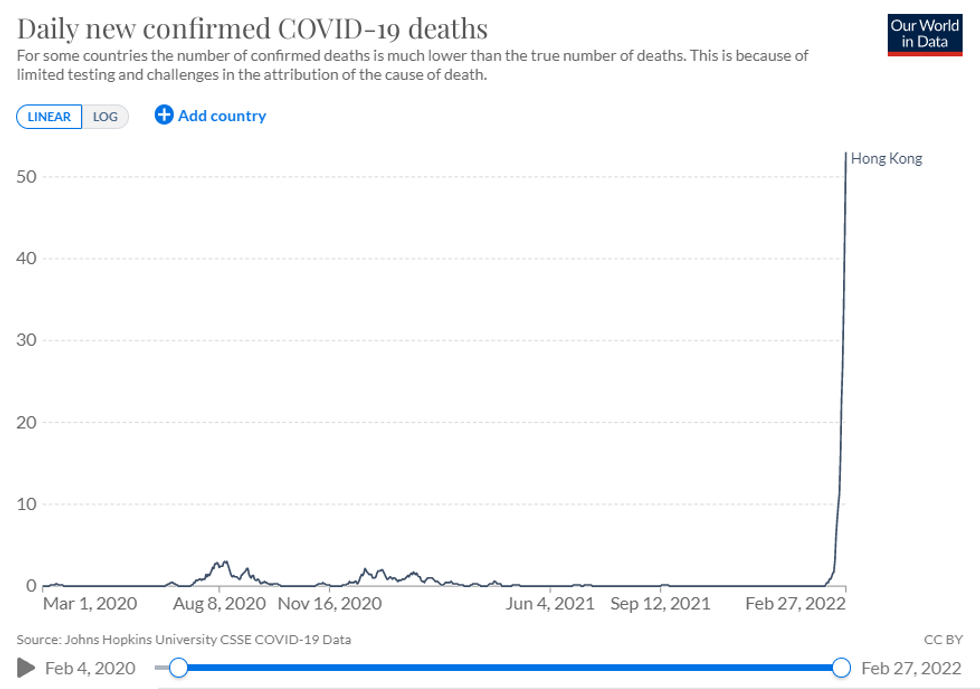 South Korea currently has more cases per capita than the USA has ever recorded... I guess "tack & trace" plus masks stopped working?pic.twitter.com/vzPZBDTLBH

— PLC (@PLC) 1646074380
What gives? Hong Kong, of course, did everything "right."
Cases in Hong Kong are now up 125,000% since Vox credited their mask wearing with controlling COVID and said \u201cnot wearing masks in Hong Kong is like not wearing pants\u201d\n\nWonder if we\u2019ll get any updates on why it stopped workingpic.twitter.com/t1cUtD33vD

— Ian Miller (@Ian Miller) 1645647200
But what is becoming abundantly clear is that not only are the vaccines following in the path of lockdowns and masks in terms of efficacy, they are going negative. The latest U.K. Health Security Agency report shows that the triple-vaxxed now have the highest case rates in almost every age group.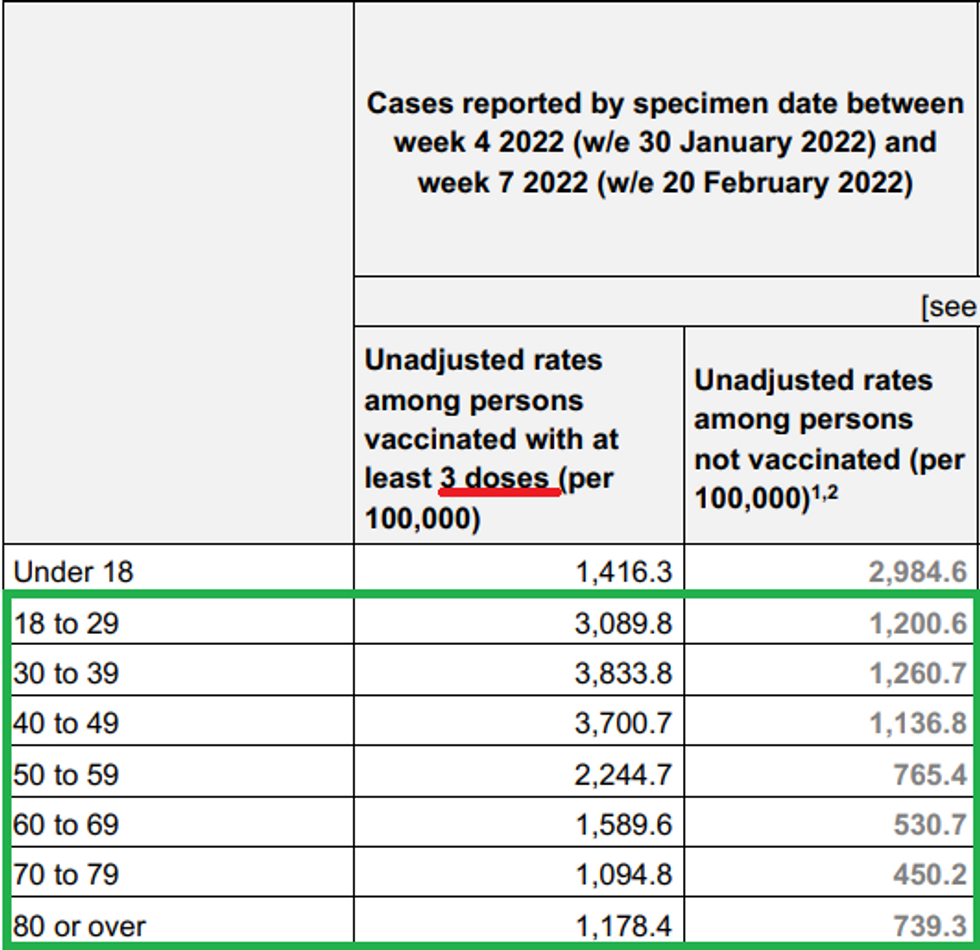 As you can see, the triple-jabbed are more than three times as likely to test positive for COVID than the injection-free population. The Daily Sceptic has conducted an in-depth analysis of the U.K. report and found that "while the death rate in the unvaccinated has been in a strong trend downwards since the start of the year, the death rate in the vaccinated has been trending upwards." Again, why should this be occurring with the mildest variant if not for some form of pathogenic priming and original antigenic sin from a botched shot?
These numbers harmonize with Israel's experience of vaccinating seniors more than any other country, yet experiencing far more excess deaths for seniors recently than during any other time of the pandemic. Here is the excess death data for those 65+ as presented by Euromono:

They are on the down slope because, perhaps, they finally achieved immunity, but isn't this what the vaccine was supposed to prevent?
Then there is the news this week about the massive New York State study of vaccine efficacy for children. Previous studies from last year hinted at negative efficacy after 6-8 months, but this study found negative 41% efficacy for children 5-11 after just 6-7 weeks!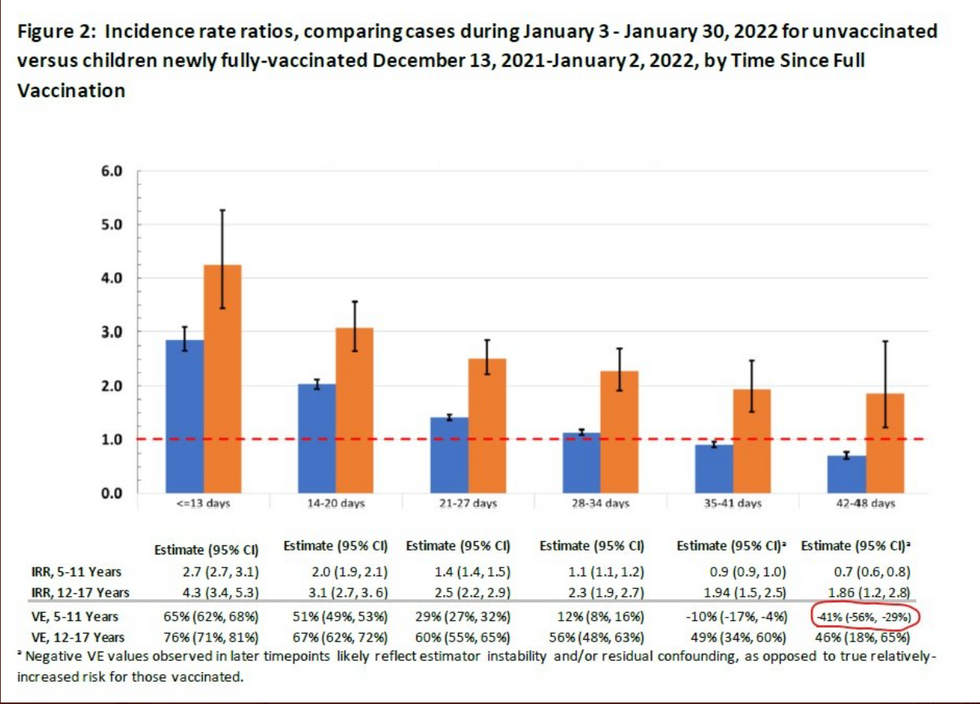 Remember, this is for a population that never needed a vaccine to begin with. It also comes at a time when "the CDC has admitted it is withholding large portions of COVID data from the public because it fears the information could be misinterpreted," according to the New York Times.
In other words, the scam finally met the end of the road. And this doesn't even begin to explore the more serious issue of injuries and long-term problems from the shots. Between the military data, Israeli survey data, German medical insurance claims, and American life insurance claims, the data is coalescing around a shocking number of injuries that show VAERS reporting was lowballing the degree of injury. Recent reports about the vaccine potentially harming DNA repair and creating bone marrow suppression, and revelations of Moderna having patented a gene sequence several years ago that is now believed to be the driving force behind making the SARS-CoV-2 spike more pathogenic, certainly make any future news cycle focus on COVID less than auspicious for the powers that be.

Perhaps this is why there is such an obsessive clamor to emotionally indulge and exhaust the public with constant virtue-signaling about Russia and Ukraine without any constructive policies in our interests. They'd rather discuss enforcing a no-fly zone over Ukraine so they can distract the public from growing demands for a no-fly zone over our bodies.
Want to leave a tip?
We answer to you. Help keep our content free of advertisers and big tech censorship by leaving a tip today.
Blaze Podcast Host
Daniel Horowitz is the host of "Conservative Review with Daniel Horowitz" and a senior editor for Blaze News.
RMConservative
more stories
Sign up for the Blaze newsletter
By signing up, you agree to our
Privacy Policy
and
Terms of Use
, and agree to receive content that may sometimes include advertisements. You may opt out at any time.