Recently, while Baltimore came under siege from rioters, I saw something that I have only seen one other time in my life.
It's one of those occurrences that makes you stop and question whether you really saw what you think you saw.
I'm referring to the coming together of some gang members in Maryland's "Charm City," at the height of looting and rioting, who stood side-by-side in unity.
Gang members pledged with rival gang members to put aside their differences in order to save their community.
You heard that right! Gang members working "together!" When is the last time that anyone saw that headline? Is it really something that can be believed?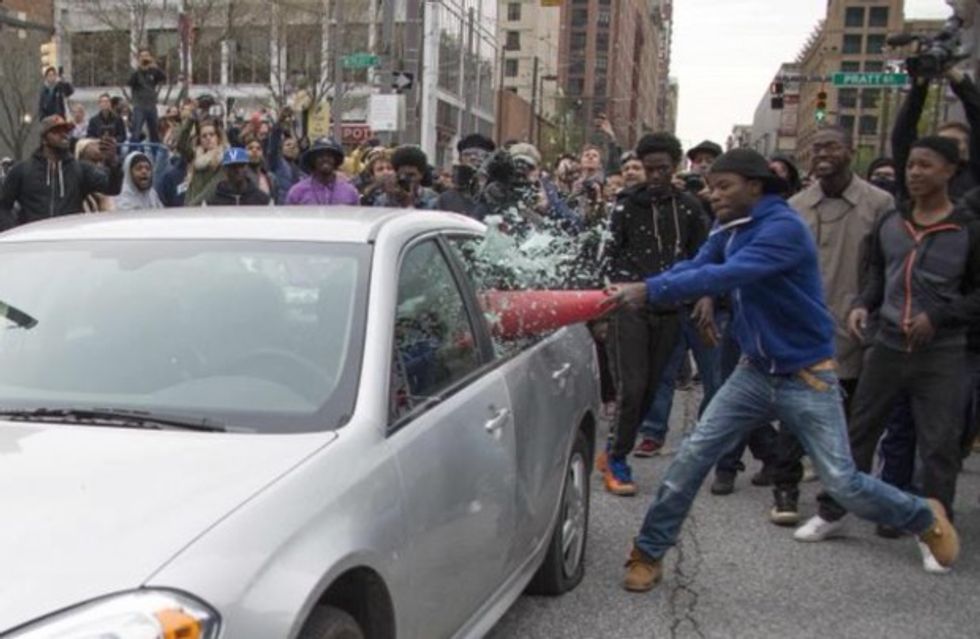 Protestors in Baltimore destroying property. 
Gangs working together is something that can be done. But many don't believe that the Baltimore gangs came together for altruistic purposes. It was widely reported that the gangs only united because they wanted to kill the Baltimore police officers standing in their way.
Others witnessed gang members protecting only black-owned businesses and directing looters to rob and destroy the stores of those owned by Chinese and Arab business owners. Not a very noble act.
Quite frankly, it comes as no surprise that people aren't buying this "new" attitude. We've come to expect just the opposite and rightfully so.
As I indicated, I've only seen gang members rally together peacefully once in my life.
When I saw the uniting of rival gangs, it was at an African-American church in southern California and it happened during the funeral of a young African-American teen who was killed by a gang member.
The 17-year-old, succumbed to a shotgun wound and died as he and his classmates waited to board a bus for school. A gang member had mistakenly thought that the teen was a rival gang member because he was much taller and bigger in size than other teens his age.
As I attended the young man's funeral and watched as the whole church broke down in tears over the senseless loss of life, I was struck by how, at least for a precious moment, gang members in attendance were able to put down their weapons and their hatred toward rival gang members; to show their respect for the teen and his family.
It was at that moment that I thought to myself, why can't it be like this all the time? Why do gangs have to kill rival gang members and innocent people? Why can't the violence just stop?
[sharequote align="center"]Put down your weapons. Lay aside your hatred for one another. Love your community.[/sharequote]
If it can be done for one day during a funeral of a teen or one day because Baltimore is on the brink of destruction, then why can't it be done all of the time?
If you actually pulled together in Baltimore to stop the violence as you claim you did, then why can't you continue that philosophy every day?
Think about it gang members: You could be such a positive force for change in a child's life. You claim that you want to help, then help. And don't do it just for the short-term but for the long-haul.
Be the father figure for those in your community who don't have fathers to look up to. If you want to change your community then first change the way you do things and the youth will follow.
Put down your weapons. Lay aside your hatred for one another. Love your community and the people in your community more than you hate someone or something else.
Nothing good ever came out of hating. Love begets love.
It may not be easy but it is certainly worth it. Can you imagine how your actions could change the lives, not only of those in your community, but those across this nation?
This nation is in need of miracles right now. Many people are suffering from loss of jobs, violence within their neighborhoods, and loss of loved ones because of the hatred toward others that seems to be spreading rapidly at times, across this great nation.
There will be many skeptics out there who will claim that you are not capable of being a force for good and that tomorrow you will return to the violence that permeates gangs. They could be right.
It's up to you, however, if you want to change those opinions and it's going to take positive actions on your part.
Do you really want to help the youth of American and those in your communities or was it all just for the cameras?
You currently effectuate negative "change" in the short-term based on the fear that people feel and many have experienced due to violence at the hands of gangs.
However, think of the long-term and positive impact you could have if you would stop your pointless violence and extend your one-day commitment to work together for a lifetime of building up rather than tearing down the lives of those your profess to love.
I challenge you to do it!
–
TheBlaze contributor channel supports an open discourse on a range of views. The opinions expressed in this channel are solely those of each individual author.