The mainstream media and many of those in power are incredibly biased. We know this. But not often does the unfortunate opportunity arise to see this bias played out before our very eyes and in such sharp clarity and contrast.
The horrific murders in Paris this week spotlighted the curious, but powerful bias the media and many on the left have toward defending Islam and Muslims as a whole. Few things are as predictable in this day and age as the hordes of talking heads and politicians that will run out to defend a faith that not only is not their own, but that I daresay they know little about.
So be it.
But just months ago, these same media figures and several of the same politicians rushed, not in defense of, but in judgment of police officers, departments and procedures after the unfortunate deaths in Ferguson, Missouri and New York City.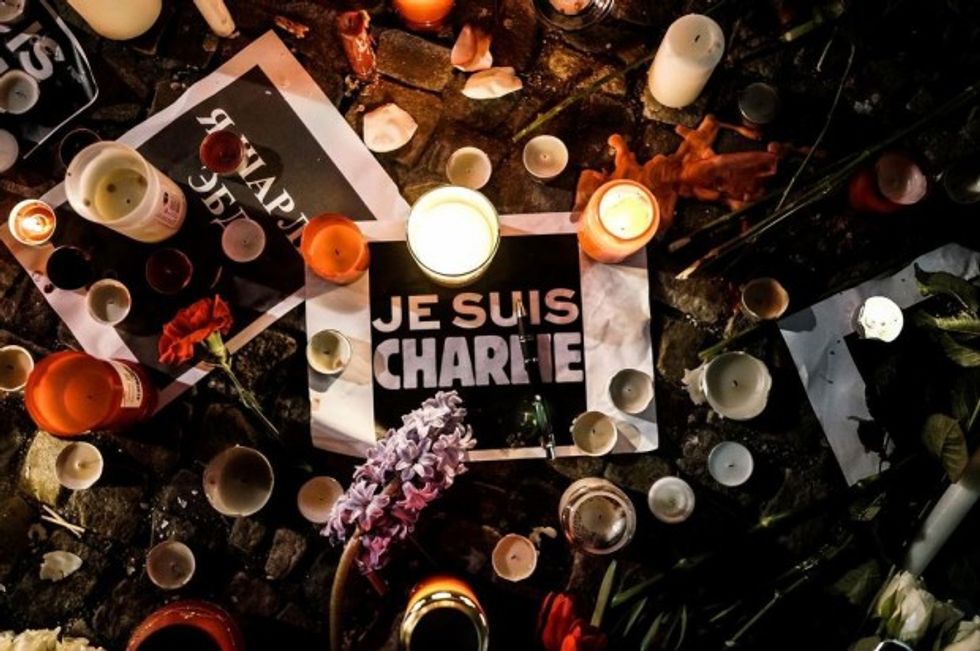 Papers with 'I am Charlie' displayed are left near candles at a vigil in front of the French Embassy following the terrorist attack in Paris on January 7, 2015 in Berlin, Germany. Twelve people were killed including two police officers as two gunmen opened fire at the offices of the French satirical publication Charlie Hebdo. (Carsten Koall/Getty Images)
These two situations, seemingly unconnected, have revealed a complete inability to be objective or even consistent in how they are handled and treated.
Many news outlets, whether on television or in print, refused to show the cartoons that inflamed the Muslim world and ultimately cost many people their lives this week. The reasons? They didn't want to insult their Muslim readers; it would only serve to inflame the situation; it would be incredibly disrespectful to Muslims for no reason.
Yet these same outlets never shied away from running hours of controversial material and commentary on Ferguson and New York City, actually digging for the most controversial things possible including the address of officer Darren Wilson.
The pictures and drawings, they argue, would inflame the situation and offend people. The publicizing of Darren Wilson's address somehow wouldn't accomplish those very things they are now trying to avoid.
Many in the media and on the left blamed police and heavily criticized police as a whole because of these isolated and, yes, rare incidents that have been foisted into the spotlight by the dividers and conquerors. They have been keen to tie these uncommon incidents to the whole as part of a systemic and pervasive problem that must be addressed.
Police officers watch protesters as smoke fills the streets Tuesday, Nov. 25, 2014, in Ferguson, Mo. Missouri's governor ordered hundreds more state militia into Ferguson on Tuesday, after a night of protests and rioting over a grand jury's decision not to indict police officer Darren Wilson in the fatal shooting of Michael Brown, a case that has inflamed racial tensions in the U.S. (AP Photo/Charlie Riedel)
Yet those same people are tripping over themselves to caution and warn against blaming Islam as a whole for any of this violence or the daily horrific violence that is committed around the world in the name of that religion. They are careful to separate these numerous incidents from Islam as a whole and repeatedly argue that it does not represent any systemic or pervasive problem with Islam.
With Islam, they do everything possible to defend the whole at the expense of a supposed few. But with police, they are quick to attack the whole because of a few.
Many on the left, including the former Attorney General Eric Holder and President Barack Obama himself, have called for a review of police engagement with minority communities and police procedures as a whole. They push for and declare that changes need to be made, conversations need to happen and we cannot wait to do them.
But do you hear any of those people talking about the need for reform that has happened in every other major religion except for Islam? Do you hear them pushing for change and reform to occur? Do you hear any of them calling for a conversation or stressing the immediacy with which they need to happen?
They wouldn't dare.
Some will argue that calling for change in Islam would be ridiculous as none of them are Muslims. Yet how many of those calling for reform in police departments around the country are police officers? Further, if it's ridiculous for a non-Muslim to call for change in Islam, then wouldn't it be equally absurd for a non-Muslim to explain and extol the tenets of Islam?
Protesters rallying against a grand jury's decision not to indict the police officer involved in the death of Eric Garner chant as they pass police while marching through Midtown in the early morning hours Friday in New York. Officers say the outcry has left them feeling betrayed and demonized by everyone from the president and the mayor to throngs of protesters who scream at them on the street. "Police officers feel like they are being thrown under the bus," said Patrick Lynch, president of the police union. (AP Photo/Jason DeCrow, File)
While the White House is feeling the need to do just that, I find it odd that there is no rush or urgency to explain the rules of engagement and the training that police officers go through and have in place to protect not only themselves but others. Where are the people rushing to explain those tenets??
While much of bias and inconsistency can be chalked up as a product of experiences or emotions, this case is actually quite unique. Not only is the difference in treatment so clear and contrasting, but nearly all evidence and reality would suggest that these two situations would be evaluated in the exact opposite way.
Perhaps this shouldn't surprise me as much as it sometimes does, but the treatment of both flies in the face of evidence and reality.
On one hand, you have many millions of people who believe that incredibly harsh punishments, including death, are appropriate for being gay, insulting their prophet, being a believer of a different religion, being a non-believer, not covering up properly and a myriad of other "offenses." You have the involvement of people invoking their own religion in virtually every violent conflict on earth. You have story upon story, every single day, of death and rape and destruction and evil done in the name of this religion – fairly or unfairly.
On the other hand, you have almost no evidence that minorities are specifically being targeted for death at the hands of police officers around the country. Even in the two cases that have sparked this racial uproar in America, the evidence does not at all point to racial motivation or animus. Show me the poll that says high percentages of police officers desire and accept the killing of minorities. You can't, but I can sure show you those kind of polls in much of the Muslim world.
Yet the former is defended at all costs in spite of the voluminous evidence that change and reform absolutely needs to occur and that there is a systemic and pervasive problem that is not being adequately addressed. The latter is pilloried and demonized repeatedly despite the lack of any substantial evidence to back it up.
The problem is not the bias itself or the incredible inconsistency on display. The true issue lies in the lack of dedication to the truth. It is one thing to speak the truth on occasion or when it suits you, it is another to be dedicated to it especially when it does not align with your beliefs. That dedication is sorely lacking in Washington and in the media at large, and has been replaced by an adherence to political correctness.
Unless we remove the iron curtain of political correctness, what happened in France is our future. Wake up, throw off the shackles of political correctness and dedicate ourselves to the truth.
It is the only way we survive.
–
TheBlaze contributor channel supports an open discourse on a range of views. The opinions expressed in this channel are solely those of each individual author.