Just as in caucus states Iowa and Wyoming before them, Coloradans over the weekend solidified their delegates who will advance to the Republican National Convention in Cleveland this summer.
Ted Cruz swept all of the state's delegates.
But accusations swirled on Saturday with photo "proof" by convention attendees suggesting that Donald Trump delegates were left off of ballots, Cruz delegates were placed on ballots twice, ballot numbers for some delegate candidates were wrong, and the Republican Party admitted that at least one delegate's paperwork may have been lost, costing him an opportunity to become a delegate.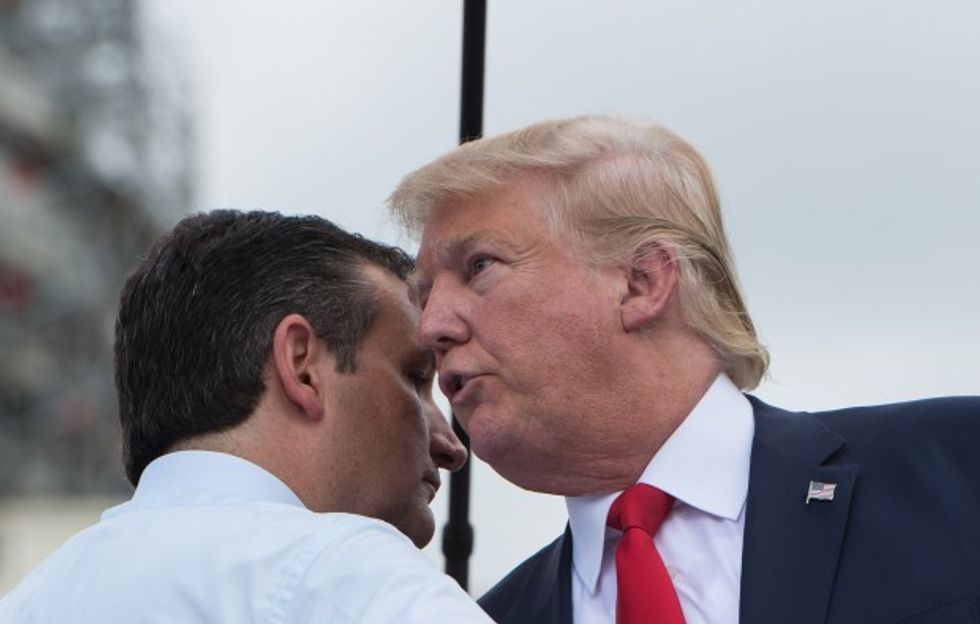 US Republican presidential candidate Donald Trump (R) is greeted on stage by fellow Republican candidate Ted Cruz before speaking at a rally organized by the Tea Party Patriots against the Iran nuclear deal in front of the Capitol in Washington, DC, on September 9, 2015. Nicholas Kamm/AFP/Getty Images 
To make matters worse in the sharply divided primary season, as the convention drew to an end the official account of the Colorado GOP published a tweet that read, "We did it. #NeverTrump." It appeared to suggest the Republican Party was glad that Trump had been shut out.
The tweet was sent out at 8:07 p.m. local time and then deleted within minutes.
The tweet is problematic primarily because it included the divisive "Never Trump" phrase created by a wing of the party who has stated they would rather vote for Hillary Clinton, a Democrat, over Trump.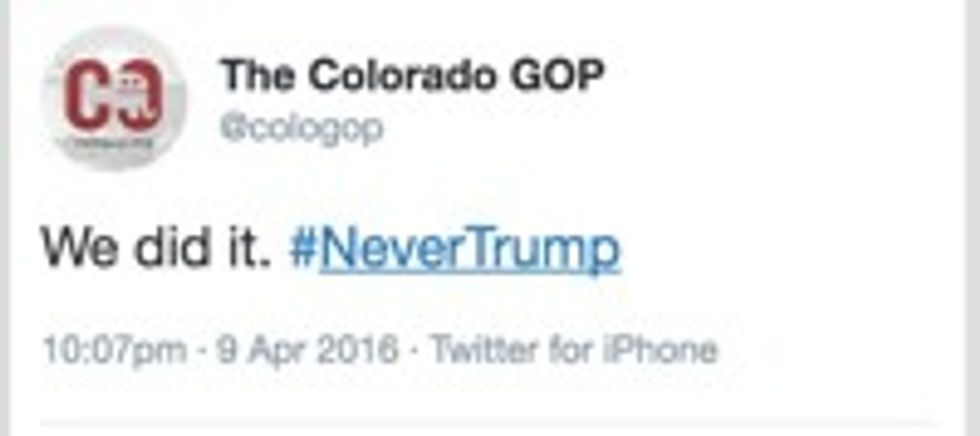 Screengrab. Courtesy of Author.
It is also problematic because state parties are required to support all GOP candidates equally during a primary season and to serve as an unbiased adjudicator at caucuses and state conventions.
To that end, the Republican National Committee recently released ConventionFacts.GOP, a website dedicated to carefully explaining the rules of convention season and specifically to underscore that the GOP does not take sides in presidential nominating conventions.
Therefore, a state party publicly supporting one campaign over another? Most certainly frowned upon.
The Colorado GOP asserted that the post was tweeted by a person with "unauthorized" access to the state party's account. But reporters in the press box late Saturday night, including myself, were not buying it.
Whether it has to do with errant tweets or the state's lenghty, convoluted process itself, it is likely that Colorado's convention craziness could cause chaos in Cleveland.
Here's how:
Trump's campaign is considering the possibility of preventing the Colorado delegation from being seated at the RNC convention. After all, Trump says if the delegates were won by fraud or administered by a party that was in the tank for Cruz, the votes should be discounted.
After Cruz's surprise blowout in Wisconsin last week and Cruz's clean sweep of Colorado, the delegate math now shows that Cruz may be able to keep Trump from achieving that magic number of 1,237 delegates after all.
With another loss handed to them, on Sunday it appeared that Trump's campaign began doubling down on convention strategy - a sign that Trump may be giving up on his effort to win any more delegates and instead focus on wining and dining delegates in the lead-up to the convention.
As if that weren't enough, top officials from Colorado over the weekend began to talk of an open convention.
U.S. Sen. Cory Gardner said that Cruz's success in Colorado "continues the momentum he gained in Wisconsin and leads to an open convention."
A party operative who agrees with that is Andrew Boucher, Gov. John Kasich's newly-hired "convention strategist" who was spotted at the Colorado convention on Saturday. I shadowed Boucher briefly as he made the rounds briefing reporters on the possibility of an open convention and even running through various scenarios with them - including the fact that "80 percent of delegates become unbound" and can suddenly vote for whomever they want if the RNC nomination process makes it through a second ballot.
Whatever the outcome at the RNC convention this summer, one thing is certain: the road to Cleveland just went right through the bumpy roads and the oh-so-Rocky Mountains of Colorado.
–
TheBlaze contributor channel supports an open discourse on a range of views. The opinions expressed in this channel are solely those of each individual author.