Americans face an unavoidable choice as to what kind of country we wish to be. This election cycle could be the tipping point.
Are we a nation that believes in individual initiative, self-reliance, and all the winning—and losing—that goes with a properly, albeit lightly regulated, market-based system overseen by a limited and de-centralized government apparatus?
Or…
Do we want to adopt a European-style social welfare state wherein a large central government is the arbiter of resources, healthcare, capital, social justice, and re-distributed earnings?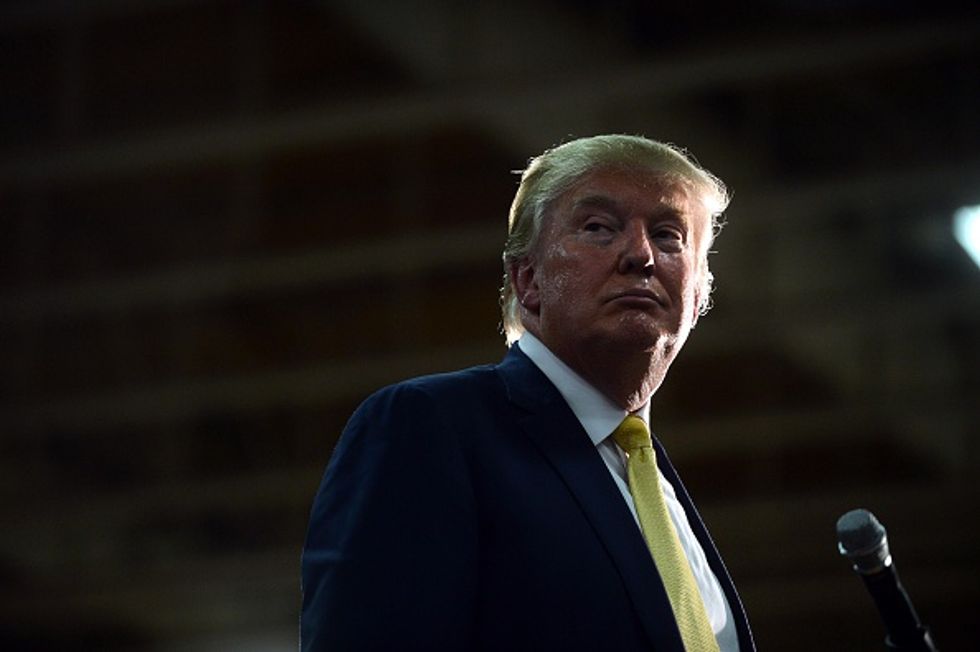 (Photo by Darren McCollester/Getty Images)
If the latter, then we simply cannot vote ourselves such a Euro-socialist government while insisting on an American-style tax code that absolves vast swaths of their responsibility to pay for the government services to which they feel entitled. This conclusion is not an expression of ideology. It is an incontrovertible reality of coldly indifferent mathematics. You cannot demand a $1 worth of government while only paying 60 cents and borrowing the balance from your kids indefinitely.
The unpleasant reality for my liberal friends is this: even if we taxed everyone making over $250,000/year at 100 percent marginal rates and confiscated every dime of profit from every Fortune 400 company we couldn't raise enough money to run the government at its current burn rate for more than six months. So you need to start taxing the entitled masses. Or you can heap debt on your kids.
Borrowing from the future to pay for present entitlements is the wickedest form of taxation without representation as the unborn cannot cast votes to block payment for our largess. The Preamble to the Constitution stresses that government has an obligation to "secure the blessings of liberty to ourselves and our posterity." Not any more.
Part of the problem is we do not have a representative government committed to the common good but rather an elitist body, disproportionately loaded with people with multiple degrees but have never run anything. The First Couple is a par excellence example of this new effete ruling class. Unlike Reagan (Eureka college), or Truman (no college) or Lincoln (18 months of formal education) these are highly credentialed and cloistered intellectuals (Harvard, Chicago, Princeton) who nonetheless earn their livings not by creating anything but rather from being political insiders for whom staying in power is the end game, not doing what is best for the country—and for posterity.
Instead of scrupulous public servants, we are stuck with, on one side, ideologically blinded Democrats who actually look to a depopulating Europe collapsing under the weight of a mathematically impossible quasi-socialism and yearn to implement that same defunct model here. On the other we have impotent Republicans lacking any political courage or even motivation to effectively oppose suicidal leftist policy shifts.
Are we really surprised at the mismanagement and corruption we see in all branches of government when these are the parties we trust to lead the nation? A leadership reboot is overdue. Donald Trump, his many warts aside, has tapped into this frustration. His acolytes see him not as a Republican per se, but one who can possibly upend the entire system that has led the U.S. to becoming the world's largest – and brokest – banana republic. Consider, the shameful Lois Lerner of the IRS can target political enemies, lie about it and/or take the Fifth, and still leave her position untouched with full benefits and pension.
Some argue that, yes Hillary Clinton has "issues" but she is not "dangerous" as a President Trump might be…although I have yet to hear such a claimant give me a concrete scenario of how Trump might steer us into the abyss. But what I do know is that Hillary not only means more of the same Obama policies (not to mention a leftist "living Constitution" Supreme Court that would do irreparable damage to the nation) but something even worse. She represents all the stink and corruption and seedy pay-to-play influence pedaling that is symptomatic of a system that allows a couple who declared themselves flat broke in 2001 to amass a fortune of well over $100 million. Much of that cash came in inflated speaking fees for Bill Clinton as well as large donations to the Clinton Foundation after his wife became Secretary of state in 2009...paid by foreign powers or businesses that had a direct interest in favorable State Department rulings.
Though bad for the country, the vortex of corruption certainly has been a bonanza for the ambitious who have found their way into the inner circles of federal power. Of the 3,141 counties in the USA, seven of the ten wealthiest are now along the Washington D.C. commuter belt.
So with the unseemly Trump versus the same old filth I find myself asking: Will Trump be worse than what came before? I have no idea. But I do know what Hillary represents. Her bought-and-paid-for ilk is driving the U.S.A into a wall. If Trump proves to be worse are you deader if you hit a wall at 175 mph rather than 150 mph? How sad for the country to even ponder such a dilemma.
In 2014 Congress had an 11 percent approval rating—but 95 percent of those who ran were re-elected. So we the people are ultimately to blame for we have repeatedly voted for those heaping an unbearable burden on the lives of future generations who have absolutely no say in the dystopic future they stand to inherit. Our leaders are spending money yet to be earned to bribe their way into yet another term of what is, for many, the only business they have ever known.
So who then is the real "danger" to the future of the Republic?
Brad Schaeffer is an energy broker, columnist, historian and author whose eclectic writings have been featured in the Wall Street Journal, NY Daily News, Breitbart, Zerohedge and has appeared on Fox and CNBC. Drop him a note at: shafemans@yahoo.com
–
TheBlaze contributor channel supports an open discourse on a range of views. The opinions expressed in this channel are solely those of each individual author.