Imagine the look on a veteran's face Christmas morning when he or she opens an envelope and then finds a golden ticket inside. Only this golden ticket isn't for entry into a chocolate factory; it's for guaranteed admission into any health care facility, and covers all services and fees.
Now that would be special.
Just your imagination?
Scott Olson/Getty Images
There is a petition afoot promising something pretty close to that.
The Veterans Medical Gold Card of Choice is a promise to every veteran that they will receive the care they deserve when they deserve it and where they deserve it. Fantasy? Fiction? Or pending reality?
The current Department of Veterans Affairs Veterans Choice Card, designed to supplement VA medical care or replace it for certain qualifying veterans had a rough introduction. Veterans who were eligible for it were confused by the rules, mistakenly feeling it didn't apply to them. Some found the system cumbersome and difficult to navigate. Still others discovered listed providers wouldn't pay, and then got into credit and debt problems trying to cover costs they thought the VA would take care of. Typical VA red tape?
The choice card was designed to allow those who required services their local VA medical facility did not provide to receive them from other medical providers. But unless the ailing veteran lives over 40 miles from a VA facility, they weren't allowed to use it.
The Gold Card would erase those limitations, but at what cost? Are members of Congress willing to put the money where their mouths are with respect to always praising veterans in speeches, but then falling short of actually passing legislation that will help veterans?
Imbedded in the Defense Authorization Act set to be voted on by Congress this week, is a plan: "TO IMPROVE EXPERIENCE WITH AND ELIMINATE PERFORMANCE VARIABILITY OF HEALTH CARE PROVIDED BY THE DEPARTMENT OF DEFENSE." The question is, will it survive the scrutiny of enough legislators to pass into law?
Homefront Hugs, an all-volunteer veterans advocacy and assistance organization is sponsoring a petition to force the Obama administration to look at the need and help realize a solution.
In their promotional material for the Gold Card, Homefront Hugs says, "We are losing 22 plus veterans a day to suicide and many just do not want the hassle or wait of the VA system for care. This alone is a reason to give them the Gold Card of Choice so they can confidentially seek help fast when needed."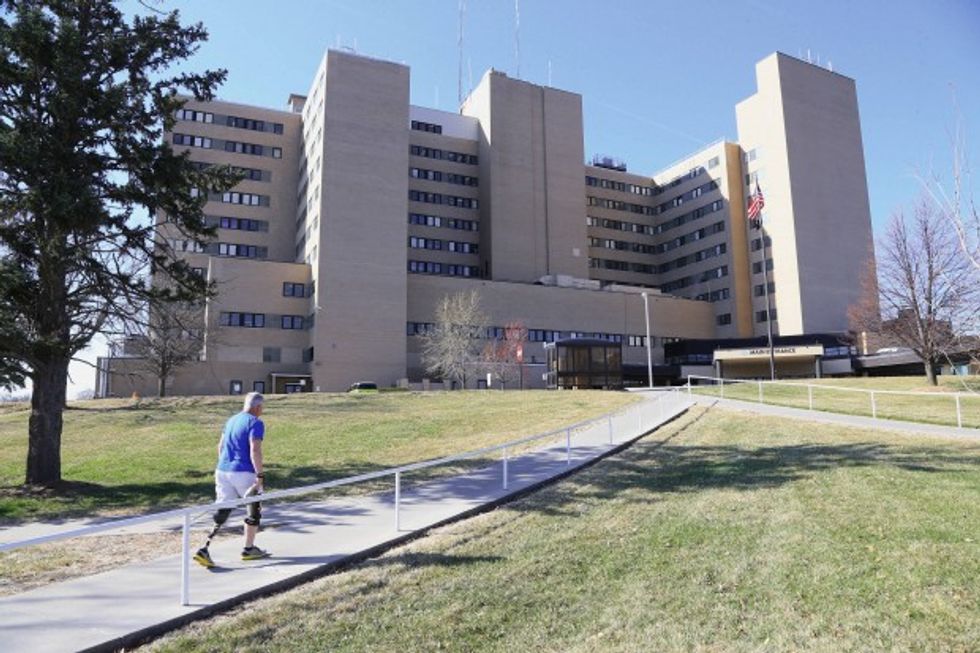 In this April 1, 2015 photo, an unidentified person with a prosthetic leg walks to the VA hospital building in Omaha, Neb. Nebraska's veterans are much more likely to quickly see doctors and other health care providers at the state's VA facilities than their counterparts around the country. (AP/Nati Harnik)
According to Jason Lowe of azfamily.com, "Congress is expected next week to take up a 'Chapter 2' of the VA Accountability Act that established the Choice Card. However, it's expected it will focus on giving the VA additional powers to fire poor performing managers, as well as provide protections for whistleblowers."
Homefront Hugs says, "Let them choose where they get mental health and physical health care. They deserve those freedoms. No more wait lists – they choose where to go just as we do."
This sounds good, but Chrisanne Gordon, MD, executive director of Resurrecting Lives Foundation, which focuses on healing the brain, not the mind with relation to Traumatic Brain Injury which leads to Post Traumatic Stress and Post Traumatic Stress Disorder, says, "I probably would not just sign a gold card petition for care only because the signature wound of the war is TBI/PTSD, and many folks with those injuries are not really capable of choosing their correct medical care. I believe that it lets the government off the hook - and I believe that care for the military members and Veterans needs to correct while in the military, with a sound hand off to the VA for care with appointments and therapy scheduled PRIOR to separation from the military. That is what we are promoting and doing."
Dr. Gordon continues, "I do not believe that a gold card will solve that issue. With only 8 to 10 percent of health care providers being trained in the proper diagnosis and treatment of TBI, getting a gold card only guarantees care of some sort, NOT correct care. We truly need a coordinated effort between the Department of Defense/VA/and tertiary hospitals to accurately diagnose and treat. Telemedicine links will be KEY to contacting the 750,000 OIF/OEF Veterans who now struggle with TBI/PTSD."
Dr. Gordon concludes, "Our all voluntary military is largely a rural population - TBI/PTSD requires skills beyond those required for colds, flu, et cetera, and can usually be found at the larger teaching facilities and health care systems. So, at a glance, where this looks really good, to this clinician, it will not solve the issues of care - just a quick glance. This, to me, is like the Clay Hunt Suicide Prevention bill - at a glance, it looks as though EVERYONE should be on board, but, if you really read that bill, it only promotes 'mental health issues and mental health providers,' which is just an expansion of the system we have now. Our heroes are out of their brains, not out of their minds, and putting more of the same treatment, with psychotropic drugs, et cetera, will NOT assist them in recovery, and may, actually, raise the suicide rate."
I believe that it can't hurt to sign a petition that calls attention to a shameful problem: getting veterans the care they need without encumbrances.
I've always felt veterans, especially disabled and wounded veterans, deserve Disney quality customer care. The Disney model should be the only acceptable model for veteran care. I worked for The Mouse once in Southern California's Disneyland Park, and I soaked in and embodied the Disney philosophy of treating everyone who walked through the front gates as if they were a guest in my own home. It made treating them with courtesy and respect easy. Hundreds of businesses take their employees through Disney customer care training every year to positively change their bottom lines. Why not the VA?
The bottom line for veterans? A golden ticket would help in some ways, but getting the right care for the right person should be the ultimate goal. Along the way if we could love and respect our heroes for their sacrifice and service, well that wouldn't hurt either. Happy Veterans Day.
Montgomery Granger is a three-times mobilized U.S. Army major (Ret.) and author of "Saving Grace at Guantanamo Bay: A Memoir of a Citizen Warrior." Amazon, Blog, Facebook, Linked-In, Twitter: @mjgranger1
–
TheBlaze contributor channel supports an open discourse on a range of views. The opinions expressed in this channel are solely those of each individual author.