I can't believe I'm typing this, but seven minutes into the Fox News Republican debate, there was a penis joke. And it wasn't from a rogue screaming audience member, it was from one of the candidates.
I'm a 20-something female, and I spent just under five years working for a college. I've heard my share of penis jokes, even laughed at a few of them. But I assure you, I wasn't laughing last night. You see, these jokes are something I come to expect from the college scene, but it's not something I want to mix with my presidential candidates.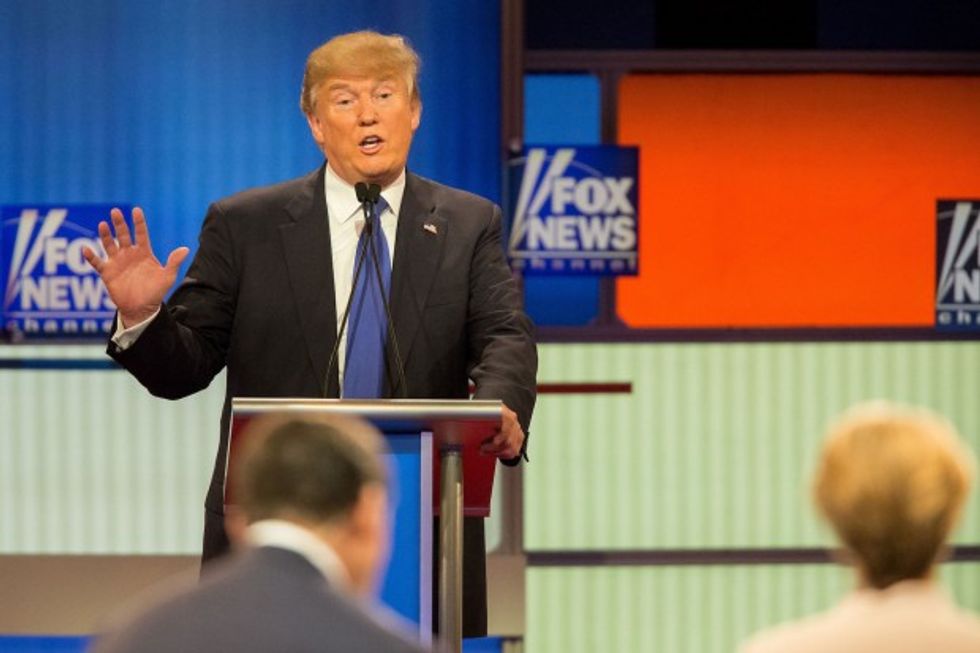 Donald Trump speaks during the Republican Presidential Debate in Detroit, Michigan, on Thursday. (Getty Images/GEOFF ROBINS/AFP) 
Perhaps it comes as a result of my serving as an intern for President George W. Bush, or maybe it was the way I was raised, but I have always come to expect a level of respect and intelligence from the Republicans running for president. Not only do I expect it, I admire it. It's what motivated me at the age of 18 to submit my voter's registration early (my birthday was only a few days prior to the election) so that I could cast my vote for Bush.
Aside from the fact that I don't see penis jokes fitting in with my presidential candidates, the really unfortunate part is that's overwhelmingly the only part of last night's debate that's being reported.
No one's talking about the fact that Trump changed his policy on refugees, much like he did with the Afghanistan War. Or the fact that Trump agreed with Sen. Marco Rubio on cutting deals and negotiating with democrats for the amnesty bill (probably because he supported Rubio in the Gang of Eight).
So what's going on with the Republicans? Is this the new face of the party? Or is it just a phase?
A new face of the party actually appeared to many of us in 2014, prior to this campaign season. The map in 2014 was overwhelmingly red, a reason for Republicans to celebrate. However, the past two years have shown reaching across the aisle as the new face of the Republican establishment.
This new face makes some Republicans happy, but angers others.
We're angry because we did our job and voted for Republicans in 2014. Instead of getting results, we got what seemed like an expansion of the 2013 Gang of Eight, among others, that totally neglect their constituents, and pass all kinds of legislation that doesn't align with our values.
Enter Donald Trump. Regardless of what you think of him, he is as anti-establishment as it gets. People know the name Trump. And in a nation where many would argue political correctness is a higher priority than terrorism, his total neglect for political correctness is appealing (even to me). Unfortunately, I think for many, knowing his name and knowing his neglect for political correctness is what seals the deal. They don't go any further to investigate his failed businesses and the liberal politicians he's supported in the past. And now, all they see in traditional and social media from last night's debate is that he cracked a penis joke.
There's another group, that I consider myself to be a part of, that is just as furious about lack of results, but prioritizes taking the time to vet candidates. We don't let anger fog our thinking. We aren't going to vote for Rubio, one of the Gang of Eight that contributed to our anger, and we see that Trump, while at times entertaining, has had many failed businesses, lawsuits and has thrown significant financial support to liberals.
We want a record of supporting conservative principles. So we throw our support to Ted Cruz, the right rebel - a man who understands our anger and frustration and will DO something productive with it.
While I believe Trump is a phase, this conflict within the GOP is real, and it's a necessary evil. The Republicans Party needs to figure out what it's going to stand for, and then those of us who consider ourselves Republicans have to decide if our values are being represented.
While I can't speak for anyone else, in the case of this conservative female, I would rather have a conservative man of faith, much like I witnessed in person with Bush, than a guy who can crack a good penis joke.
–
TheBlaze contributor channel supports an open discourse on a range of views. The opinions expressed in this channel are solely those of each individual author.