In a major speech last week former Secretary of State Hillary Clinton put forth her plan to rewrite our campaign financing laws.
She promised to upend "a political system hijacked by billionaires and special interests."
As you may have guessed, it begins with a big new government spending program – federal financing of political campaigns. Or, as someone once said, "Food stamps for politicians."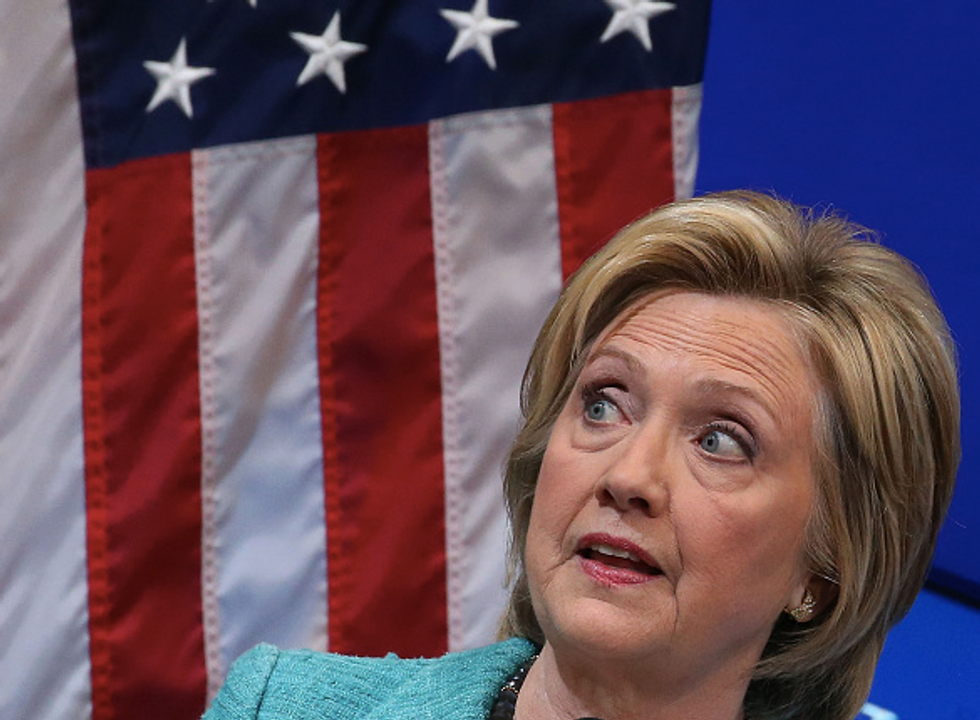 Former Secretary of State and Democratic presidential candidate Hillary Clinton speaks about Iran at the Brookings Institute September 9, 2015 in Washington, DC. Clinton spoke in favor of the Iran nuclear agreement and its implications for U.S. foreign policy and national security. (Photo by Mark Wilson/Getty Images)
This is not a new idea. Liberals have long wanted public funding of campaigns. It gives incumbents a huge advantage since they already have high name identification and a challenger will not be allowed to spend enough to catch up.
Federal funding also gives the bureaucracy power over the size and form of the spending. Federal money seldom arrives without conditions so a very liberal, Democratic federal bureaucracy will define your campaign.
Another of her proposals is a constitutional amendment to overturn the Citizen United decision that was handed down by the Supreme Court five years ago.
The basic finding in Citizen United was that voluntary groups of citizens have the same First Amendment rights of free speech in political campaigns as do individual citizens. Thus corporations and unions, for example, may spend money to directly support the election of candidates for office.
The Citizen United decision has caused all sorts of angst and anger for Democrats. It is a basic foundation for Sen. Bernie Sanders' campaign. It has been the focus of Mrs. Clinton's campaign also.
Harvard professor Lawrence Lessig has just announced that he will run for the Democrat nomination on that issue alone.
It was the reason cited in letters seven Democrat senators wrote to the IRS urging a crackdown on Tea Party groups' applications for tax-exempt status.
Even the legendary Lois Lerner, of IRS fame, cited Citizens United in a speech at Duke University as a concern in the consideration of tax-exempt approvals.
Campaign spending is separated into two classes of dollars. Hard dollars are those contributions from individuals and is limited in amounts. Soft dollars are contributions from organizations such as unions and corporations. Dollars from individuals that exceed the contribution limits are also soft dollars.
Federal campaigns can only accept or use hard dollars. Political action committees that contribute to federal campaigns can only be funded with hard dollars.
Soft dollars can be used for administration costs of political organizations and in some states for candidates for state office. Soft dollars can also be used for voter registration, get out the vote efforts and communicating with your membership.
When I chaired the National Republican Congressional Committee it was not unusual to find 10 or 15 young people going door-to-door in a district for a year to defeat our candidate. Their salary, food and lodging were paid for with soft dollars from a union and were itemized as communicating with members.
Organized labor must report all political spending to the Department of Labor as well as the Federal Election Commission. Between 2005 and 2011 organized labor reported $1.1 billion in political spending to the FEC. They reported spending $3.3 billion to the Department of Labor. Ninety two percent of union political spending goes to Democrats.
Union political spending comes from mandatory dues from members that are deductible on that member's taxes.
It is important to point out that union political money is the only money allowed in the political process that is deductible for tax purposes.
The late Dr. Leo Troy from Rutgers was an economist and an expert on unions. He studied union campaign spending for many years. Twenty years ago he concluded that unions had been spending upwards of $400 million per election in soft dollars for many years.
Not once in her 25 years in Washington has Mrs. Clinton expressed any concern about that special interest hijacking our political system.
During her losing presidential campaign in 2008 Mrs. Clinton polished her bona fides with the left by taking credit for getting Media Matters for America started.
MMFA is a left wing war room for the Democrats. It tracks all media output and attempts to confront any narrative from the right that might become effective.
Billionaire George Soros is a major funder of MMFA as well as Moveon.org and the Tides Foundation. All are reliable left wing organizations deeply involved in elections and politics. No word yet from Mrs. Clinton on that billionaire hijacking our political system.
–
TheBlaze contributor channel supports an open discourse on a range of views. The opinions expressed in this channel are solely those of each individual author.