Spending time in the company of brilliance can be life changing. Recently travelling to southern California to interview one of the greatest entrepreneurs of our time, Randy Schroeder, I came away with so much more than just a story. I came away with an education in the brilliancy of resiliency.
Now 57, Randy Schroeder was the youngest person ever to be featured in Forbes magazine, and the first stockbroker without an MBA to be hired by Merrill Lynch on Wall Street. In fact, Randy has no college degree at all. He's a simple high school graduate from Rexburg, a small town nestled among the potato fields of rural Idaho.
Born into humble beginnings, Randy's childhood is filled with painful memories. When it rained, sewage backed up into his basement bedroom. Sometimes it was so high, young Randy had to wade through it to reach his bed.
But that was the least of his worries. His alcoholic father was violent, and Randy bore the brunt of the tirades.
"My father used the very worst methods to inflict pain. The abuse I suffered back then will forever be seared into my soul," states Randy. Yet each time he was taken to the hospital, young Randy was returned to the very hands that sent him there.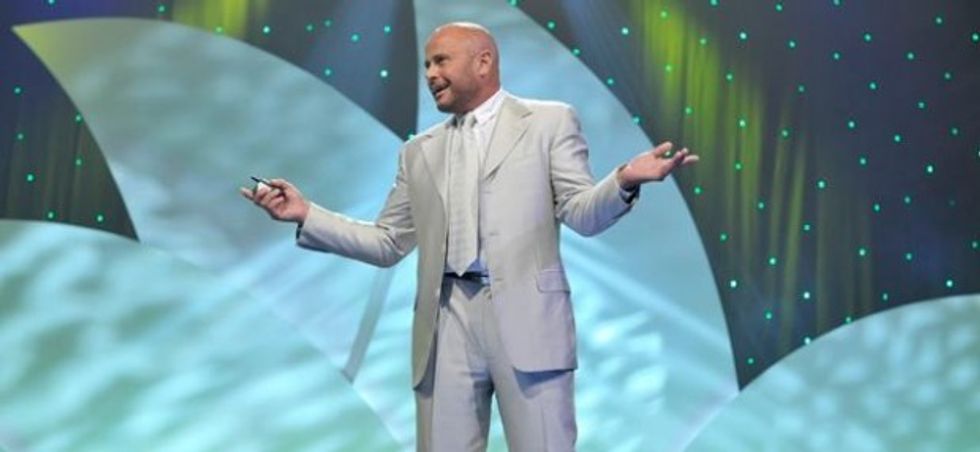 Randy Schroeder on the stage coaching thousands. (Randy Schroeder, FGX)
Randy's father also taught him to drink like a man. At the tender age of seven, Randy had his first drink and was drunk for the first time. By age 11, he was intoxicated more than he was sober. And not one teacher, not one adult in the little town of Rexburg intervened.
Yet, despite the flow of sewage and booze, Randy was gifted with a relentless drive, strong resilience, and brilliant mind. And he used them to his advantage.
His need to make money was borne from a need to escape. Randy decided that wealth was the ticket out of his childhood hellhole. And he started early.
In the third grade, Randy convinced a local farmer that he was sturdy enough to handle the long hours of Idaho's potato harvest. By age 11, Randy was a Watkins distributor. By age 12, he became an Amway independent business owner and mastered the art of explaining to customers how to "make water wetter" with a certain Amway product.
He also started buying and selling anything he could, and wasn't shy about peddling his wares. "Hi, I'm Randy Schroeder. I have a fine selection of everything, would you like to buy anything?" became a familiar phrase around the small town of Rexburg, Idaho.
By age 19, Randy owned his first franchise and bought his first car, a Cadillac. By the time he was 21, he owned two airplanes. By age 24, he owned over 100 franchised weight loss centers.
And then he set his sights on Wall Street.
Despite a simple high school diploma, Randy's skillful mind and talent for talking smart convinced the upper management of Merrill Lynch that he didn't need an MBA to build stunning portfolios. Breaking their own corporate rule, they hired Randy on the spot.
The training he received as a stockbroker proved priceless in managing not just the fortune of clients, but his own wealth as well. And Randy lived in the fast lane, his Midas touch unmatched. Buying luxury cars became a monthly occurrence. Randy married, had children, and bought homes around the world.
Despite his vastly growing wealth and many successes, Randy's best friend remained the alcohol bottle. Over time, he added other companions including marijuana, meth, and heroin. And then he found his favorite foe: cocaine.
Though it never slowed Randy's flair for making money, his addictions eventually grew out of control. Like the Whack-a-Mole game, Randy would get on top of one addiction only to have another pop up. He tried Alcoholics Anonymous and other similar programs multiple times but only when strongarmed by the legal system. Not once did he attend a meeting on his own accord.
By age 26, Randy had made millions as a stockbroker. He also had three drug-related felonies resulting in prison time and a criminal record. Despite his stunning successes, Wall Street invited Randy Schroeder to leave. Permanently.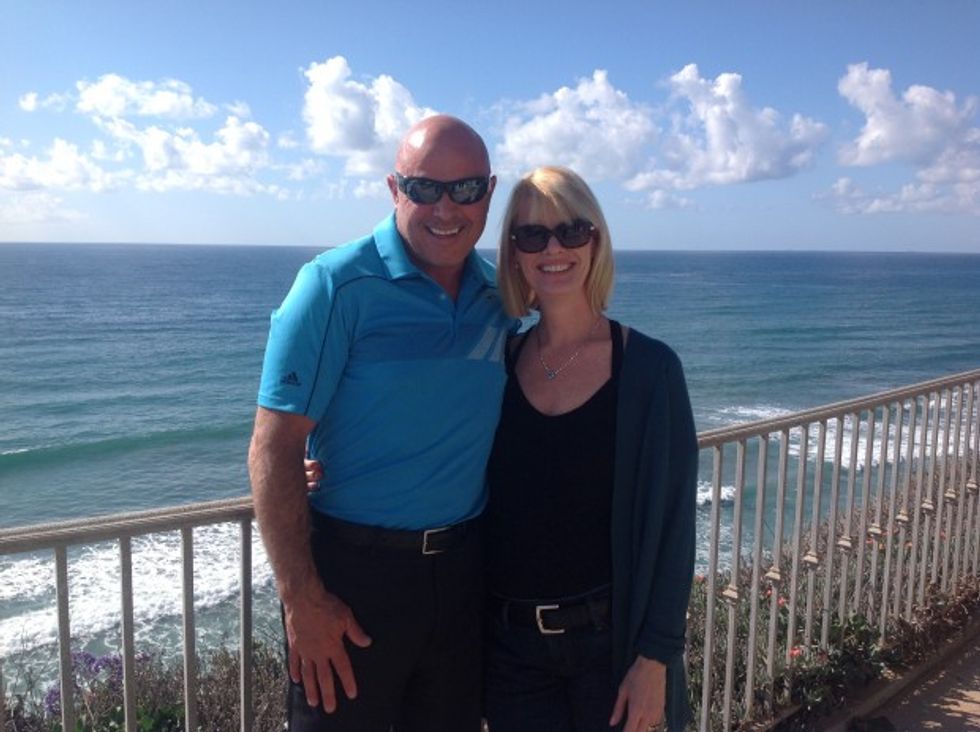 Randy Schroeder at his seaside home with author Lynda Cheldelin Fell (Lynda Cheldelin Fell, AlyBlue Media)
Certain that nobody would hire a felon, Randy's attorney convinced him that line marketing was his only career option.
Since Randy Schroeder doesn't do anything halfheartedly, he tackled multilevel marketing with a passion. And his ascent in the direct selling industry became iconic. His entrepreneurial skills became legendary and took him around the world. His very name became tantamount with extraordinary achievements. And he never saw his addictions as a barrier.
But by 2006, Randy's addictions were all consuming, and he felt trapped in a new kind of hellhole. His imprisonment by alcohol and cocaine were beyond anyone's control, except Randy himself. Finally hitting rock bottom, the man who bought and sold luxury cars faster than a car lot decided he wanted to live to take another breath. He wanted to be clean.
Going cold turkey, Randy ventured out to attend a 12-step meeting on his own accord. But battling withdrawals, he was five minutes late and left five minutes early. Seeing his bad shape, a compassionate stranger followed him out the door and convinced Randy to join him for a cup of coffee. Randy reluctantly agreed. That very conversation, confidential words between two men, proved to be a pivotal moment. From that moment forward, Randy resolved to dedicate every waking moment to working the 12-step program in earnest.
"Many preconceived barriers popped up that I easily could have used as an excuse to return to destructive ways. But my desire to live, and live healthy, was stronger," shares Randy.
But tragedy wasn't done with Randy Schroder just yet.
In 2009, Randy's son died by suicide. Randy found himself facing a new kind of misery he had never encountered.
True to his nature, Randy's journey through the grief and aftermath was unconventional. He weathered every parent's worst nightmare by applying the 12 steps to his grief. And he weathered the storm without nary a slip.
Today, Randy Schroeder is enjoying a fulfilling life. He travels to exotic destinations, golfs frequently, and is engaged to be married. But because of his personal story of loss and tragedy, his passion for money and success have given way to a profound desire to help others.
A deeply spiritual man, Randy now opens his beachside home to teach. Guests flock to his Bootcamp On the Beach in search of leadership skills and financial secrets. But each visitor leaves with spiritual wealth, how to have a more meaningful life, and so much more.
Randy continues to travel the world to teach the same lessons he offers at his home. Whether he takes the stage to coach thousands in a single session, or private advice to Fortune 500 executives, Randy's passion now lies in helping others turn their own talents into a stunning success that offers value to the world.
The 12-year-old youngster who successfully sold an Amway product promising to make water wetter, who became the youngest stockbroker ever to be featured in Forbes magazine, is now using his faculties to coach others on how to become better human beings.
By the end of my stay at Randy's sun-filled seaside home, as I departed through the wrought iron gates, I knew I was leaving with so much more than a story. I was leaving with an entirely different perspective on life.
Randy's experiences shaped by his relentless drive and hard-fought successes taught me so much more than I expected. He taught me the brilliance of resiliency, that tragedy can behold blessings, and the priceless gift of how to inspire others to make a difference.
Randy Schroeder, the young peddler who became a business tycoon, wholeheartedly believes that inside every human lies the potential to make a difference, and achieve great success beyond making water wetter. And he's willing to teach us how.
–
TheBlaze contributor channel supports an open discourse on a range of views. The opinions expressed in this channel are solely those of each individual author.