Don't get me wrong … The sooner each and every one of those Islamic terrorists is in the ground, the better. But the fact is, they could affect you financially before they go there, so you need to do your homework and play your cards right.
Consider this: In the early part of this decade, many major American companies viewed Africa as a frontier market ripe for expansion, a continent with 1.2 billion people in which they could grab significant market share for their products and services. Many well-known consumer brands — from Procter & Gamble, Johnson & Johnson, Colgate-Palmolive to Pepsi — deployed assets, employees and infrastructure throughout the continent.
But with the Islamic State now setting its sights on many of those same areas, those companies are being forced to change their expansion plans, dealing a major blow to local economies and, at the same time, to shareholders, who look for earnings growth that raises stock valuations.
Stock prices move about six months ahead of earnings, so many companies traded higher in anticipation of their expansion into Africa. Now, unfortunately, those companies that planned to expand into Africa might not grow as fast, unless they can pivot quickly and go elsewhere.
Nobody knows for sure what the future will bring, but as you evaluate your portfolio, you should ask yourself if any of the companies you own — especially the big multinationals that move the stock market — are doing business in a "hot zone" or were planning to do so in the future. If that's the case for any of your holdings, you need to give them some extra attention.
But now consider this: There's a bizarre way that the Islamic State can actually help your portfolio. As the Islamic State expands, people become fearful — especially in Europe. And when there's fear in the world, people buy U.S. bonds. Always have, always will.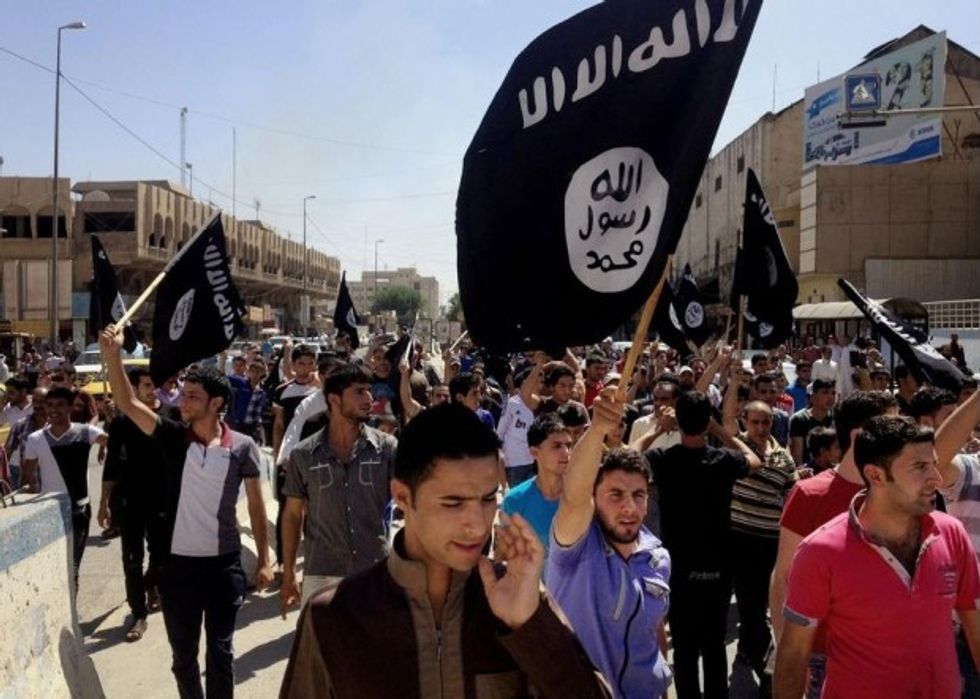 In this Monday, June 16, 2014 file photo, demonstrators chant pro-Islamic State group slogans as they wave the group's flags in front of the provincial government headquarters in Mosul, 225 miles (360 kilometers) northwest of Baghdad, Iraq. Islamic State militants have abducted at least 70 Assyrian Christians, including women and children, after overrunning a string of villages in northeastern Syria, two activist groups said Tuesday, Feb. 24, 2015. (AP Photo, File)
If Francois Pierre in Paris is worried about Islamic terrorism and wants to get his money out of France, he's going to buy U.S. bonds. But he has to buy those bonds with American dollars, not euros. So he converts his euros into dollars and buys U.S. bonds, pushing their prices higher … and their interest rates lower.
Low interest rates are great for our economy. They also push stock valuations higher. And as long as the world — especially Europe — fears the Islamic State, interest rates will stay low.
The Islamic State has a minimal impact on the world economy today, but that could all change very quickly tomorrow. Our job as wealth advisers is to keep a close eye on the situation and be ready to make adjustments when necessary.
–
TheBlaze contributor channel supports an open discourse on a range of views. The opinions expressed in this channel are solely those of each individual author.