Regardless of political ideology and religion, Mother Teresa of Calcutta is widely considered one of the most beloved and influential saints of the past 2,000 years.
An elderly Albanian nun who died in 1997 at age 87, she spent most of her life in India, caring for the abandoned and dying in the slums of Calcutta.
Eventually, she founded a Roman Catholic religious order, the Missionaries of Charity, who carried her work to 133 different countries.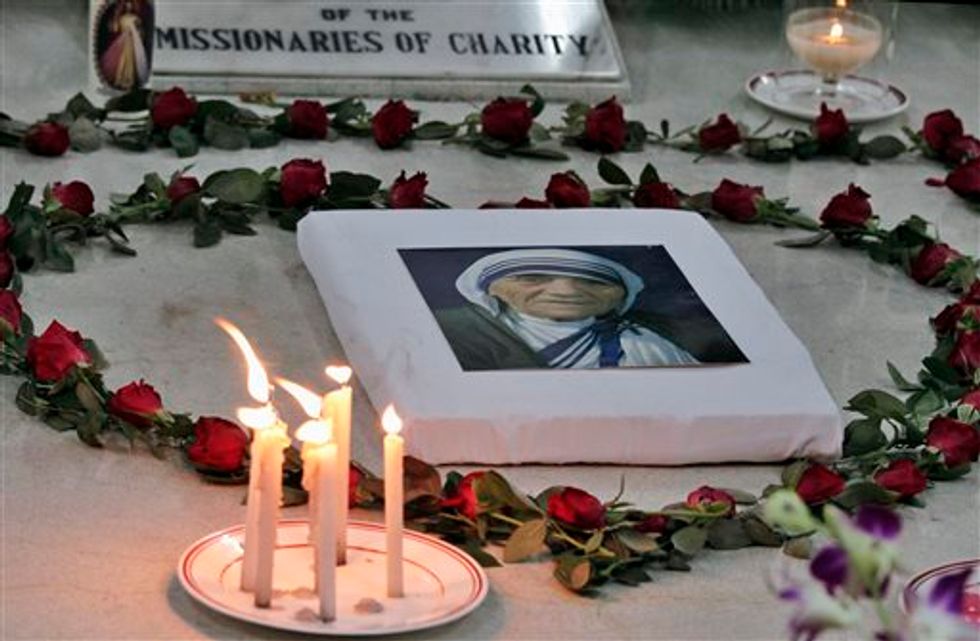 A portrait of Mother Teresa, the founder of the Missionaries of Charity, is placed on her tomb during a prayer ceremony to mark the anniversary of her death in Kolkata, India, Saturday, Sept. 5, 2015. The Nobel Peace Prize winning Catholic nun who spent 45-years serving for the poor, sick, orphaned, and dying, died in Kolkata on this day in 1997 at age 87. (AP Photo/Bikas Das)
In 1979, Mother Teresa was awarded the Nobel Peace Prize -- and the Catholic Church is about to formally declare her a saint.
You might think that the life of Mother Teresa would be celebrated by the entire world... liberals and conservatives, Christians and non-Christians alike.
But for a small but vocal segment of the political left, Mother Teresa is nothing short of Public Enemy No. 1. Some self-described "progressive" media outlets have suddenly erupted in increasingly strident denunciations of the late nun.
Right before Christmas, for example, Slate republished the late Christopher Hitchens' bizarre polemic against Mother Teresa (later expanded in his notorious book, "The Missionary Position") that proclaimed her a "fanatic, a fundamentalist, and a fraud."
"One of the curses of India, as of other poor countries, is the quack medicine man, who fleeces the sufferer by promises of miraculous healing," Hitch thundered again from the grave. The day she was beatified, he added, "was a great day for these parasites, who saw their crummy methods endorsed by his holiness and given a more or less free ride in the international press."
Salon, too, has published numerous attacks on the soon-to-be-sainted nun. Most recently, on January 3, George Gillett wrote a lengthy polemic, quoting people who claim Mother Teresa was nothing less than "repugnant."
The ostensible reason for Gillett's smear campaign was that Mother Teresa and her sisters provided substandard medical care -- that she "glorified suffering rather than relieving it."
"Judged by any metric of medical standards, it is difficult to remember her legacy as anything other than an inefficient, sanctimonious and wholly ideological franchise," Gillett sniffed. "To claim she is a champion of altruism, medicine or humanitarianism would be to fundamentally misunderstand her mission."
And while it's no doubt true that, in the slums of Calcutta, especially in the early days, the medical care provided by the Missionaries of Charity was as "haphazard" as the editor of "The Lancet," Britain's prestigious medical journal, described it, that doesn't appear to be the real reason for the approbrium of these high-minded "progressives."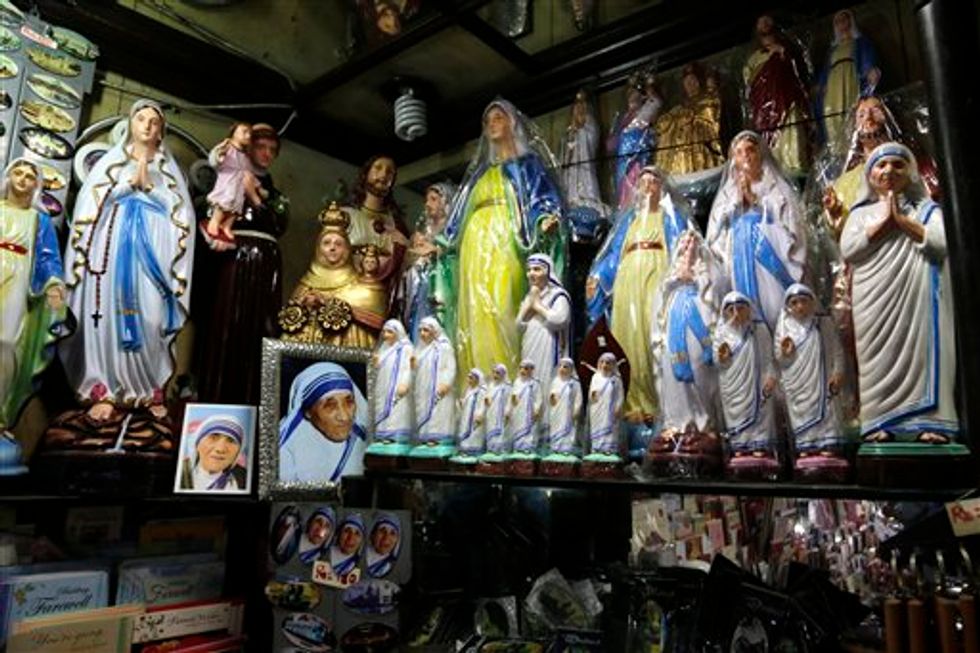 Clay models and pictures of Mother Teresa are placed on racks for sale at a souvenir shop, in Kolkata, India, Friday, Dec. 18, 2015. Pope Francis has signed off on the miracle needed to make Mother Teresa a saint, giving the tiny nun who cared for the poorest of the poor one of the Catholic Church's highest honors just two decades after her death. (AP Photo/ Bikas Das)
The real reason hard-left "progressives" hate Mother Teresa is obvious: her very vocal opposition to abortion, euthanasia and "assisted" suicide.
An infamous 2013 study by Canadian academics criticized aspects of the medical care her sisters provided, but added that one of their chief concerns was "her overly dogmatic views regarding, in particular, abortion..."
For segments of the "progressive" left, the right to kill inconvenient life -- whether unborn children in the womb or elderly parents suffering from Alzheimer's disease -- is a near obsession.
And that is something Mother Teresa steadfastly opposed.
Abortion "is a war against the child, a direct killing of the innocent child, murder by the mother herself," she told U.S. politicians in 1994, as Catholic pro-abortion Democrats, such as then-Sen. Joseph Biden, squirmed nervously in their seats. "And if we accept that a mother can kill even her own child, how can we tell other people not to kill one another?"
One of her most famous quotations may be apocryphal -- "It is a poverty to decide that a child must die so that you may live as you wish" -- but she expressed similar sentiments many times.
Mother Teresa was one of the few religious leaders with the spine to truly "speak truth to power" -- a frail old woman who wasn't afraid to tell world leaders that abortion is "the greatest destroyer of peace" because it establishes the principle, as a matter of law, that the weak and silent can be killed at will by the strong, for any or no reason.
Once that principle is established, Mother Teresa said, then the type of medical killing pioneered by the "progressive" Nazi doctors in the 1930s -- euthanizing the mentally ill and handicapped -- would not be far behind.
Mother Teresa has been proven correct -- as the new push for expanded medical killing, led by pro-abortion Democrats in the U.S., gains momentum worldwide.
That is why advocates for medical killing and infanticide, such as the infamous eugenicist Peter Singer of Princeton University, vociferously criticize the elderly nun.
"I don't want my health insurance premiums to be higher so that infants who can experience zero quality of life can have expensive treatments," Singer was quoted last June in The Washington Times.
And that is why certain segments of the left, and the culture of death they promote, will continue to howl in protest as the world celebrates the canonization of Mother Teresa.
–
TheBlaze contributor channel supports an open discourse on a range of views. The opinions expressed in this channel are solely those of each individual author.