It is a cliché, but true: Popular music often provides the soundtrack for our lives.
We associate certain songs with poignant memories and key events in our lives. For those of us in the baby-boomer generation, few individuals had a greater musical impact than David Bowie and the Eagles' Glenn Frey. The recent passing of those two musical superstars a mere eight days apart is sad.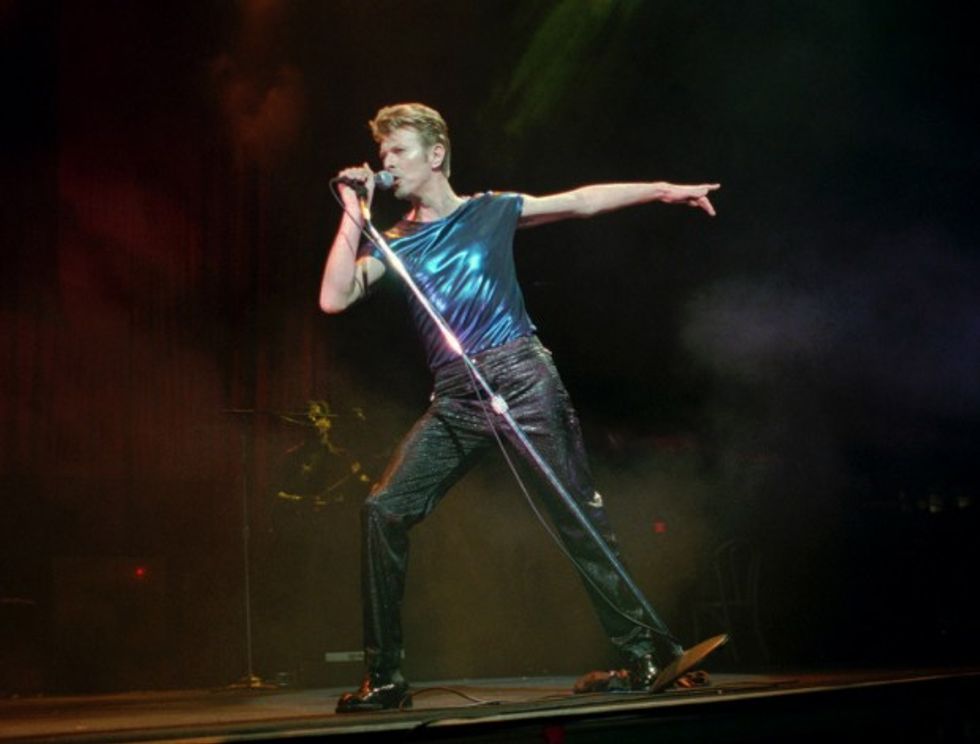 FILE - In this Sept. 14, 1995, file photo, David Bowie performs in Hartford, Conn. Bowie, the innovative and iconic singer whose illustrious career lasted five decades, died Monday, Jan. 11, 2016, after battling cancer for 18 months. He was 69. (AP Photo/Bob Child, File) 
I have a couple of thoughts about the cultural significance of the popularity of those two mega-headliners of the 1970s, but first I'll share a couple of vignettes from their personal lives.
You've heard, I'm sure, about the "six degrees of separation -- the theory that everyone and everything is six or fewer steps away, by way of introduction, from any other person in the world." I was only one step removed from David Bowie, and zero from Glenn.
My link to Bowie was a friend from church whose parents and siblings had welcomed me into their home. He eventually moved to New York City and played a crucial role in Bowie's business affairs. Bowie, now known as a legendary businessman, needed a lot of professional help to negotiate the complex legalities of the music world. My friend helped Bowie greatly, and Bowie rewarded him with a spectacularly generous bonus. (Incidentally, since Bowie's passing, I learned of a two-step link to him, talking with a friend who knows someone who knew Bowie and found him to be an upright, kind, and principled gentleman who gave support over a period of time in a difficult personal matter.)
As for Glenn, we lived four houses apart in Royal Oak, Michigan when we were both in high school. He was a couple years ahead of me and I went away to boarding school, so our contact was minimal. Just listening to him, though, from the back seat of his car where I found myself more than once as part of a group of five or six high school guys, I found him immensely likable. He was cheerful, outgoing, ebullient, and friendly -- and of course he had the car radio on so that we could hear all the latest pop and rock hits. I've been very happy for Glenn's success over the years -- proud that one of the hometown guys turned out to have a world-class talent and the commitment to work hard and achieve his dreams.
It has been heartwarming to read the accolades and reminiscences written about both of these men since their passing. Who could fail to be moved by the heartfelt tribute given by Glenn's writing partner and cofounder of the Eagles, Don Henley? Even more touching was the gracious tribute given by former Eagle Don Felder who had clashed with and become estranged from Glenn. Felder praised Glenn's many good qualities and stated that it was the "gift of a lifetime to have spent so many years working side by side with him," Hats off to Don Felder for reminding us that moments of anger and acrimony are not nearly as enduring or powerful as human goodness.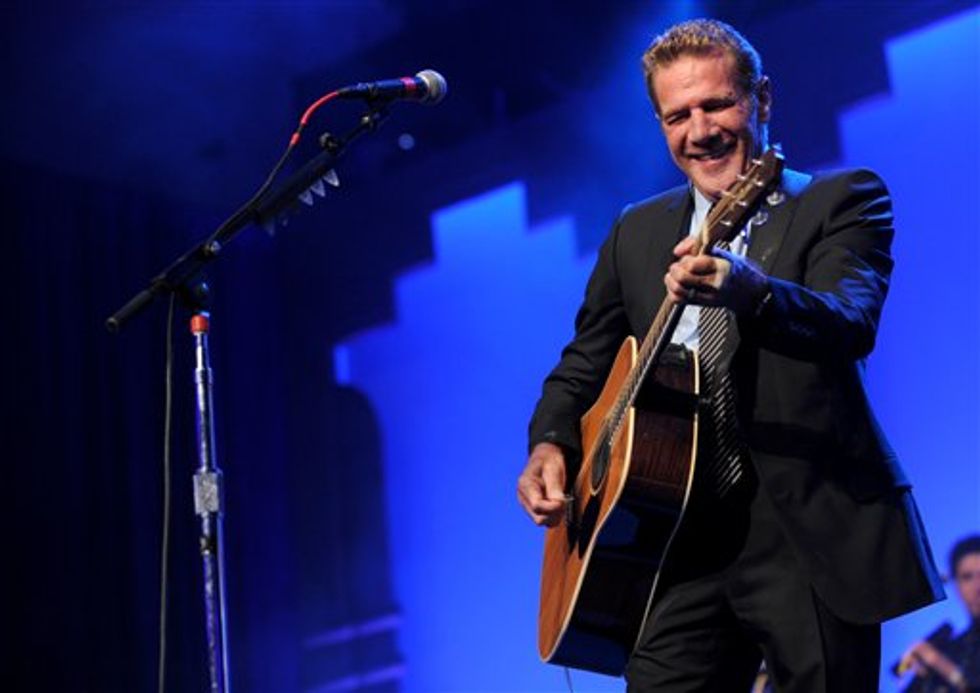 Glenn Frey performs at the 12th Annual Starkey Hearing Foundation "So The World May Hear" Gala on Saturday, August 4, 2012 in St. Paul, Minnesota. (Photo by Diane Bondareff/Invision for Starkey Hearing Foundation) 
As for their place in our culture as prominent baby-boomer musicians, each was a reflection of, rather than a shaper of, the culture that surrounded them. Bowie, was an experimenter, a chameleon who was constantly changing his artistic persona, appealed to many of his contemporaries and younger people who had abandoned or never accepted the simple verities and certitudes about one's sexual identity and one's place in society that had prevailed in earlier generations. Glenn and the Eagles, by contrast, weren't into exploring deep questions. Coming from the American heartland, they fused various existing musical genres -- primarily country and rock -- to tell fundamentally conventional stories (mostly about the ups and downs of guy-gal relationships) set to melodies that ranged from the exuberant to the wistful.
Both men veered into the hedonism that marked the '70s. The good news is that both of them turned back to the time-tested and traditional, both becoming devoted family men (see the link to Henley's tribute above and this one for Bowie).
We baby-boomers have been the luckiest generation in history, growing up amidst unprecedented prosperity in the '50s and '60s. It seems we thought we could do anything, so many of us lapsed into sybaritic self-indulgence. That self-indulgence has fractured many families and consequently rattled the foundations of our society. It is encouraging, though, that both Bowie and Frey ultimately came down on the side of traditional marriage and family life. Especially significant was when Bowie, at the Freddie Mercury memorial concert in 1992, hinted at the ultimate solution for rootlessness and materialistic excess. At a time when he was known as the ultimate rebel in a post-Christian England, he was inspired to kneel and pray aloud the Lord's Prayer to over 70,000 fans in Wembley Stadium (and millions more on television). There have been some speculations about David's faith since his passing. As far as I'm concerned, that is between him and our Creator. I'm just grateful we have this video
of him praying.
Bottom line: David Bowie and Glenn Frey, like most of us, weren't saints. they were, however, good men who enriched millions of lives with their artistic talent. RIP.
Mark Hendrickson is Fellow for Economic and Social Policy with the Center for Vision & Values at Grove City College.
–
TheBlaze contributor channel supports an open discourse on a range of views. The opinions expressed in this channel are solely those of each individual author.