**The following is an in-depth review of "The Lady in the Van" and does contain spoilers.**
There are very few things in the world that truly fill you with a sense of satisfaction and contentment. Eating a hot dog at a baseball game on a warm summer day; playing catch with your son one last time before he leaves home to become a man; watching your team win the World Series for the first time in your lifetime.
Add to that list watching Maggie Smith perform in a movie.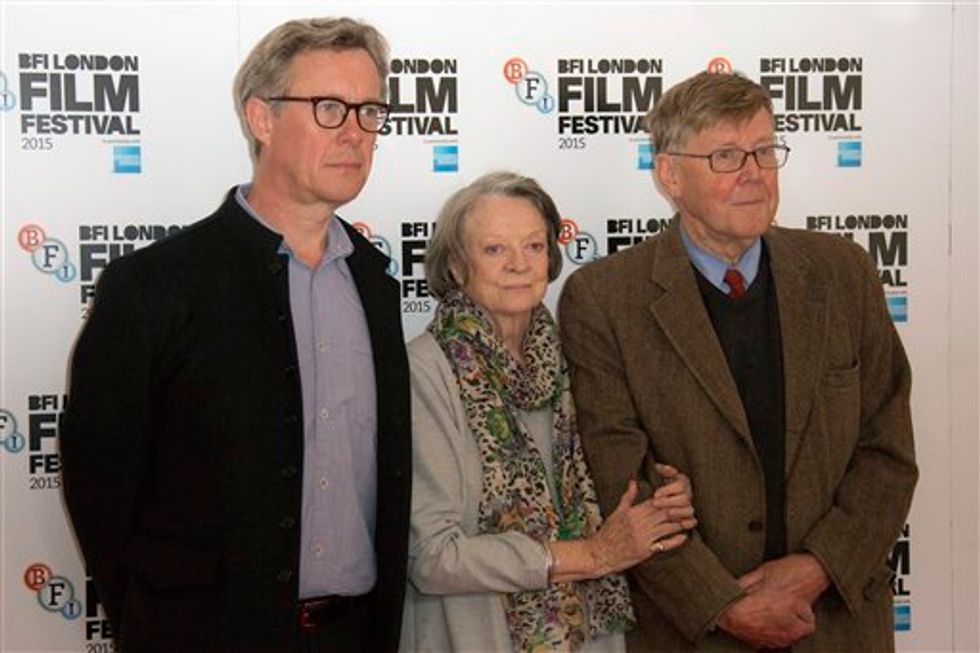 Actors Alex Jennings, left, and Maggie Smith pose with screen writer and author Alan Bennett during the photo call for The Lady In The Van, as part of the London Film Festival, at a central London hotel, Tuesday, Oct. 13, 2015. (Photo by Joel Ryan/Invision/AP)
Adapted from a own play - which in turn was written from his own real life experiences - by Alan Bennett, "The Lady in the Van" tells the story of Mr. Bennett's interactions with the homeless Miss Shepherd, who "temporarily" parked her van in his driveway and stayed there until her death 15 years later.
The audience is told at the beginning of the film that the events that follow are "mostly true," which leaves the audience wondering what actually happened and what was fabricated. The film was written, directed and performed with such sincerity that it would be easy to believe that all of it were true, and I really don't want to know which parts had liberties taken for dramatic license.
The film details how Alan Bennett met the eccentric Miss Shepherd in 1974. He begrudgingly allows her to park her yellow Bedford van in his driveway for a very brief period. As time goes on, and Miss Shepherd remains, Bennett begins to be annoyed by her eccentricities. She does her business in plastic bags, many of which end up in the driveway, and he is constantly picking up after her. She does, despite her quirks, begin to endear herself to him and they begin to build a deep friendship with each other.
Maggie Smith turns in a performance as Miss Shepherd that is funny, charming, and heartwarming. Alongside Alex Jennings as Alan Bennett, the audience often forgets that they are watching a film and not looking through a window into the real lives of two people. You believe every step of the relationship, from Bennett's initial annoyance to his acceptance, to when he genuinely begins to care for her. One must wonder how much time, if any, that Alex Jennings spent with Alan Bennett because the portrayal is just so genuine.
Much like the film adaptation of David Mamet's Pulitzer Prize-winning "Glengarry Glen Ross," "The Lady in the Van" retains the feel of watching a stage play.
The movie carries with it an undertone of paying penance for past sins. Alan Bennett's mother, when he meets Mary, is suffering from dementia and he has little time or patience with her. Having to put up with Mary's eccentricities is like Karma coming around to bite Mr. Bennett in the rear. Likewise, Mr. Bennett's neighbors are equally put off by Mary's presence in their neighborhood, but they're reluctant to say anything because of the guilt they feel for not helping her themselves.
On the whole, "The Lady in the Van" is a very good movie that encourages its viewers to take another look at the cast-offs of society, and those less fortunate in our communities and in our own families. The next time you find yourself annoyed or fed up with your mother or your children, or even your neighbors just remember that you could some day have an eccentric old woman show up at your door and sit in your driveway for the next 15 years.
–
TheBlaze contributor channel supports an open discourse on a range of views. The opinions expressed in this channel are solely those of each individual author.