This week has been a tough one in Missouri.
We have watched as the careers of both the university president and school chancellor ended, First Amendment rights were violated, a potential battery was filmed, a suspect who threatened the lives of others was arrested. And it all began with a hunger strike.
Am I talking about a scene from a weekly TV drama series? No, I'm talking about events at the University of Missouri where you send your kids and pay for their "education" from your hard earned dollars.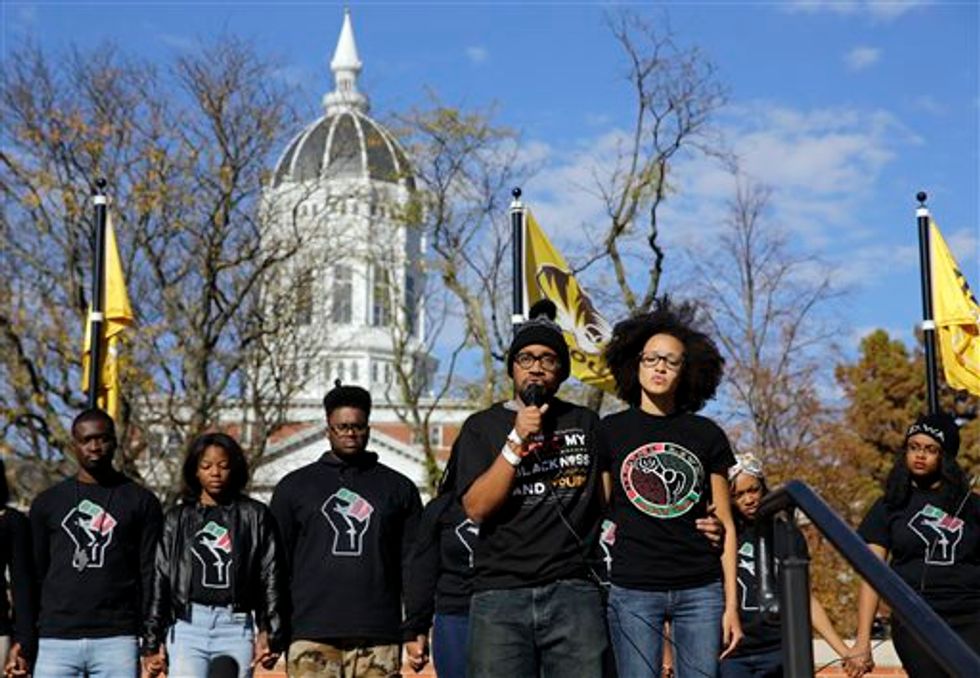 Jonathan Butler, front left, addresses a crowd following the announcement that University of Missouri System President Tim Wolfe would resign Monday, Nov. 9, 2015, at the university in Columbia, Mo. Butler has ended his hunger strike as a result of the resignation. (AP Photo/Jeff Roberson) 
The drama all began with one student. A graduate student who began the "take down" of Mizzou's administration, did so because of what he described as racial incidents on campus that he felt were not being adequately addressed by the administration.
Were any of the claims by the students legitimate and would the administration have resolved the issues once they were notified of the students' concerns?
These questions may be answered in the future by the remaining administration, assuming they don't all get ousted as well, but perhaps there could have been an easy resolution to the issues, but we may never know.
Only one person so far seems to be coming out on top in the conflict and that's the professor, Melissa Click, who allegedly attempted to prevent Mizzou's student journalist, Tim Tai, and others from filming an on-campus student protest.
In the video that has gone viral, Click can be seen blocking Tai from filming and calling for "muscle" to those in the crowd, to help remove another journalist from the protest site.
Just what you would expect to see from a professor with a courtesy appointment in the journalism school, right? Well, perhaps only a progressive left leaning one.
But all has been resolved or has it?
Click has resigned her courtesy appointment and has met with the journalist she attempted to have removed from the protest by force. She also wrote a statement released by the school apologizing for her actions.
"I have reviewed and reflected upon the video of me that is circulating, and have written this statement to offer both apology and context of my actions," Click said in her statement.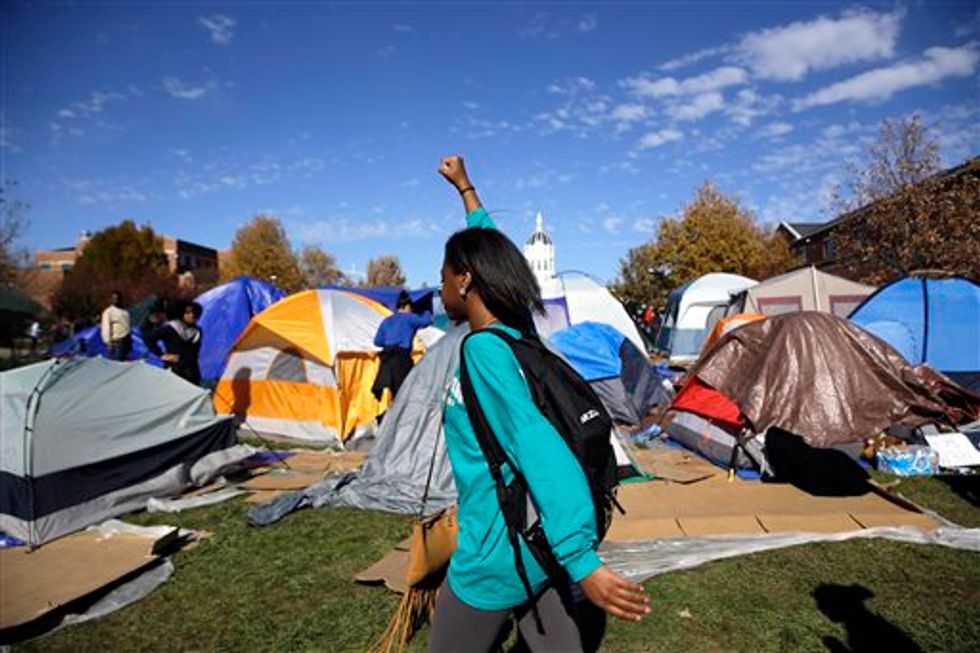 A woman passes a tent encampment set up by student protesters following an announcement that University of Missouri System President Tim Wolfe is resigning Monday, Nov. 9, 2015, at the university in Columbia, Mo. Wolfe resigned Monday with the football team and others on campus in open revolt over his handling of racial tensions at the school. (AP Photo/Jeff Roberson)
Click can be seen in the video, grabbing at the camera of student-journalist Mark Schierbecker, before asking others for help in physically removing him. Click also apparently met with Schierbecker, after which he claims that her apology was not genuine.
Click continues to be employed by the university as an assistant professor and alleges she acted the way she did because she felt threatened by Schierbecker, according to Esther Thorson, associate dean of graduate students and research at the journalism school.
Too bad that the president and chancellor weren't given the same opportunity by the students to apologize and keep their positions, if an apology was necessary.
Instead of students or their parents, who are mainly the ones who pay the tuition, voicing their concerns to the administration in an open forum on campus, through writing letters about their concerns or in some other professional manner, the students chose to protest and disrupt not only their education but the education of others.
It's not too late to stop what's happening at Mizzou and what will continue to happen now that the students are seemingly getting their way.
Parents, the quick solution lies with you!
If you are a parent, is this really what you were hoping your children would learn in higher education? Is this the type of knowledge you agreed to pay for?
Did you want them to learn to confront issues through protests instead of respectfully sitting down with others to resolve issues that they believe are real issues in their university lives?
Is this how you want them to conduct themselves during their careers after graduation or when other future issues arise?
For the most part, they have been taught by liberal activists that protests, shouting at others and physical intimidation will get them what they want. Do you agree with this philosophy?
Would you allow them to run your household by these same techniques? If your answer is no, then why would you allow them to conduct themselves in this manner at a university or any other place for that matter?
Parents, you have the ability to stop funding this type of behavior. You control the purse strings unless your son or daughter is there on a scholarship or financial aid.
Mizzou is only the beginning of what is to come.
Parents, start today by teaching your children to confront issues in a more appropriate manner while you still have some influence over them.
I'm not saying that Mizzou students' claims don't have merit. I don't know that answer. However, what I am saying, is that their behavior doesn't represent you or this country in a favorable light.
Parents, what are you going to do?
–
TheBlaze contributor channel supports an open discourse on a range of views. The opinions expressed in this channel are solely those of each individual author.