Less than 24 hours ago, GOP presidential candidate Ted Cruz announced he hired a new national spokesman after ousting his previous spokesman Rick Tyler in controversy.
However, the Cruz campaign may be headed for another controversy after not properly vetting its new national spokesman - a former party leader who was once caught hiring a deportation-dodging, illegal immigrant to work at the Republican Party.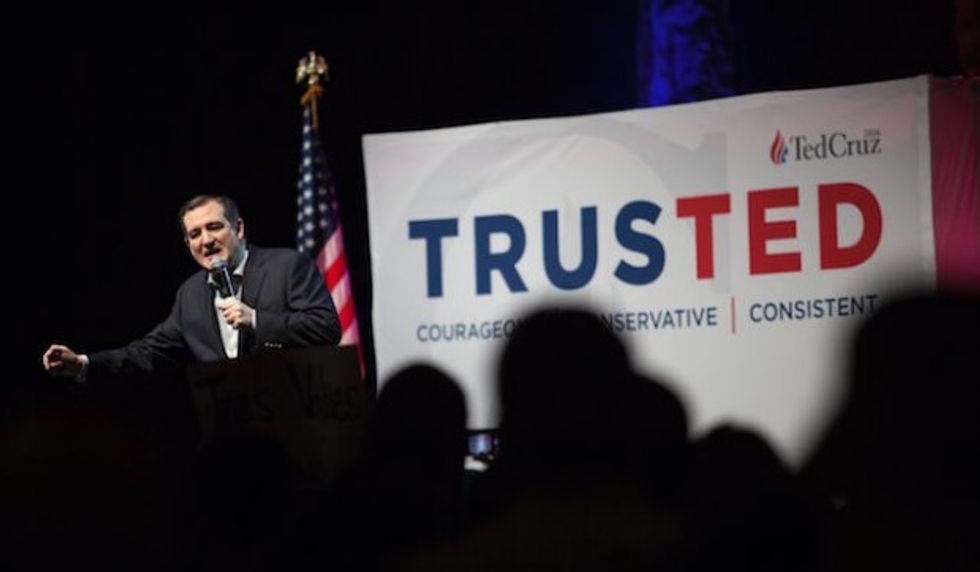 US Republican presidential hopeful Sen. Ted Cruz speaks at a campaign rally in Dallas, Texas on February 29, 2016 one day before the "Super Tuesday" primaries. AFP / Laura Buckman 
Cruz's new spokesman Ron Nehring, who served as the previous chairman of the California Republican Party, was "busted" for hiring an illegal immigrant who had been ordered to be deported by the Federal government, had failed to complete an I-9 form, and even sued the U.S. government in a multi-million-dollar wrongful arrest lawsuit. Nehring himself had directly hired the illegal immigrant to serve as chief executive of the Republican Party and to run party operations, including the handling of confidential information.
The illegal immigrant hire wasn't Nehring's only snafu.
Nehring also caused controversy when he hired another immigrant from Canada to serve as Deputy Political Director of the California Republican Party using the much-aligned H-1B program made popular under President George W. Bush. For that hire, Nehring was criticized widely by Republicans in his own state for failing to follow the guidelines of that Federal program, which states that a U.S. business must seek talented Americans to employ first. It is hard to envision that the chairman of a Republican Party in the most populous state in the nation could not find adequate talent to fill a political deputy role.
In addition, it turned out that Nehring's direct hire was also violating U.S. immigration law and he was later fired after it was discovered he had violated his Visa.
In both cases, Nehring's response was that he wasn't sure if he had ever seen nor asked for either man's I-9 Employment Eligibility Verification form, which is required for employment by the Department of Homeland Security.
The Canadian snafu is especially ironic given Cruz's recent battle with Donald Trump over Cruz's own birth in Canada, along with the debate over whether or not he is eligible to run for office.
It is also ironic, given the fact that Cruz's own campaign website for president states this about illegal immigration:
"We have a serious immigration problem in America. The American people understand that we must reverse the policies that invite criminals and terrorists to defy the law, allow manipulation of our generous immigration system, and reward illegal immigrants for their actions."
Given Cruz's public positions on illegal immigration, one has to wonder how Cruz's campaign could have missed the blatant violation of law and illegal immigration incidents in his national spokesman's history.
History is filled with politicos who were immediately disqualified, forced to recuse themselves, or let go from their public position over their hiring of illegal immigrants.
In 2001, President Bush nominated Linda Chavez to become the first Hispanic Secretary of Labor. Chavez was forced to recuse herself from the nomination after it was discovered that she had hired an illegal immigrant from Guatemala for household chores and child care. In that case, Chavez stated she only paid the illegal immigrant $100-$150 every two weeks, a figure that pales in comparison to the tens of thousands of dollars that Nehring paid the chief executive of the California Republican Party.
If hiring one illegal immigrant was enough to keep Linda Chavez from becoming the Secretary of Labor, wouldn't the staunchly anti-illegal immigration Cruz maintain the same standard and prohibit Nehring from serving as his national spokesman?
–
TheBlaze contributor channel supports an open discourse on a range of views. The opinions expressed in this channel are solely those of each individual author.