There is more, much more than meets the eye here.
The Pentagon squeaked in releasing a promised report by March 1, to Sen. John McCain, who threatened last month to subpoena the 10 sailors involved if the deadline were missed.
But the Navy has yet to make even one public statement regarding the incident except for a comment made by Adm. John Richardson, chief of naval operations, at a House budget hearing on March 1, regarding the legality of the Iranian apprehension of our sailors on January 12, when our sailors "strayed" from a planned course in the Persian Gulf into Iranian waters.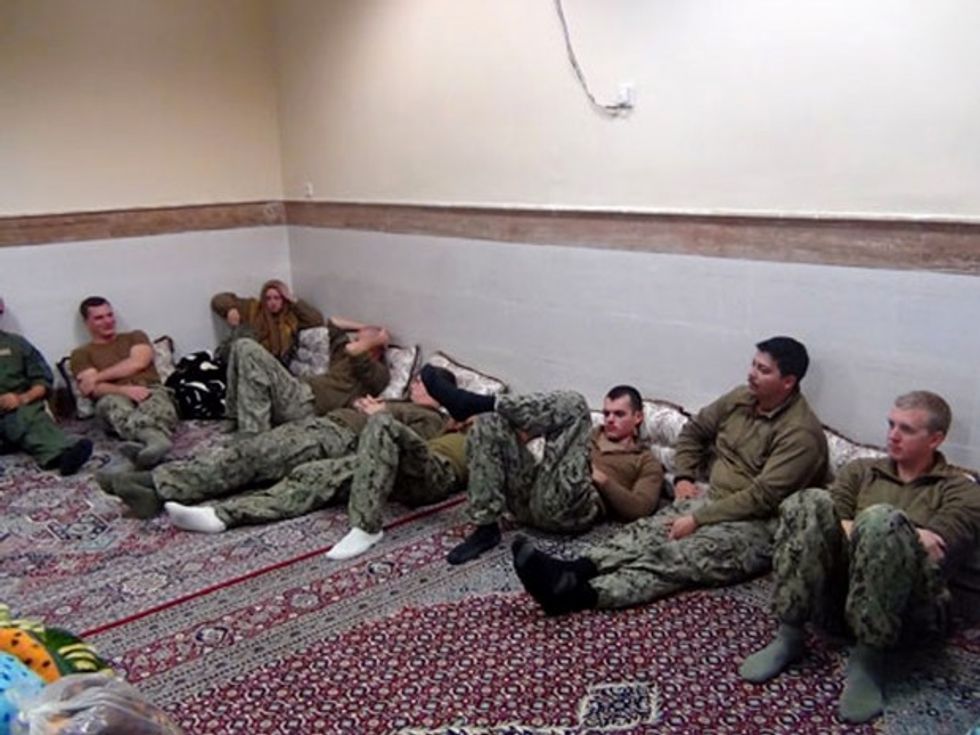 This picture released by the Iranian Revolutionary Guards on Wednesday, Jan. 13, 2016, shows detained American Navy sailors in an undisclosed location in Iran. Iranian state television is reporting that all 10 U.S. sailors detained by Iran after entering its territorial waters have been released. Iran's Revolutionary Guard said the sailors were released Wednesday after it was determined that their entry was not intentional. (Sepahnews via AP)
All official communication about the incident has either come from a CENTCOM spokesperson or directly from Secretary of Defense Ash Carter. Nobody is being consistent with the story, which means they are incompetent or lying.
Oh, by the way, that report to Sen. McCain was a secret briefing, not a published report, which according to Armed Services Committee spokesperson Dustin Walker will not be forthcoming for one to two months. Sen. McCain has yet to make a public statement regarding the briefing, and no other information is available.
A "source" at the Pentagon, according to U.S. News said "an incident like this is tricky to process, since it requires coordination with the State Department and elements of the White House's national security staff to determine how the ultimate findings comport with U.S. policy."
Really? Why? In order to get the story straight it has to be scrubbed by White House lacky's?
This looks, smells, tastes, feels and sounds like Benghazi all over again without the four dead Americans. This time it's just the reputation and honor of the United States Navy that's been killed.
After research and observation of the released videos from Iran, it is clear that the staged visuals reveal inconsistencies. The Iranians seem almost scripted in their shots, as if they KNEW the boats were coming ahead of time, and had several days to rehearse and practice the procedures they used in "capturing" and propagandizing the event.
In one video a white box appears, with the word "ROCKETS" and the date year "2011" stenciled on it in black letters. Inside the box were empty M-16/M-4 30 round magazines. An empty M9 pistol was removed, and not one bullet or munition is revealed. In all the videos released there is only one 100 round belt of what appears to be .50 cal. rounds, but the links are RUSTY. No ammunition is evident in any weapons, mounted or loose, other than this single belt.
Were the sailors sent on a mission virtually unarmed? Why?
A camouflage blouse of presumably 27 year-old Navy Lt. David Nartker, the ranking officer and commander of the mission, is shown in the video, with the name tape conveniently folded under so that it cannot be viewed. No other sailors are shown wearing their blouses, which would reveal at least their rank and last name. The Pentagon has not released the names, ranks or home towns of any of the sailors except for the commander. None of the crew have been allowed to speak with the media. Why?
The expressions of the sailors in the video is that of boredom, not fear, or apprehension, or anger. In fact, Lt. Nartker is seen SMILING in several shots. Was this a pre-arranged capture? Were the sailors complacent because they EXPECTED to be apprehended?
It is inconceivable that the Navy would send an un-seaworthy boat into open waters, as is suggested by unnamed sources in a Foreign Policy article, which says one of the two boats had to receive cannibalized parts from another boat before it could leave port on the journey from Kuwait to Bahrain on January 12.
There was no emergency. There was no hot war situation in the Gulf. Mission is secondary to safety in such situations where life and death are not the order of the day. These were riverine boats heading south, away from the Islamic State and war, not into it. The claim is that they were late for a training exercise. Leaders are taught to slow everything down in their minds when they are told to RUSH somewhere – that's when mistakes are made.
Anyone with a consumer GPS could have easily navigated away from Iranian waters. The Navy riverine boats have easily over a 300 mile range, yet had planned to refuel on a trip that was arguably no more than 260 miles. To refuel they would have to alter their course.
NONE of this adds up.
If it were an innocent mistake, 'nuff said. The Navy comes out, tells us what we need to know, and then it's over. In this case the administration is acting like the incident surrounds some fantastic secret information that if it were to get out would be the end of the world.
Could this have been a pre-arranged set-up as a public relations gift to Iran in order to initiate the release of U.S. captives? Was it a show of faith on the part of the United States that would signal the next phase in the Iran nuclear deal? Were the sailors even members of the U.S. Navy?
As a military man I understand and respect that there are things I don't need to know. Fine. Just tell me the mission was classified and that I don't have a need to know. But don't lie to me. Lying is an act of betrayal. I am tired of being betrayed by my own government. Benghazi is still fresh on the mind, especially how Democratic presidential hopeful Hillary Clinton continues to brag about how she didn't lie, didn't withhold requested security and didn't tell the families of the lost personnel that it was a video that caused the incident and not a planned terrorist operation. Please.
The administration will continue to stall for time on this until they are POSITIVE the "sailors" won't spill the beans on what really happened, ever.
What could be so damaging, if after all it was just a broken engine (miraculously repaired for the trip home) or poor navigation from a Naval Academy graduate? "What?" indeed.
Montgomery Granger is a three-times mobilized U.S. Army major (Ret.) and author of "Saving Grace at Guantanamo Bay: A Memoir of a Citizen Warrior." Amazon, Blog, Facebook, Twitter: @mjgranger1
–
TheBlaze contributor channel supports an open discourse on a range of views. The opinions expressed in this channel are solely those of each individual author.