Starting November 30, people from all around the world will be (or at least should be) converging towards Paris for the much-talked Climate Conference. As can be expected from such an event, the climate hysteria will be at the forefront of the talks in hopes to solve the (imaginary) climate problem.
Yes, imaginary. Most of what you hear about climate in the media is either false or hidden from your sight – fueling fear is very profitable for the media. So no, the climate is not getting hotter and hotter contrary to what the National Oceanic and Atmospheric Administration claims. The temperatures have been stagnating for nearly 19 years now – hell they have been cooling since the start of the millennium. And recent whistleblowing claims that NASA "research" trying to deny that pause has been rushed.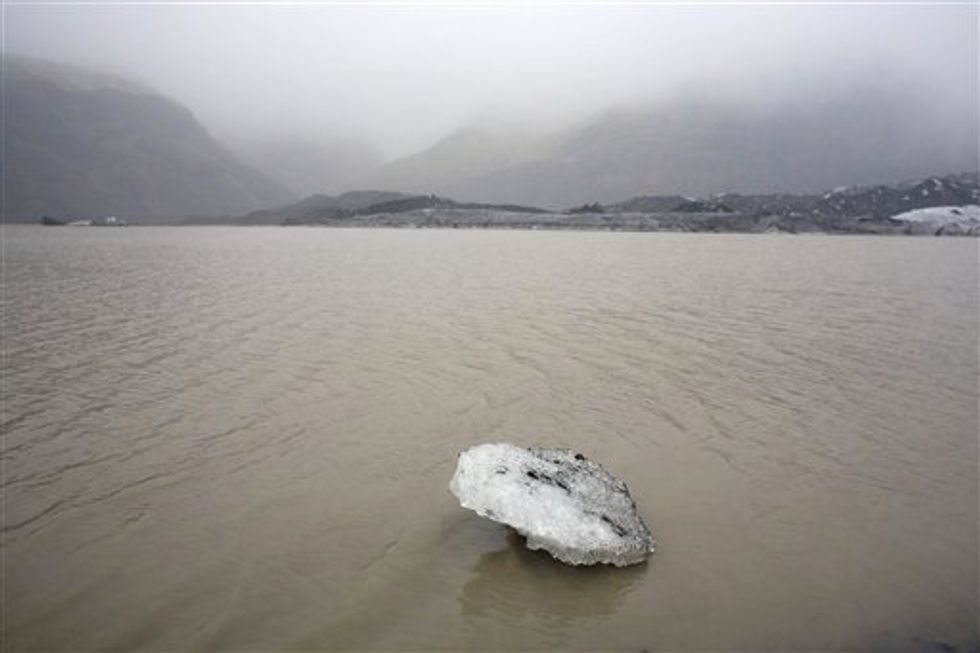 In this Friday, Oct. 16, 2015 file photo an ice floe floats on a lake in front of the Solheimajokull glacier, where the ice has retreated by more than 1 kilometer (0.6 miles) since annual measurements began in 1931. The trillion-dollar question of who should pay for global warming is coming to a head in talks on an international climate pact, as developing countries worry they won't get enough money to tackle the problem. With just five weeks left before a U.N. climate summit in Paris, developing countries closed ranks at weeklong talks ending Friday, Oct. 23, 2015 in Bonn and called on wealthy nations to make firm financial commitments to help them fight and adapt to climate change. (AP/Thibault Camus, Pool)
The poles, supposedly ground zero for the proof that humans influence climate so much, also refuse to cooperate with warmists.
The Arctic ice extent is now the highest it has been in a decade and is therefore unlikely to "disappear" as Al Gore repeatedly said a few years ago. On its side, Antarctica ice always seems to be beating records of extent (although this year's maximum is closer to average). Even NASA had to admit that the South Pole is gaining more ice than it's losing, meaning that sea level increases will be slower than first projected. Other studies also suggest that a collapse of the ice sheets is unlikely since similar climatic conditions to today may have occurred in the past and sea levels didn't rise as much.
In addition, environmental cultists like the Sierra Club keep spreading blatant lies over and over again. There is no such thing as carbon pollution – at least not as they mean it, i.e. CO2. This inert gas is actually essential to life; this is basically plant food, and the more there is the happier the trees are. Satellite imaging confirms this science 101 fact by showing denser vegetation since the early 1980s, especially south of the Sahara desert, which climate "logic" predicted would become uninhabitable.
Speaking of climate logic, the U.S. still hasn't been struck by an F3+ hurricane since Wilma in October 2005 – over 10 years, the longest such "drought" since hurricanes are accounted for (1850s). Remember when Katrina was supposedly the new normal? Or that tornadoes were supposed to become stronger while EF3+ are on the decline? Hell, even the absolute number of tornadoes is below average.
In fact, warmists are so conscious that they are losing the fight that they start using the "memory hole." However they forget that it can't happen on the Internet, so their failed predictions of snow being a thing of the past will remain forever.
Finally, having the government want us to cut our "carbon pollution" is the epitome of hypocrisy. Not only is the U.S. government one of the worst polluter on the planet, but it can't even respect its own pollution standards. At least 26 national parks violate ozone emission rules.
So if you have the time you should definitely listen to what world leaders will say at COP21. It will have a direct impact on your wallet and will make the world a worse place. Because while the climate hysteria does not cause terrorism, higher resource prices will have an impact and will fuel more wars and terrorism.
–
TheBlaze contributor channel supports an open discourse on a range of views. The opinions expressed in this channel are solely those of each individual author.