**The following is an in-depth review of "The Huntsman: Winter's War" and does contain spoilers.**
With films like "Maleficent" and "Enchanted" - as well as the television series "Once Upon a Time" - gaining success in Hollywood, it makes sense that the film industry would be milking the fairy tale genre for all it's worth. The last couple of attempts, however, haven't really been able to capture the magic of the original stories they're based on.
While "Pan" was ambitious and was quite enjoyable in some respects, it didn't really appear to have any clear direction in which it really wanted to take the Peter Pan story. Likewise, the sequel to 2012's "Snow White and the Huntsman" seems equally without purpose. Unfortunately, it also fails to bring with it the enjoyability "Pan" was able to muster, in spite of its lack of purpose.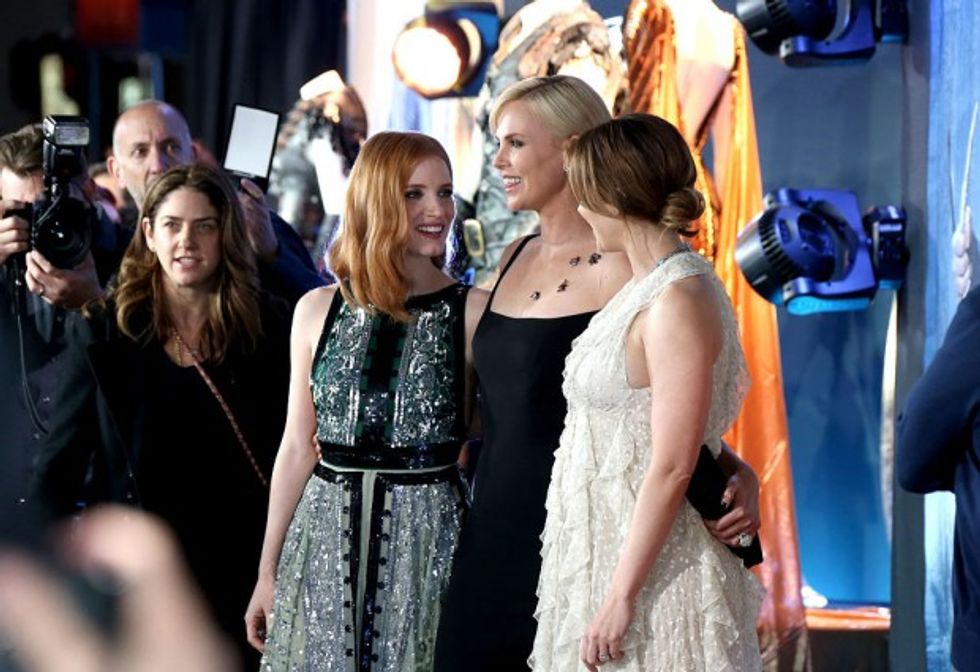 Actresses Jessica Chastain, Charlize Theron and Emily Blunt attend the premiere of Universal Pictures' 'The Huntsman: Winter's War' at the Regency Village Theatre on April 11, 2016 in Westwood, California. (Photo by Frederick M. Brown/Getty Images)
"The Huntsman: Winter's War" follows along from where "Snow White" left off, after taking a small detour in the beginning to present the Huntsman's backstory. We learn that the Huntsman was exiled from his kingdom, where he was one of the queen's most accomplished soldiers, for committing the unforgivable sin of falling in love.
We're shown in this backstory that the Huntsman's wife - mentioned to have been murdered in the first film - was actually executed by the ice queen Freya, sister to the first film's villain Queen Ravenna. While Freya also ordered that the Huntsman also be put to death, he survived and eventually made his way to Ravenna's kingdom, where we met him in the original film.
With Ravenna defeated and Snow White crowned in her place, the Huntsman sets his sights back on getting revenge on Freya for the death of his wife.
As with the first film, "The Huntsman" is visually captivating. It presents a Grimm's fairy tale meets "Game of Thrones" world that is easy to get lost in. While this world is part of the appeal of the first film, the aesthetic is wasted here on a story that leaves the viewer cold and unsatisfied. The acting - performed by an all-star cast that includes Chris Hemsworth, Charlize Theron and Nick Frost - is superb and all of the actors in this film are a delight to behold.
All of that is lost, however, on a story that just simply didn't need to be told and honestly doesn't feel like anyone wanted to tell.
"The Huntsman" is an incredibly boring movie. It goes nowhere and in most cases seems to just be going through the paces. It exists just to exist, and that is no reason to make a movie. Universal Pictures wanted a sequel to "Snow White" and it honestly feels as though they weren't too particular about how they got it, and that severely lowers the quality of the movie.
It's almost impossible not to view Freya as a K-Mart Elsa, and that in and of itself is a distraction that pulls the viewer out of the film every time she's on screen. From her costume to the way her hair is done, it's really hard not to see Freya as an intentional copy of Elsa in an attempt to capitalize on the success of "Frozen." It's probably a safe bet that if "Frozen" didn't exist, Freya also wouldn't have existed as a character in this film.
After enjoying the fresh take on a familiar story presented by the original, "The Huntsman: Winter's War" is a colossal disappointment. It's derivative, without focus and completely uninteresting. While die-hard fans of the original might find it enjoyable enough, for the general audience it's probably a good idea to skip this one.
"The Huntsman: Winter's War" currently holds a 17 percent rating on Rotten Tomatoes.
William Avitt will be appearing at Indiana Comic Con in Indianapolis, Indiana on Saturday April 30, 2016. He will be hosting a panel on film criticism at 9am in Rm. 133.
–
TheBlaze contributor channel supports an open discourse on a range of views. The opinions expressed in this channel are solely those of each individual author.