© 2023 Blaze Media LLC. All rights reserved.
The Ironic Tie Between Elizabeth Warren's Hypocritical Home-Flipping and Mitt Romney
Not only were Elizabeth Warren's actions counter to her stated principles -- they mimicked those of the financial institutions that she has spent her entire public life railing against.
Massachusetts political roots aside, you might think that the comparison of Democratic Sen. Elizabeth Warren and former governor and failed Republican presidential candidate Mitt Romney is absurd.
Warren, the progressive populist who in both rhetoric and regulation has sought to shackle "predatory" financial institutions as a means of supposedly protecting "the little guy," and Romney, the patrician and wealthy denizen of the financial establishment of 47 percent infamy, would appear to be polar opposites.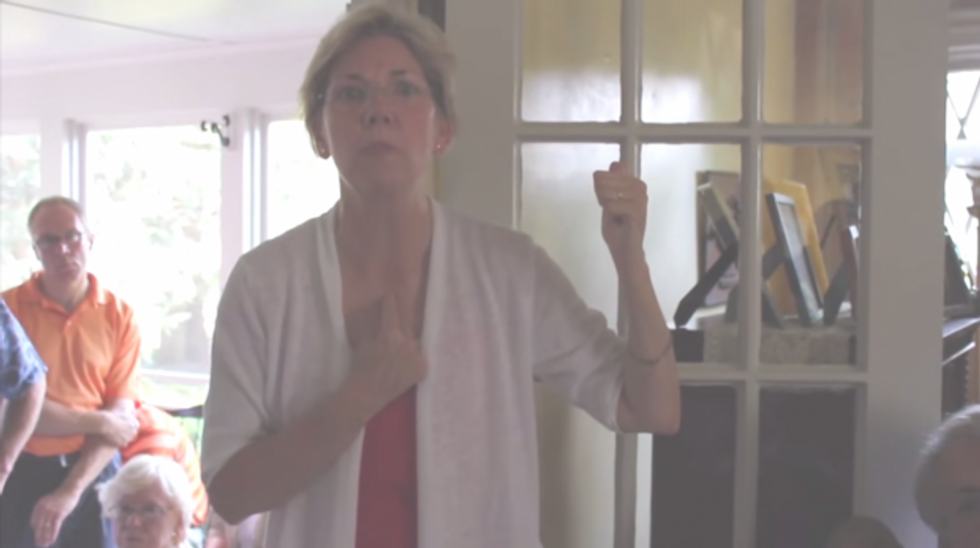 Elizabeth Warren delivers her famous "You didn't build that" speech. (Image Source: YouTube)
But alas, as so often is the case in politics, Warren's public face is contradicted by her private actions – actions that we will soon see are similar in nature to those that made Romney a millionaire.
Warren, like Romney, profited by buying assets at low prices and through either improving said assets or waiting for the market to strengthen, selling them at higher prices.
As Jillian Kay Melchior and Eliana Johnson lay out in a recent National Review exposé, Warren "bought and sold at least five [residential] properties for profit," generating at least $240,500 before accounting for remodeling costs.
Several of the homes Warren purchased and then flipped had been foreclosed upon.
The focus of the piece is the rank hypocrisy that Warren would execute such profit-seeking transactions, given that she has called the idea of buying and selling properties quickly for profit a "myth" that contributed to our economic woes, and decried the banks that foreclosed on the homes of working class Americans.
Rightfully, the column closes with the following flourish:
In her 2014 autobiography, Warren wrote of the events that precipitated the financial crisis that "everyone seemed to have a story about someone they knew who was getting rich by flipping houses."

She omitted a crucial one.
But it ought to be pointed out that not only were Warren's actions counter to her stated principles – they mimicked those of the private equity companies and other financial institutions that she has spent her entire public life railing against.
What private equity professionals like Mitt Romney, and investors in general seek to do is "buy low and sell high."
Firms like Romney's Bain Capital scour the market for businesses they believe are undervalued and/or have significant growth potential. They seek to buy these businesses at a low price, and grow them while making them more profitable and efficient by cutting costs, closing non-core operations while strengthening core ones and implementing new and improved strategies and practices to better their business models.
Justin Sullivan/Getty Images
By improving the companies in which they invest, the end goal is to sell them for many times the price at which they were bought.
What Romney did at the macro level in investing in businesses worth hundreds of millions or billions of dollars, Warren did at the micro level in investing in homes worth thousands or hundreds of thousands of dollars.
The difference however is that Romney's investing in many cases led to the creation of ever-better goods and services at ever-lower prices, with the benefits accruing to not only Romney, Bain's investors, and the employees of the strengthened companies, but all consumers – that is, you and me.
Certainly Warren's investments in home remodeling may have created work for construction companies and home suppliers, but those benefits pale in size and scope to the benefits to the public of successful private equity investments.
Too, many progressives are queasy about the idea of gentrification, which they argue prices poorer people out of their neighborhoods, replacing them with the more "privileged," all supposedly to the detriment of the character of said communities. Warren supported this process by improving several of the homes she purchased that had been in disrepair, and selling them at a significant premium.
No one should begrudge Elizabeth Warren for her apparent investing acumen.
And one suspects that no one on the left will begrudge her for her home-flipping hypocrisy, given that the truly ill-gotten riches of the Clintons who partnered with all manner of tinpot dictators and civil rights squelchers do not seem to offend the left's sensibilities.
But all should recognize that the very business for which Romney was castigated by large swaths of the public is in essence the same business in which Warren was an active participant, only at a smaller scale and with far more modest benefits.
This is not an indictment, but a compliment, even if Warren herself would not like to hear it.
More broadly, we should be celebrating those who create wealth, and crucifying those who destroy it -- namely government bureaucrats whose resources only exist because they bilk the individuals and businesses that did build that.
Follow Ben Weingarten (@bhweingarten) and TheBlazeBooks on Twitter and Facebook.
Listen to Ben's Blaze Books podcast featuring interviews with leading conservative and libertarian thinkers on Soundcloud and Stitcher, and subscribe to it automatically via iTunes.
—
TheBlaze contributor channel supports an open discourse on a range of views. The opinions expressed in this channel are solely those of each individual author.
Want to leave a tip?
We answer to you. Help keep our content free of advertisers and big tech censorship by leaving a tip today.
more stories
Sign up for the Blaze newsletter
By signing up, you agree to our
Privacy Policy
and
Terms of Use
, and agree to receive content that may sometimes include advertisements. You may opt out at any time.