Another mass shooting hit home, this time in Louisiana.
Baton Rouge law enforcement officers received a call early Sunday morning that a man with a gun and dressed in black was walking near a local shopping center. In less than 10 minutes, three officers were killed by the gunman and three others were injured. The gunman was reportedly killed by police.
The slain officers who served with the Baton Rouge Police Department included 41-year-old, Matthew Gerald and 32-year-old, Montrell Jackson. A 45-year-old deputy with the East Baton Rouge Parish Sheriff's Office, Brad Garafola, was also killed.
Officer Matthew Gerald had been with the department for less than a year. Officer Montrell Jackson, a 10-year-veteran of the police department, recently become a new father to a son, Mason, who is 4 months old.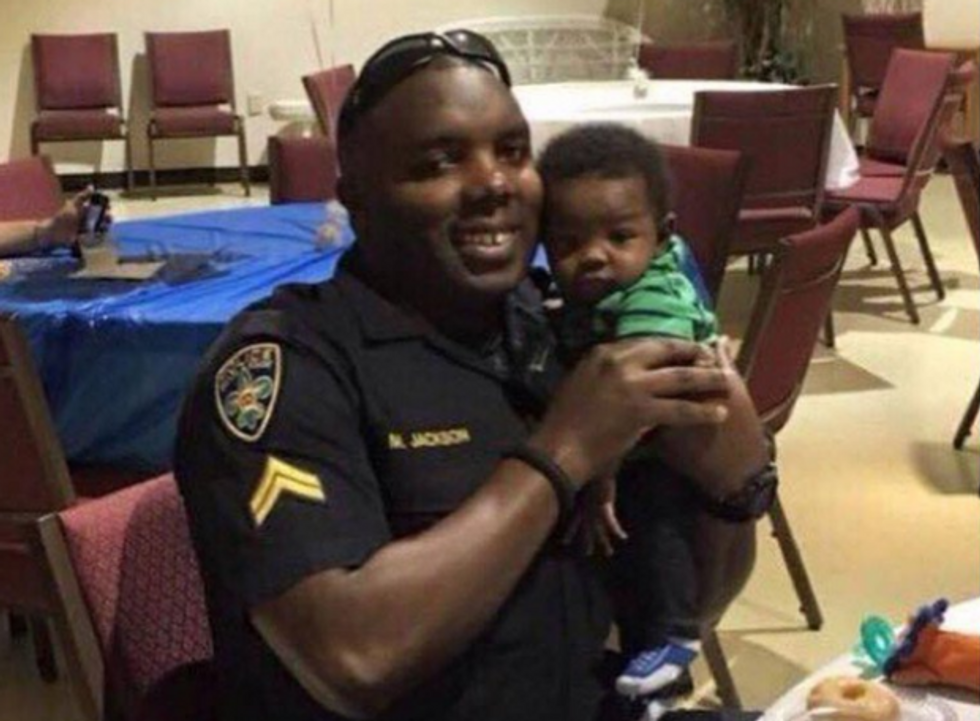 Screengrab
Jackson was also reportedly injured in 2007, when he tried to rescue a toddler from a burning building. Jackson and other officers unsuccessfully fought the flames with fire extinguishers but they couldn't save the child. Jackson was subsequently treated for smoke inhalation.
Deputy Brad Garafola had been with the sheriff's office for 24 years.
The wounded Baton Rouge sheriff's deputies include, an 18-year veteran, Nicholas Tullier, who is 41 and in critical condition and a 23-year veteran, 51-year-old Bruce Simmons, who underwent surgery earlier in the day. A 41-year-old police officer sustained non-life threatening injuries in the shooting.
The alleged gunman opened fire on law enforcement officers on his 29th birthday. He has been identified as Gavin Eugene Long, an African-American male from Kansas City, Missouri. Apparently, Long was honorably discharged from the U.S. Marine Corps in 2010 with the rank of sergeant. Two other men are also being questioned in the shooting and were brought in from nearby Addis.
The shooting in Baton Rouge marks the fourth shooting involving the death of police officers over the past two weeks. Eight police officers have been killed.
President Barack Obama once again addressed the nation and lectured the American public about what they needed to do in order to come together along racial lines.
"We have our divisions and they are not new," Obama said. He then went on to blame "around the clock news cycles and social media for amplifying these divisions" while making sure not to accept any responsibility for the racial divide many believe he has helped to widen since he has been in office.
Obama then cautioned "everyone" about using words to further their political agendas. He directed that we must use words and actions which can "unite the country rather than divide it."
Hypocritical advice from a president who has publicly accused police officers by saying they "acted stupidly" and made comments about other cases before knowing the facts, seemingly all done to further his own agenda.
As usual and as most of us have come to expect, President Barack Obama once again missed the mark and failed to inspire a nation to come together and heal. He either doesn't understand what is happening or chooses to ignore the truth.
There was one man, however, who spoke at a news conference held by the Baton Rouge Police Department, who absolutely understands the seriousness of what we are facing as a nation. Sheriff Sid Gautreaux of the East Baton Rouge Sheriff's Department spoke words which reverberated in most American's hearts and minds. His message will stay with us for a long time as we try to make sense of this latest tragedy.
"To me this is not so much about gun control as it is about what's in men's heart. And until we come together as a nation, as a people to heal as a people, if we don't do that and this madness continues we will surely perish as a people," Gautreaux said.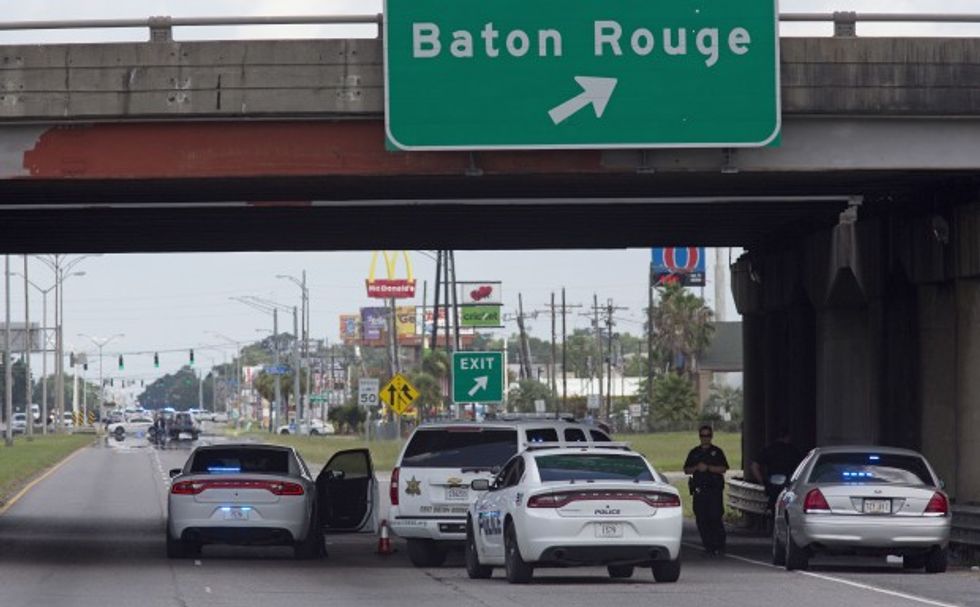 Baton Rouge Police block Airline Highway after police were shot in Baton Rouge, La., Sunday, July 17, 2016. At least three officers are confirmed dead and at least three others wounded after the shooting, a sheriff's office spokeswoman said Sunday. One suspect is dead and law enforcement officials believe two others are still at large, the spokeswoman said. (AP Images)
He then concluded by asking for prayers and support for all of the families, for this parish, his city, his state of Louisiana and our nation.
For all those unclear about the "motivation" behind these recent killings of law enforcement officers the answer is clear.
It is about hate.
We must put aside our differences, seek out our commonalities and acknowledge we are equal in the sight of God before we can begin to heal. We must then pray for each other and for our nation or we may not survive intact.
Prophetically, Jackson best describes what most of us are feeling about the current unrest in our country when he posted on Facebook on July 8, that he was "tired physically and emotionally."
He went on to say, "I swear to God I love this city but I wonder if this city loves me," Jackson wrote. "In uniform I get nasty hateful looks and out of uniform some consider me a threat…These are trying times. Please don't let hate infect your heart. This city MUST and WILL get better."
Gautreaux's warning and Jackson's message to not allow hate to infect our hearts should be heeded if we are to heal as a nation.
–
TheBlaze contributor channel supports an open discourse on a range of views. The opinions expressed in this channel are solely those of each individual author.