This is it: After 18 months of a very intense race to secure the nomination, the Democrats and the Republicans will finally face off in the presidential debate.
As can be expected, Hillary Clinton will want to hammer her socialist agenda, especially if the moderator gets on board.
But unfortunately for her, most of what she will say about the environment and climate will be false.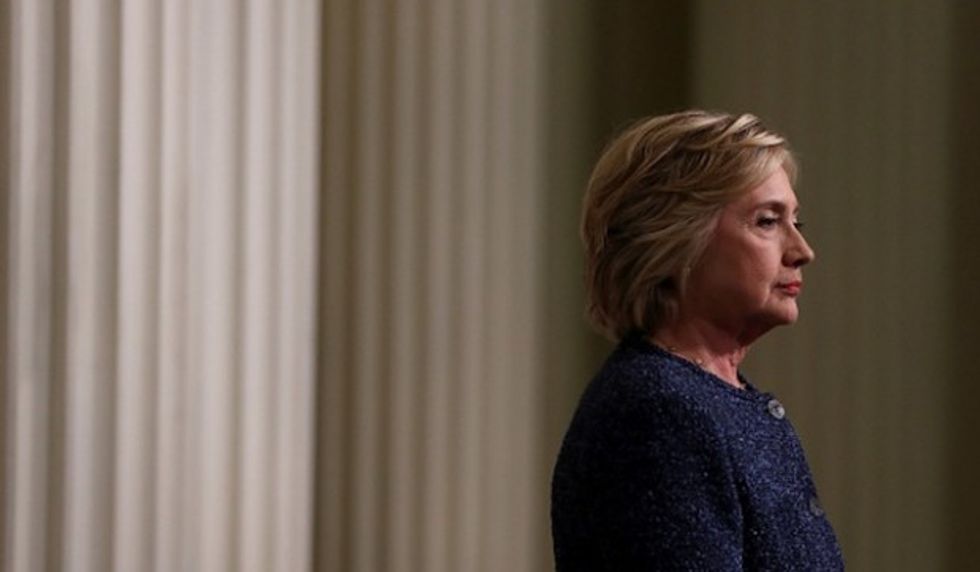 Democratic presidential nominee former Secretary of State Hillary Clinton speaks with reporters following a National Security Working Session at the New York Historical Society Library on September 9, 2016 in New York City. Hillary Clinton is attending fundraisers and in New York City. (Photo by Justin Sullivan/Getty Images)
First and foremost, no the Earth's "fever" isn't getting worse. The National Aeronautics and Space Administration pretends that August 2016 is one of the hottest on record since 1880. Satellite records, on their side, keep showing statistically insignificant warming (i.e. a pause) since 1998. Yes, it's hotter than average but it's showing a sharp decline due to the probable coming of La Nina.
Besides even if NASA data were true they keep running colder than what models predicted. But they are very likely skewed because of urban heat islands, like concrete, that keep accumulating heat near weather stations.
Second, the Environmental Protection Agency, which has served President Barrack Obama in his plan to fight the climate boogeyman, is corrupted to the bone. New documents recently released by the Energy & Environment Legal Institute show that the EPA sought output from ecofascist groups like the Sierra Club in order to draft its policies.
They even tried to circumvent transparency obligations by using personal emails, which are not subject to Freedom of Information Act requests. And these discussions were not included in the Federal Registry, making it impossible for the public to know how the policies they will have to obey came from.
Besides, despite the Sierra Club's wishes, talking about climate change in the debate would be futile. Voters rank the subject dead last in their electoral priorities (if it ranks at all).
And most people aren't willing to put their money where their mouth is on the climate hysteria. A recent survey shows that 43 percent of people aren't willing to pay a dollar more to fight it, even though "65 percent think it is a problem the government should do something about."
However, should Clinton be elected ecofascism will gain a stronger holder in the U.S. government. She will find plenty of catch phrases from ecofascist extraordinaire John Cook, who invented the 97-percent consensus, who will join the George Mason University in Virginia in January.
She would also try to resurrect the failed #Exxonknew campaign, which is falling apart. That censorship campaign was started by several state Attorneys General as a cheerleading role for President Obama's Clean Power Plan. It sought to make Exxon "confess" that it "hid" information regarding what it knew towards the climate boogeyman.
With a Democrat in power, they will fully honor this famous quote: "If you torture a data long enough, you can make it confess anything." So if you care about science sanity and freedom of speech and inquiry, just do the opposite of what ecofascist Sierra Club wants you to do: Vote against Democrats and whoever wants to engage in a Don Quixote fight.
–
TheBlaze contributor channel supports an open discourse on a range of views. The opinions expressed in this channel are solely those of each individual author.