Last Friday's release of former Secretary of State Hillary Clinton's emails would be dispositive if she were seeking a job in the private sector.
She would not be granted a second interview.
Who among today's Democrat leaders is willing to step in and shut down this circus?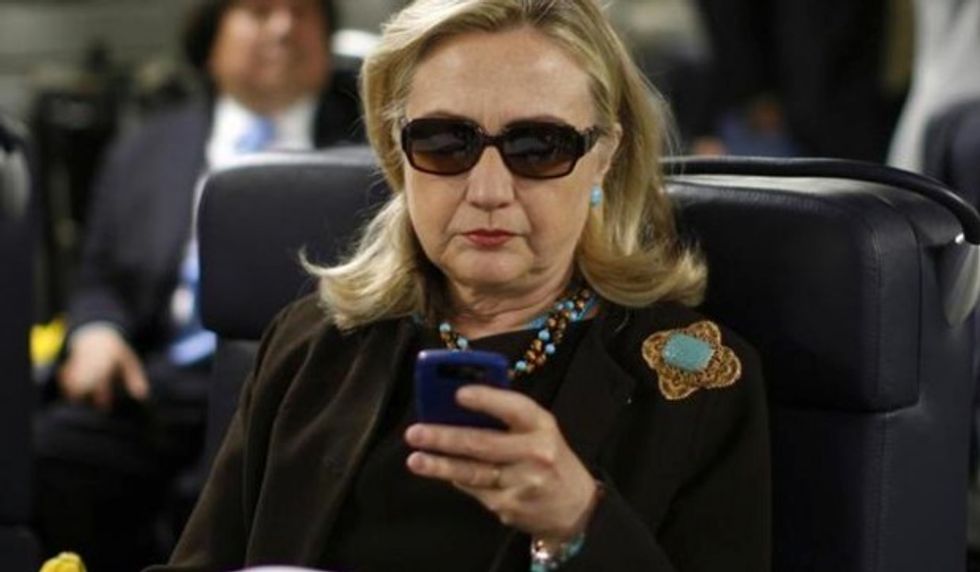 (AP Photo/Kevin Lamarque, Pool, File)
I was privileged to know some remarkable patriots during my 18 years in Congress, both Republicans and Democrats. I'll spare you my admiration for my Republican colleagues, though I could write a book about Henry Hyde. Let me just talk about the Democrats.
Henry Hyde's counterpart on the Foreign Relations Committee was Lee Hamilton from Indiana. He was a thoughtful and kind intellectual. He cared as much about our country as anyone I ever met.
David Obey from Wisconsin was the last chairman of the Appropriations Committee to pass and send to the president all appropriations bills before the fiscal year ended. No continuing resolutions for David. He was tough and smart and a flaming liberal. The only thing he cared more about than the success of his party was the success of our country.
John Dingell, a Michigan Democrat, served in Congress longer than anyone in history. He was a notoriously stern chairman of the Energy and Commerce Committee who was feared equally by those in business and those in the bureaucracy. He was unfailingly fair and patriotic.
Dick Gephardt from Missouri was the Democrat Leader for several years. He was a fierce partisan for his side, but he was an equally fierce patriot for our nation.
They were the kinds of leaders that we had in both parties who could step up at a difficult time and right a sinking ship.
In 1974, when the Nixon presidency was drowning from Watergate revelations, Sen. Barry Goldwater of Arizona and Republican leaders Rep. John Rhodes of Arizona and Sen. Hugh Scott of Pennsylvania went to the White House and told President Richard Nixon that it was over. They said he had to resign and he did.
Hillary Clinton has committed serial felonies and put the national security of the United States at risk as our top diplomat. She has lied about it for a year and each time she is proven wrong the story changes.
She said that there were no classified emails on the server. Wrong!
She said that there were no emails that were classified when she sent or received them. Wrong!
She said that there were no emails "marked" classified. Wrong!
In spite of her instructions to her staff to remove the markings and send the communication to her insecure account, they remained classified.
In any event, whether a communication is classified is not determined by its markings, but by its content. Secretaries of state are expected to know what is, or should be, classified.
It has been suggested that Mrs. Clinton's use of a personally owned and unapproved server for her official state department communications was to keep her correspondence secret from congressional oversight. I doubt that. She has a long track record of ignoring congressional oversight.
It is more likely that it was to keep her communications secret from the White House.
When she became secretary of state she was forced to sign an ethics agreement with the White House regarding her husband's financial dealings. She failed to abide by the agreement.
She also was leaning heavily on policy advice emailed to her from Sid Blumenthal of whom the White House disapproved and refused to allow her to hire in the State Department.
During her leadership at the State Department she notified all employees that official correspondence must be carried out through government channels.
She fired an ambassador for using private email.
She then violated the department's rules and her own instructions and routed classified documents through her insecure private server.
In the latest tranche of emails released, 22 of them are so sensitive that they will not be released at all, even in redacted form.
Some of the messages carried "operational intelligence," the disclosure of which could endanger "sources, methods and lives." No serious person doubts that her server was hacked by foreign intelligence agencies to monitor her communications in real time.
The mere presence of those 22 emails on an insecure server represents 22 felony counts whether they were marked or not. The FBI will recommend taking this to a grand jury for indictment.
It may be that President Barack Obama will ignore the FBI and attempt to sweep this under the rug so that she can be president. I doubt it.
But it should not fall to him to make that decision. If there were Democrat leaders today as patriotic as the four I mentioned Mrs. Clinton would be receiving some visitors who would say, "Enough is enough.
"You may not put your personal interest above the national security of the nation. You are hurting our party and it's time to stop the bleeding and shut this circus down."
If you would like to be added to John Linder's distribution list please send your email address to: linderje@yahoo.com or follow on Twitter: @linderje
–
TheBlaze contributor channel supports an open discourse on a range of views. The opinions expressed in this channel are solely those of each individual author.