Yesterday, while hundreds of thousands of passionate pro-lifers took to the streets in Washington, D.C. for the largest annual rally in the history of the world, their supposed representatives in the Republican Party once again betrayed them.
Led by a few limp-wristed, jelly-spined cowards like Rep. Renee Ellmers of North Carolina and Rep. Jackie Walorski of Indiana, the Republican fools, who can't even manage to pass an immensely popular piece of conservative legislation through a Republican Congress, abandoned an initiative to prohibit abortions after 20 weeks.
Now, this comes as no surprise to even the most casual political observer. The GOP is largely populated by wimps and nitwits, and I say that not as an insult but just as a sort of scientific observation. Wimps, because they are too afraid to defend the unborn in even the mildest of ways, and nitwits because they still think that being "too pro-life" will scare off women voters, even though most women are pro-life, and the pro-life movement, as evidenced by the attendance at the March for Life, is by and large a youth movement.
They let the liberal media convince them that they should moderate themselves on social issues, while Democrats scurry ever further to the left, twice electing a president who attends Planned Parenthood fundraisers, supports infanticide, and imposes birth control mandates. These Republican invertebrates think that abortion is a losing issue because Democrats tell them it's a losing issue, meanwhile those same Democrats take every opportunity to inject abortion and "reproductive rights" into every debate, knowing they'll automatically win because the other side is too afraid to argue about it.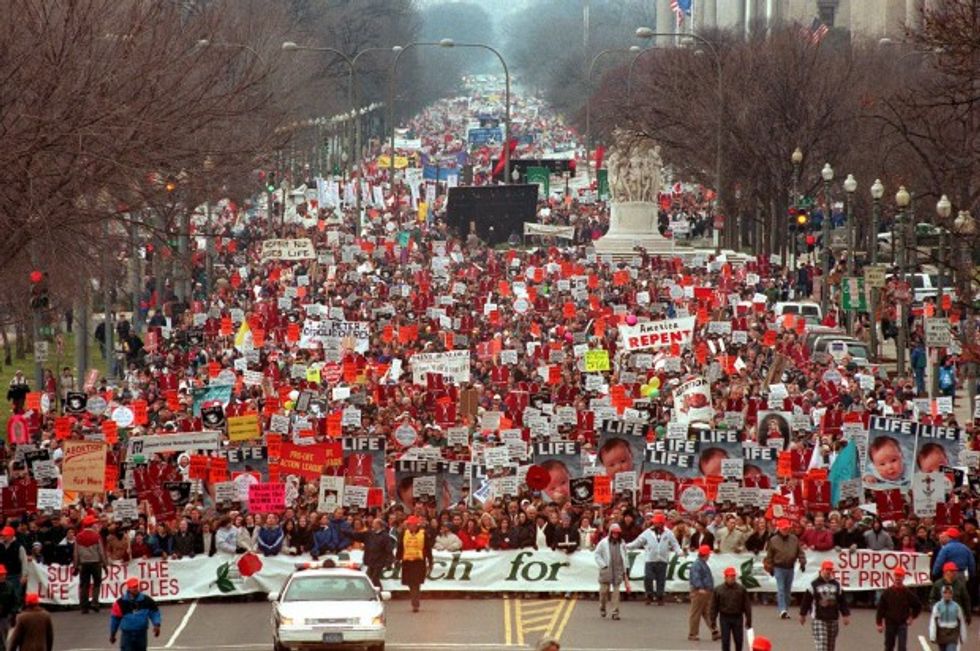 Each January, anti-abortion protesters mark the anniversary of the Roe v. Wade ruling with the March for Life in Washington, D.C. Attendance often reaches into the thousands, such as during the 25th anniversary march pictured here. The 40th March for Life on Jan. 25, 2013, will be the first without its founder, Nellie Gray, who died in August 2012.
Really driving home this shameful dichotomy yesterday, as Republicans peed themselves in fear over the prospect of appearing slightly opposed to murdering babies, President Barack Obama issued a radical pro-abortion statement declaring child murder a "core constitutional right." Once again, while the GOP scrambles to find the "middle" of the abortion debate, the left makes it clear that they intend to make no concessions. They want all abortion legal, and they want it free, and they want us to celebrate it. And they'll insist on all of that while telling those simpering, gullible Republicans that they have to be balanced on the issue.
Enough of this already.
Seriously, enough.
Liberals realize that abortion is a matter of absolutes. Either you're for it or against it. Either you accept one side's premise or the other. And which ever you accept, it's really quite impossible to accept it only partially. It's time for conservatives and their alleged representatives in D.C. to go all in. If you're pro-life, then you need to be pro-life without exception. Period.
[sharequote align="center"]If you're pro-life, then you need to be pro-life without exception. Period.[/sharequote]
Let's go back to the roots here, and let's remember that you can't give up the roots and save the tree. Which means, though I'm angry that the 20-week abortion ban didn't pass, I'm only angry because of why it didn't pass, not necessarily that it didn't pass. After all, the bill still allows abortion before 20 weeks, in cases of rape and incest, and where the life of the mother is threatened. You might say, well, that's better than nothing, but remember that the bill won't become law anyway; Obama will surely veto it. So it has no value except as symbolism, and as symbolism it only serves to confuse the issue if it doesn't affirm the value of all unborn life.
The pro-life position has to be one that allows no exceptions, otherwise it makes no sense. Pro-life legislation must protect the value of life unconditionally, or it only serves to send a self-defeating message.
It's not that hard to figure this out. I am pro-life in all cases, even rape, even incest, even in the hardest and most difficult scenarios, and I can explain why. But in order to explain, we have to go back to the basics here, back to the roots.
So here is the five step logical progression that explains why I am pro-life without exception:
1. Because life is sacred.
If life were not sacred, then it wouldn't make sense to be particularly for or against it. It's just a thing that happens or doesn't. Whatever, right? But if life is scared, if it has value, then we must defend it and preserve it. All sides of every issue would be irrelevant if the people they impacted weren't worth anything to begin with.
2. Because unborn children are alive.
There is no debating this. Even if you look at a strict dictionary definition of the term, you find that life means:
"the condition that distinguishes organisms from inorganic objects and dead organisms, being manifested by growth through metabolism, reproduction, and the power of adaptation to environment through changes originating internally."
All of that applies to unborn children. Unborn children are not inorganic objects. They couldn't be inorganic objects, because lifeless things cannot ever become living things. Argue about "development" if you like, but non-living things cannot develop into living things. That clearly defies the laws of science. Unborn children are alive because born people are alive, and no living thing could have ever been a non-living thing.
Anti-abortion demonstrators hold signs during a Priests for Life protest outside the US Court of Appeals for the DC Circuit Court as the Court hears the oral arguments in the "Priests for Life v. US Department of Health and Human Services (HHS)" case in Washington, DC, on May 8, 2014.  (SAUL LOEB/AFP/Getty Images)
3. Because unborn children are human.
We can use the same logic on this point. If something is alive, then it must be a part of some species or another. There can be nothing that is alive but not of a species. If unborn children are not human, then they would be of another species, which is to suggest that through the course of you existence, you switch from one species to a different one. That, of course, is absurd and impossible.
4. Because abortion is murder.
We know that murder is the direct killing of innocent human life, to be distinguished from acts of legitimate self-defense or just war. In order for abortion to not be murder, the unborn child would either have to be A) not living, B) not human, or C) not innocent. We've already established that it is both living and human, which leaves us only to debate whether the child is innocent. To assess the baby's innocence (I still can't believe we even have to have this conversation) I think the dictionary is again a great resource. It tells us that "innocent" means:
"1. free from moral wrong; without sin; pure. 2. free from legal or specific wrong; guiltless. 3. not involving evil intent or motive."
If the dictionary is any authority here, it would appear that unborn children are not only innocent, but literally the most innocent human beings on the planet.
5. Because murder is wrong.
OK, now that we've established what murder is, and that babies are murdered when you intentionally and directly kill them, we are left only with discerning whether the act of murder is immoral in the first place. But if murder is not wrong, then we probably don't have the foundation to call anything else wrong, as whatever we say to condemn any act could almost certainly apply first and foremost to murder.
So either murder is wrong or nothing is. I'm well aware that many people in our society actually profess to believe that nothing is wrong, that all is relative, but these folks seem to feel very stridently that restricting abortion is wrong because it infringes on a person's bodily autonomy, which means you're reintroducing the moral reasoning behind condemning murder, which means your condemning abortion, which means, ironically enough, you can't even be for abortion without being against it.
These five points are the foundation of the pro-life argument. Why do I make no exceptions? Because these apply to every baby ever conceived in the history of the universe. I make no exceptions because there aren't any exceptions to be made. Remove any one of these points from the equation, and you are left with absolutely no reason to be against abortion.
Do you see why, then, it's confusing and counterproductive when we attach exceptions to our anti-abortion views? If abortion should be OK before 20 weeks, or if the baby is conceived in rape or incest, then one of these five items must be negotiable. So which is it? When we say it's acceptable to abort the baby conceived in rape, are we saying he isn't human, or isn't alive, or isn't innocent, or that, in his case, killing the alive, innocent human isn't wrong? Which part of our premise are we abandoning in order to be diplomatic? All of it?
In this Jan. 25, 2013 file photo, pro-abortion rights activists, rally face-to-face against anti-abortion demonstrators as both march in front of the U.S. Supreme Court in Washington in a demonstration that coincides with the 40th anniversary of the Roe vs. Wade decision that legalized abortion. (AP Photo/Manuel Balce Ceneta, File)
We're told that the uninformed moderate will be scared by a pro-life absolutist position, but I'd rather he be a bit startled than completely confused and bewildered by the other option.
"Wait, so you're saying you're pro-life because life is sacred and murder is wrong, but the sacredness of the life and the wrongness of the murder depends on the conditions by which it was conceived, and how far along it is in its development?"
You can't be pro-life with exceptions, because every reason you are pro-life also applies to those exceptions. And, yes, those exceptions are rare, but the consequences of compromising on these morally absolute pro-life tenets are far reaching. All you have to do is look around at our culture and you can see the havoc that is caused when we try to make concessions or accommodations with moral absolutes. When you go from "X is wrong," to "X is wrong, except in the cases of A, B and C," you actually end up saying "X is right in the cases of A, B, and C, but not in D, E, F, G, H and I." Put simply, you've gone from X is wrong to X is right. You've flipped sides, whether you know it or not.
When it comes to the life of the mother, it's easy to grant no exception because abortion is never necessary to save a woman's life. Sure, you might have a tragic scenario where the mother needs life saving treatment of some sort -- like chemotherapy, if she's diagnosed with cancer while pregnant -- and the treatment is likely to kill the baby. What the woman decides in that situation is up to her, obviously, but if she decides to receive the treatment, she has not "aborted" her child. She is accepting a medical procedure that might result in the death of her child, but she is not killing the child directly. This is an essential distinction and one that every conservative should learn, understand, and communicate.
[mattwalsh-social-instory]
The great thing here is that, if we stop with the moral cowardice and intellectual laziness, and we start defending the pro-life platform as the solid and irreducible thing that it is, we might be able to actually move the conversation along. For instance, the last time I explained to a pro-choice friend why I don't make exceptions for rape and incest, I was asked if I believe that all women who get abortions are equally evil. I was glad he asked because it gave me the chance to explain that, no, I don't think any of these women are evil. I can't assess their moral guilt, nor can I judge their souls or their states of mind, but I do know that a large number of them get abortions because they are afraid and they feel trapped. Despite all of this "choice" rhetoric, these women are usually made to feel that they have no choice. The abortion industry doesn't win them over by talking about the wonders of choice, it wins them by telling them they've been backed into a corner and this is the only choice they really have.
So, evil? No. Morally culpable? Yes, probably, in most cases. To what extent? I don't know. I can't speak to that. I have no idea. We can only deal with the act. And, as far as culpability goes, I believe very strongly that, in the worst and most extreme of cases, for instance if you have a young girl who was raped by her father, conceived his child, and then had an abortion, her moral culpability would be severely, drastically diminished. God will look with great mercy upon her, and if anyone is to be ultimately damned, it will be the rapist pedophile who abused her.
The point is, my pro-life absolutism does not mean that I don't have compassion for the hard cases, or that I think a woman who is raped and has an abortion will go to Hell. That's not the message. That's not the point. That's not what I'm saying, and I have no problem clarifying what I am saying and why I'm saying it.
In the end, I'd rather be in the position of explaining why I believe abortion is wrong without exceptions, then why I make exceptions but still think abortion is wrong. I think, when it comes down to it, only the former is really defensible.
To contact Matt with general comments, email MattWalsh@TheMattWalshBlog.com. To book him for a speaking engagement, email Contact@TheMattWalshBlog.com.
–
TheBlaze contributor channel supports an open discourse on a range of views. The opinions expressed in this channel are solely those of each individual author.