It is the constant battle on a road trip: when to stop for a bathroom break? Men and women tend to have very different opinions on what works for traveling rest stops and what doesn't.
But in space travel, the question becomes much more serious than a battle of the stronger bladder. On long space trips, astronaut waste accounts for nearly half of the mission's total waste. So two researchers at the University of Puerto Rico decided to tackle the task of recycling the human wastewater.
Astronaut pee has been a concern for engineers since man first traveled into space. Astronaut Edward H. White II, pilot of the Gemini-Titan 4 flight, floats in space while performing America's first spacewalk on June 3, 1965. White spent 23 minutes maneuvering around his spacecraft as Jim McDivitt remained inside the spacecraft. (Image source: NASA)
Rather than ejecting the pee into space, Eduardo Nicolau, Carlos R. Cabrera and their colleagues are developing a new technique that can turn the waste burden into a boon by converting it into fuel and much-needed drinking water.
The researchers collected urine and shower wastewater and processed it using forward osmosis, a way to filter contaminants from urea, a major component of urine, and water, Science Daily reported:
"Their new Urea Bioreactor Electrochemical system (UBE) efficiently converted the urea into ammonia in its bioreactor, and then turned the ammonia into energy with its fuel cell."
When supplies run low, the treated urine can become a source of drinking water, which would otherwise have to be delivered from Earth at a tremendous cost, according to the American Chemical Society.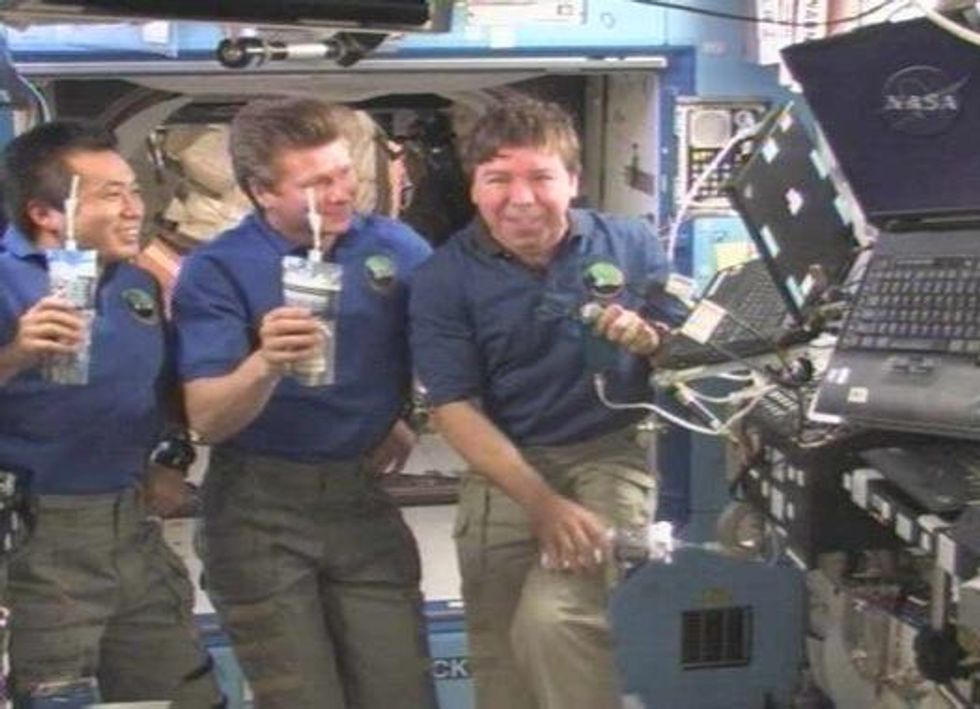 Astronauts drink recycled urine for the first time on the International Space Station in 2009. (Image via NASA TV)
The International Space Station already has a urine recycling system on board, but the UBE system is funded anew by the National Aeronautics Space Administration, perhaps in another move to break away from international space ties.
The UBE report may also inspire new ways to treat municipal wastewater; the system was designed with space missions in mind, but "the results showed that the UBE system could be used in any wastewater treatment systems containing urea and/or ammonia," the researchers found.
(H/T: Science Daily)
—
Follow Elizabeth Kreft (@elizabethakreft) on Twitter