Dozens of Republicans have used the first week in Congress to propose several bills aimed at defunding President Barack Obama's executive action on immigration, just days before GOP leaders are expected to push forward with some version of this plan.
Some immigration bills, like those from Reps. Martha Roby (R-Ala.) and Lou Barletta (R-Pa.), were solo efforts, but many others were offered along with several cosponsors.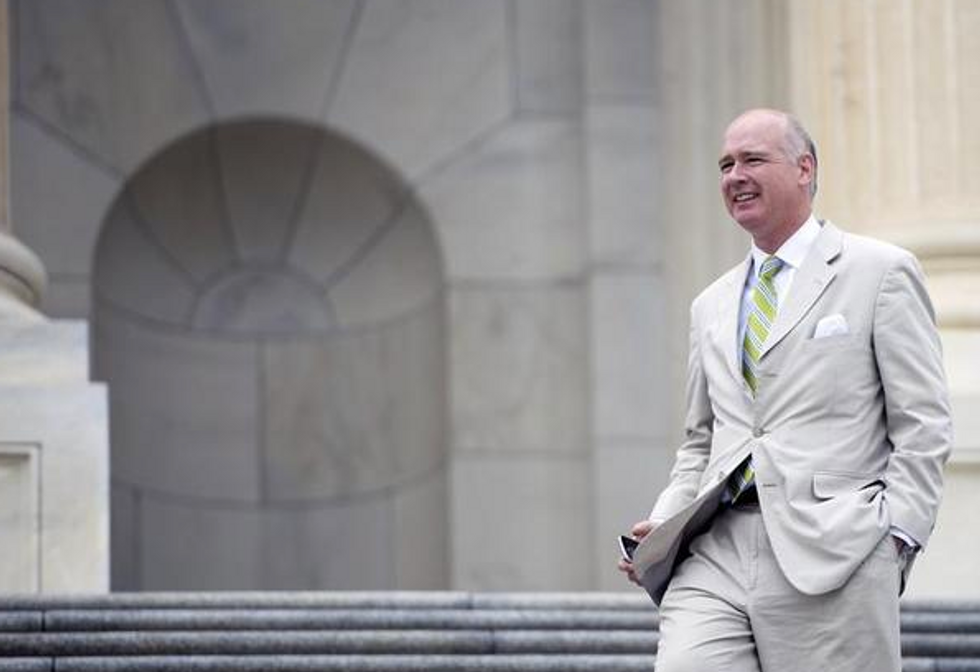 Rep. Robert Aderholt (R-Ala.) is one of several members to put forward legislation blocking President Barack Obama's executive action on immigration.
Image: Bill Clark/CQ-Roll Call,Inc.
One bill from Rep. Ted Poe (R-Texas), for example, was put forward with 21 cosponsors, and would prohibit the use of any federal funding to implement Obama's immigration plan. Obama's plan would give legal protection to up to 5 million illegal immigrants and allow many of them to work in the United States.
Like other GOP members with legislation, Poe said his is needed to ensure Obama respects the will of Congress, which should be the entity dictating changes to immigration policy.
"The president also has been sworn to support the Constitution and it is Congress' duty to make the laws, whether the administration likes it or not," Poe said. "The Constitution is not a mere suggestion. It's the law of the land."
One bill that could have the best shot of being passed by the House is one from Rep. Robert Aderholt (R-Ala.). Aderholt is on the House Appropriations Committee, and that committee is expected to introduce a Department of Homeland Security spending bill as early as Friday.
Republicans have indicated over the past several days that they would use this DHS spending bill to somehow blunt or stop Obama's immigration move. Work on this bill is expected next week.
Aderholt's bill would defund Obama's action, and would also remove the president's discretion in the ability to grant work permits, Social Security and other benefits that Obama has said he wants to provide. His bill has eight co-sponsors.
"My legislation will also put limits on the president's future ability to enact such wide-reaching actions that circumvent the Constitution's separation of powers," Aderholt said this week. "It returns the legislative authority of our government back to the legislative branch."
It remains to be seen whether Aderholt's language is enough to placate conservative GOP members who want to completely stop Obama's action. Legislation from Rep. Steve King (R-Iowa), which he proposed with 10 co-sponsors, would defund all of Obama's unilateral actions on immigration, including some he took several years ago.
"To make sure president Obama doesn't attempt to find other ways to circumvent the Constitution, my bill also has a catch-all provision that bars any similar actions in the future and has language to make it clear illegal immigrants are not authorized to work in the United States," King said.
Reps. Doug Collins (R-Ga.) and Tom Marino (R-Pa.) also have bills to defund Obama's action. Reps. Tom Rice (R-S.C.) and Mo Brooks (R-Ala.) have proposed resolutions calling on the House to file a lawsuit against Obama for his action, and Rep. Ted Yoho (R-Fla.) has a bill to prohibit the executive branch from exempting whole categories of immigrants from U.S. immigration law.
Republicans were set to meet at 10:30 a.m. Friday to discuss their legislative options.