Glenn Beck on Monday urged everyone to go see "Selma," a new movie about Rev. Martin Luther King Jr. and the Civil Rights Act, saying he was "shocked" by how accurately it portrayed the events.
"Martin Luther King has been used and misused," Beck said on his radio program. "Martin Luther King can only answer for what he did and didn't do when he was alive. Not what his family has done or what his supporters like Jesse Jackson have done, but what he did. And this movie shows you what he did, and I believe in a very accurate way."
Beck was shocked that Hollywood left God in the movie, and did not represent Democratic President Lyndon B. Johnson as a hero. The former president is often praised by Democrats for his effort to create the "great society," even though he opposed every civil rights proposal in his first 20 years as a lawmaker.
"It does not paint the liberal lion, the progressive giant of LBJ as a good guy. It shows LBJ as one of the biggest racists out there," Beck said. "I want to point out one thing the movie didn't point out -- that is, George Wallace was a Democrat, not a Republican, not a conservative. A Democrat."
Beck said he believes it is "really important" that the right, left and center of the country see the movie.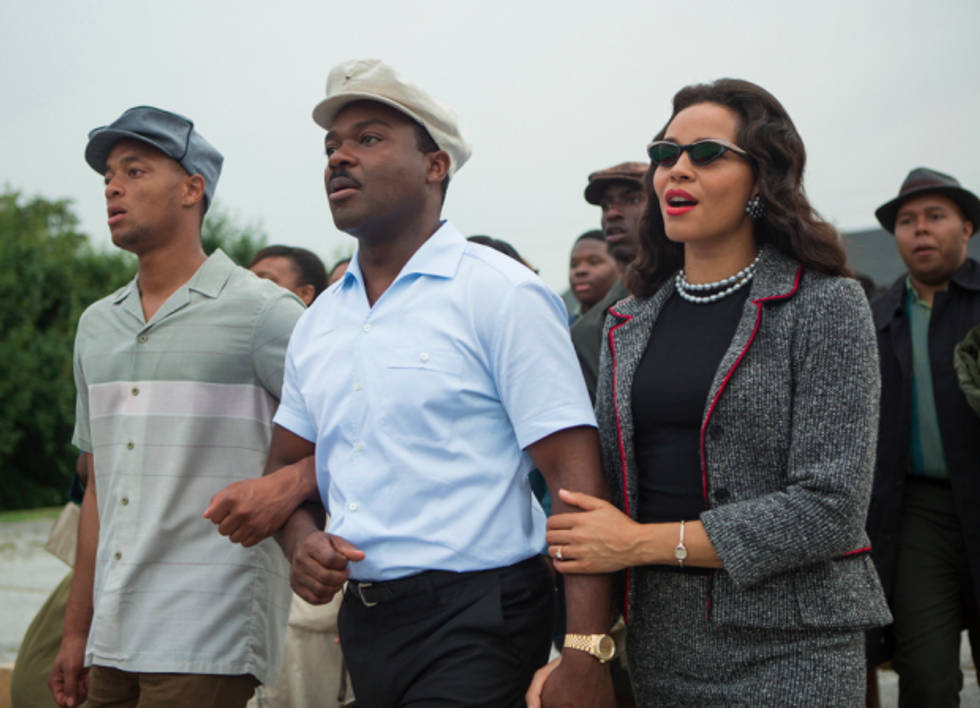 This photo released by Paramount Pictures shows, David Oyelowo, center, as Martin Luther King Jr. and Carmen Ejogo, right, as Coretta Scott King in the film, "Selma," from Paramount Pictures and Pathé. (AP Photo/Paramount Pictures, Atsushi Nishijima)
"Everybody," Beck repeated. "I think there's something to learn for everybody in this, because nobody is going down this road. No one is going down the road of Martin Luther King. They're all making exactly the same mistakes. And there's a lot to be learned there."
Beck said if Americans go into the movie with an open mind and ask, "Why did he win? Why did he change the world?" the answer will be clear.
"God is the only answer," Beck said. "Not guns. Not violence. God is the only answer. It's the only way to win."
Beck said those on the left who "fan the flames" of hatred in places like Ferguson, and those on the right who "came with their guns and their rifles and trained them on federal agents" at the Bundy ranch both need to realize that violence is not the answer.
"There were a lot of people in [Martin Luther King's] own party, in his own camp, that did not like him and did not like the way he was doing things," Beck said. "[They] called him a traitor and everything else. He stood for peace. He knew, yet he didn't back down."
"Watch that movie," Beck concluded. "It's critical that you bring your kids to that movie, I think."
[mlbvideo content_id=37126585]
The full episode of The Glenn Beck Program, along with many other live-streaming shows and thousands of hours of on-demand content, is available on just about any digital device. Click here to watch every Glenn Beck episode from the past 30 days for just $1!