Journalist Caroline Fourest, a former writer at the French satirical weekly publication Charlie Hebdo, continued to blast news outlets for refusing to show the newspaper's latest cover featuring a cartoon of the Prophet Muhammad, defiantly holding up a copy during a live interview on Sky News on Wednesday.
"So, I'm very sad, very sad that journalists in U.K. do not support us, that journalist in U.K. betray what journalism is about by thinking that people cannot be grown enough to decide if a drawing is offending or not, because you're not even showing it," she said. "Which is completely crazy that in the U.K. you cannot show [the cover]."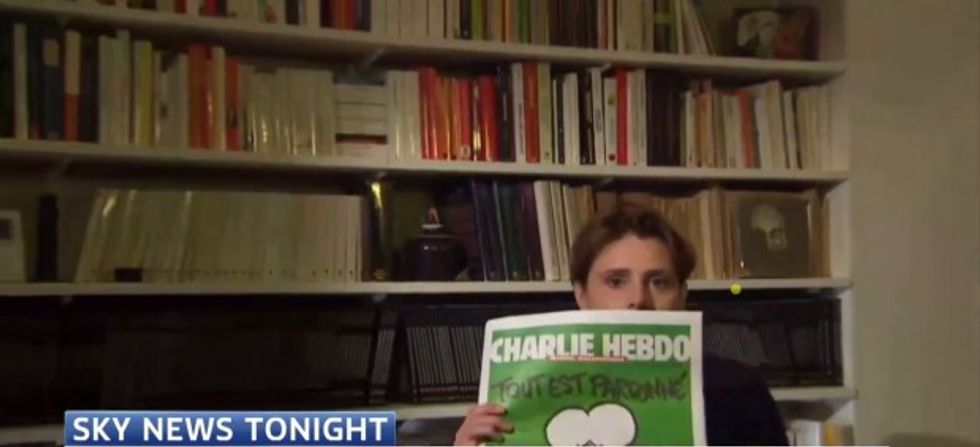 Sky News
The visibly uncomfortable Sky News host immediately cut off her guest, noting that the network has decide not to air the cartoon showing the Prophet Muhammad crying and holding a "Je suis Charlie" sign.
"Here at Sky News we have chosen not to show that cover, so we would appreciate, Caroline, not showing that," the host said. "I do apologize for any of our viewers who may have been offended by that."
Fourest also appeared on MSNBC on Wednesday where she also held up a copy of Charlie Hebdo's latest issue. In that instance, the network blurred out the cartoon on the cover.
You can view the cover below:
#CharlieHebdo print run increased to 5 million. Free speech with a vengeance. pic.twitter.com/M7CljwmGZF

— Anne Bayefsky (@AnneBayefsky) January 14, 2015
---