Political pundit Charles Krauthammer said Friday that he thinks Florida Senator Marco Rubio is most likely to win the Republican nomination for president.
The answer came in response to a question from Steve Hayes on "Special Report," a news program that airs on the Fox News Channel.
Image source: Screen grab via Fox News
"If I sent you to Las Vegas to bet on a candidate most likely to be the Republican nominee, how would you allocate your funds, your chips?" Hayes asked.
"$40 on Rubio, $30 on Bush, $15 on Scott Walker and I'd blow the rest on booze," Krauthammer responded, adding that Rubio is an "underestimated, dark horse candidate who threads his way."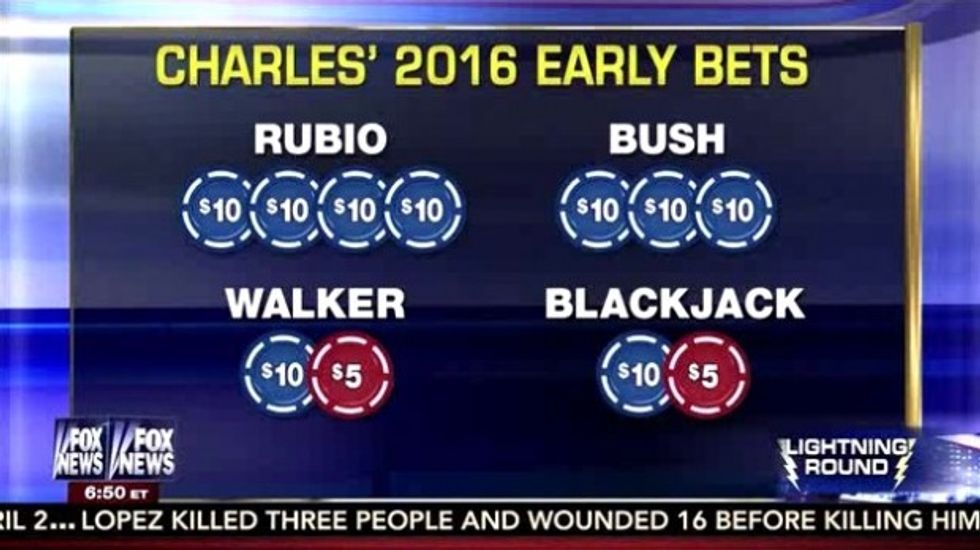 Image source: Screen grab via Fox News
"Young, energetic, he's got a program and I think if he runs against Hillary, the contrast, the vigor, the energy — that Kennedy-esque idea will be a major one," he continued.
The famed political pundit's response comes the same day ABC News reported Rubio was taking significant steps to launching a 2016 White House bid.
According to the news outlet, the Florida senator has asked his top advisors to prepare for a campaign and has planned travel to early-voting states. Further, Rubio plans to skip all votes in the Senate next week for a fundraising swing through California, ABC News reported.
—
Follow Oliver Darcy (@oliverdarcy) on Twitter