Recently we marked the 50th anniversary of the January 24, 1965 passing of Winston Churchill.
Churchill was not only a courageous leader but an eminent historian and lucid writer who left us with volumes of valuable insight and wisdom.
We have been flipping through his, "The Gathering Storm," which recounts among other parts of history the lead up to World War II, when Churchill stood as a lone voice against Nazi Germany -- a threat he so clearly saw while the world dithered.
Below are 12 passages from Churchill's Volume I of "The Gathering Storm," that look awfully eerie in light of the rising totalitarian, anti-Western, often anti-Semitic and savage, jihadist, Communist and fascist forces rising in the world today.
1. "We are not the same country we used to be when we are an island, only twenty years ago."
(Image source: Anthony Quintano / AnthonyQuintano.com)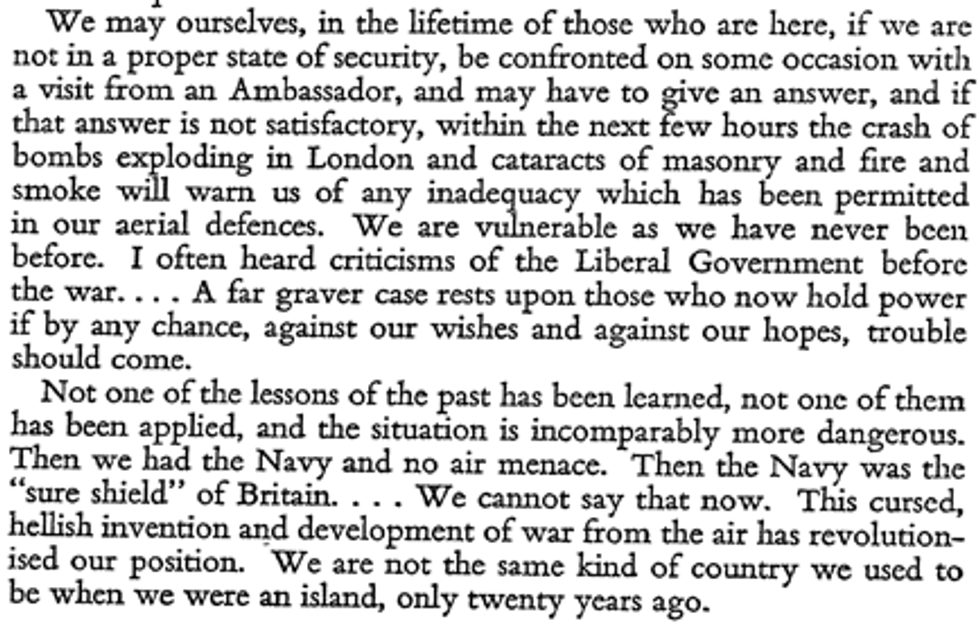 2. "[M]ighty forces were adrift, the void was open, and into that void after a pause there strode a maniac of ferocious genius, the repository and expression of the most virulent hatreds that have ever corroded the human breast."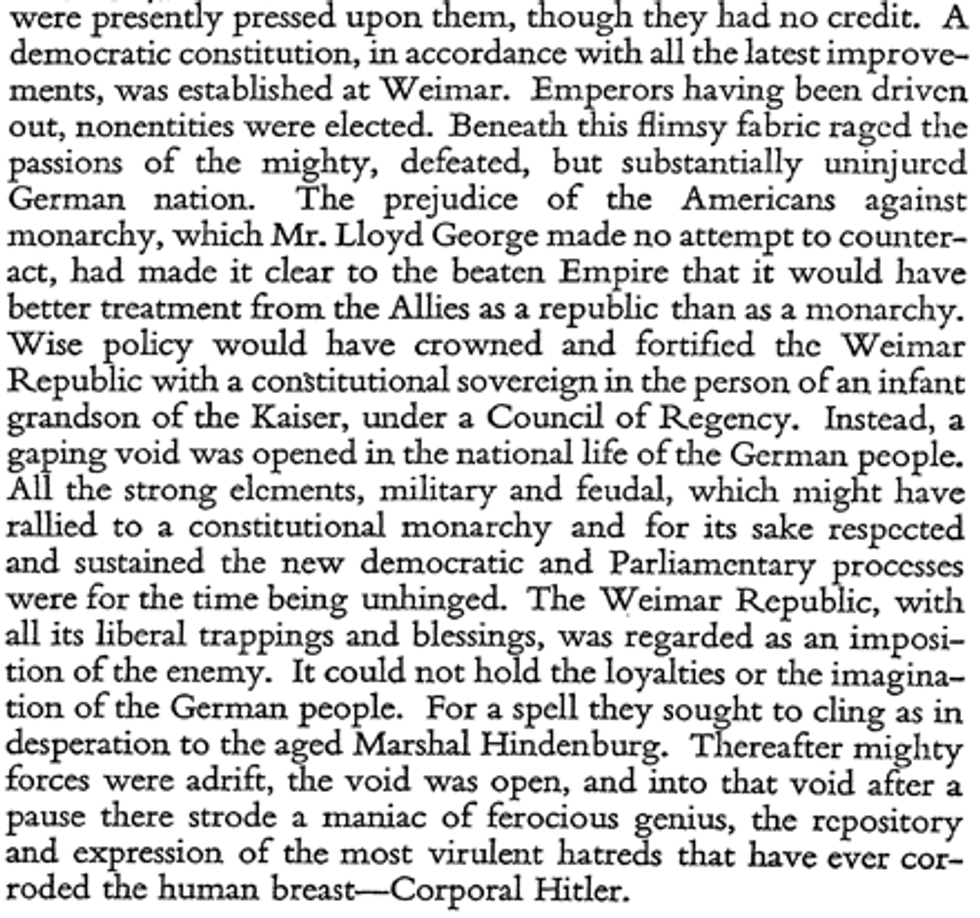 3. "As Fascism sprang from Communism, so Nazism developed from Fascism. Thus were set on foot kindred movements which were destined soon to plunge the world into even more hideous strife, which none can say has ended their destruction."
Golden Dawn leader Nikolaos Michaloliakos speaks during a news conference in front of a banner with the twisting Maeander. (AP Photo/Petros Giannakouris)
4. "The crimes of the vanquished find their background and their explanation, thought not, of course, their pardon, in the follies of the victors. Without these follies crime would have found neither temptation nor opportunity."
5. "Mankind has never been in this position before. Without having improved appreciably in virtue or enjoying wiser guidance, it has got into its hands for the first time the tools by which it can unfailingly accomplish its own extermination."
In this Oct. 26, 2010 file photo, a worker rides a bicycle in front of the reactor building of the Bushehr nuclear power plant, just outside the southern city of Bushehr, Iran. (AP Photo/Mehr News Agency, Majid Asgaripour, File)
6. "All this time the Allies possessed the strength, and the right, to prevent any visible or tangible German rearmament...Up till 1934 at least German rearmament could have been prevented without the loss of a single life. It was not time that was lacking."
7. "The greatest upheavals in history would have been unthinkable had it not been for the driving force of fanatical and hysterical passions. Nothing could have been effected by the bourgeois virtues of peace and order."
This undated file image posted on a militant website on Tuesday, Jan. 14, 2014 shows fighters from Islamic State of Iraq and Syria marching in Raqqa, Syria. (AP Photo/militant website, File)
8. "While these deadly changes were taking place in Germany the...[British government] felt found to enforce...the severe reductions and restrictions which the financial crisis had imposed upon our already modest armaments, and steadfastly closed their eyes and ears to the disquieting symptoms in Europe."
9. "It was like being smothered by a feather-bed."
President Vladimir Putin (R) stands with Iranian chief nuclear negotiator Hassan Rouhani in the Moscow's Kremlin. (Image Source: REUTERS/Viktor Korotayev CVI/MARussian)
10. "It is difficult to find a parallel to the unwisdom of the British and weakness of the French Governments...Nor can the United States escape the censure of history."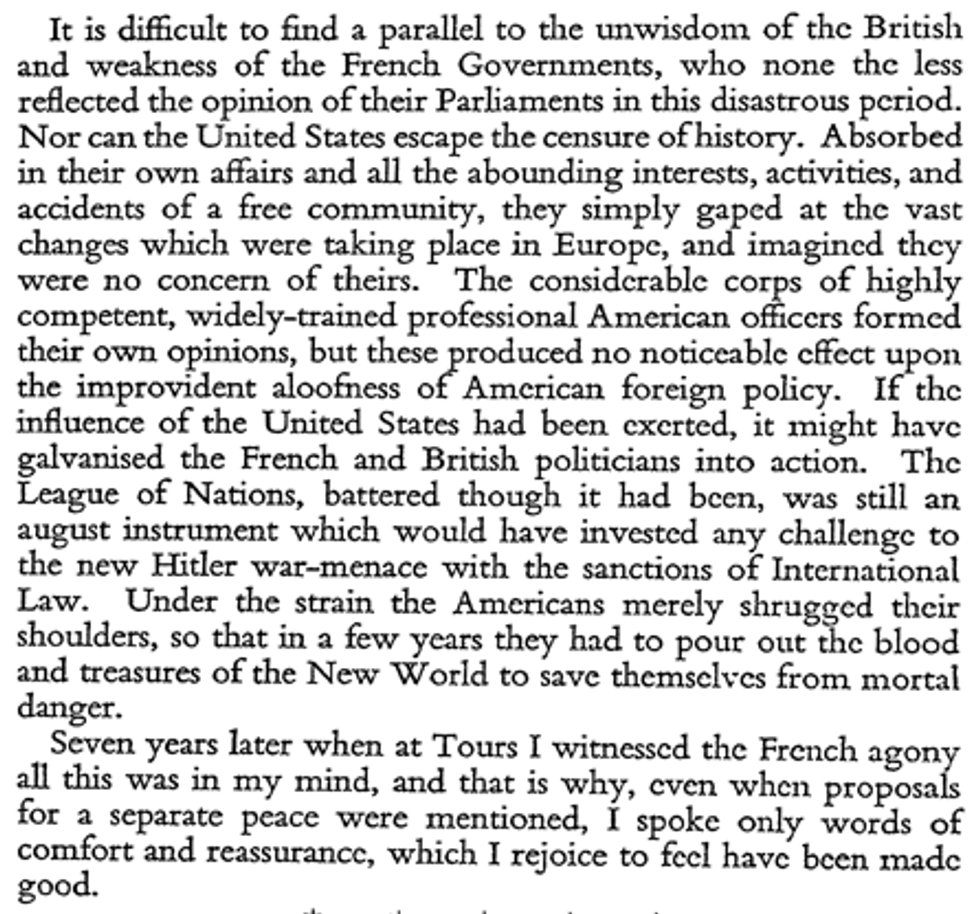 11. "Delight in smooth-sound platitudes, refusal to face unpleasant facts, desire for popularity and electoral success irrespective of the vital interests of the State, genuine love of peace and pathetic belief that love can be its sole foundation, obviously lack of intellectual vigour...strong and violent pacifism...played a definite part in the unleashing on the world of horrors and miseries..."
(Getty Images)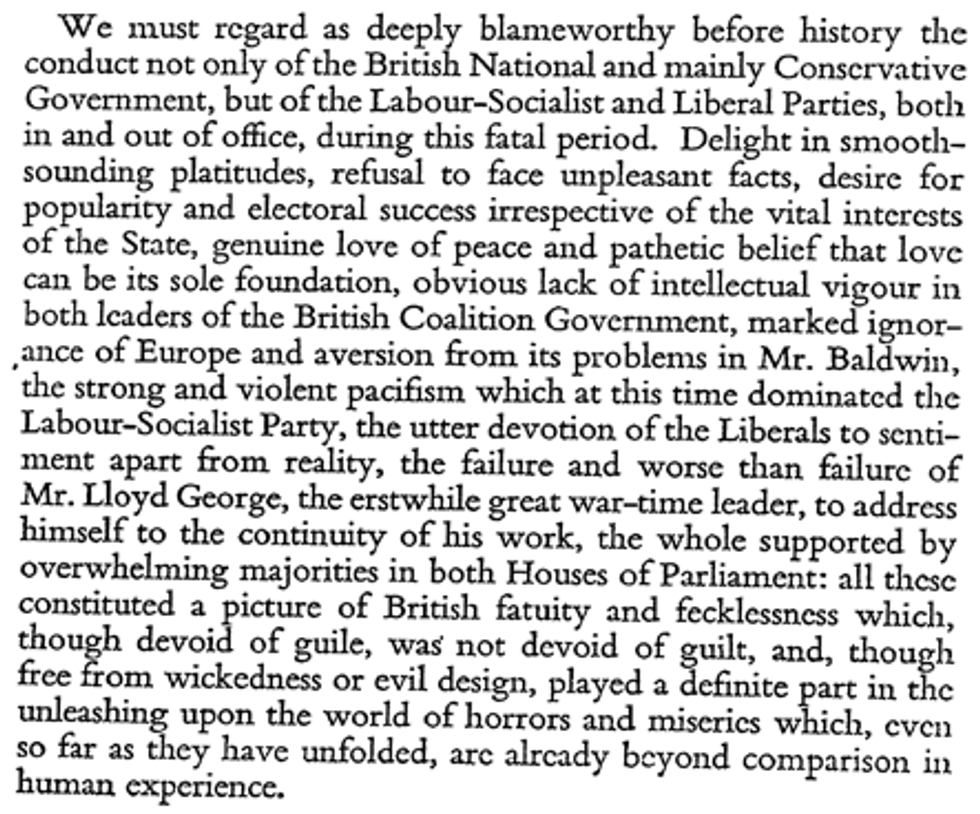 12. "Wars come very suddenly."
Note: The link to the book in this post will give you an option to elect to donate a percentage of the proceeds from the sale to a charity of your choice. Mercury One, the charity founded by TheBlaze's Glenn Beck, is one of the options. Donations to Mercury One go towards efforts such as disaster relief, support for education, support for Israel and support for veterans and our military. You can read more about Amazon Smile and Mercury One here.
–
Follow Ben Weingarten (@bhweingarten) and TheBlazeBooks on Twitter and Facebook.
You can find all of our Blaze Books interviews on Soundcloud and Stitcher, and subscribe to our podcast automatically via iTunes.