UPDATE: Ford Motor Company issued the following statement to TheBlaze: "We have not yet seen the complaint, however, we believe this matter ultimately is between the individual and their agency employer. Ford's anti-harassment policy was created to foster a respectful, inclusive work environment for all, and we expect employees and agency personnel to act in accordance with this policy."
--
A former contract employee at Ford Motor Company is accusing the company of unlawful discrimination after he says he was fired for sharing an online comment expressing his faith-based opposition to Ford's support for an LGBT employee organization.
Thomas Banks, a former design and release product engineer, told TheBlaze Wednesday that he has filed a complaint with the U.S. Equal Employment Opportunity Commission through his attorneys at the Liberty Institute, a conservative legal firm.
Banks and his lawyers say the Ford Motor Company and Rapid Global Business Solutions Inc., a staffing firm that employed him, discriminated against Banks for sharing his religious beliefs, claiming the companies violated federal law, including the Civil Rights Act of 1991 and the Federal Civil Rights Act of 1964.
He said problems began when he received an online newsletter from Ford in July 2014 that referred to the company's longstanding "policy to promote pro-homosexual ideas," according to the Liberty Institute.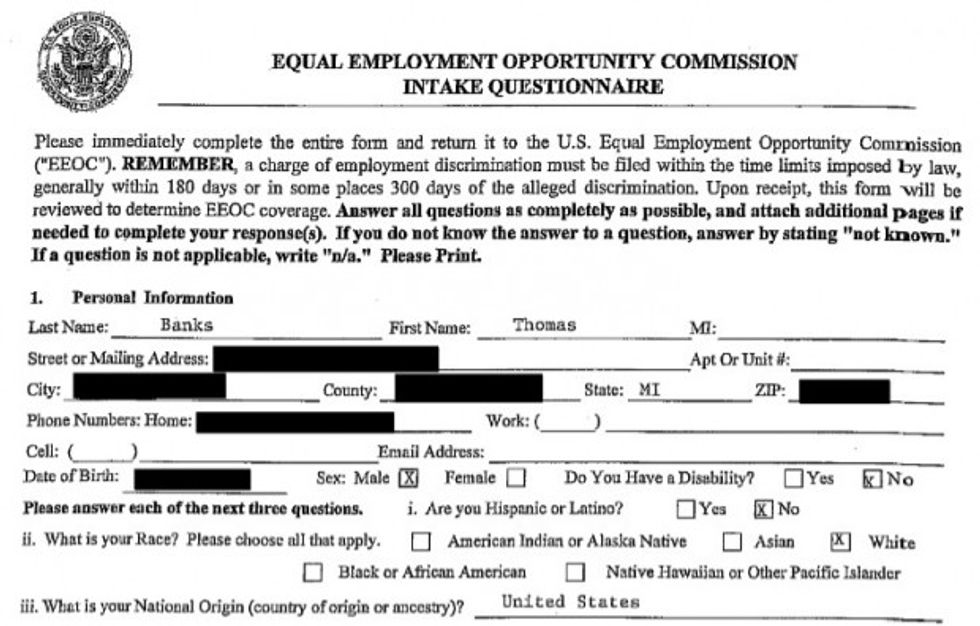 A portion of Thomas Banks' EEOC complaint.
Banks, a Christian, submitted a comment in the feedback section of the newsletter, saying he found the company's stance offensive.
"I got a news item in my inbox," Banks said. "They were celebrating 20 years of supporing this one employee organization called Globe, which I found offensive. I disagreed with the whole premise."
Ford Globe, according to its website, is "Ford Motor Company's Employee Resource Group for its gay, lesbian, bisexual, transgendered and ally hourly, salaried and agency employees."
Banks said that the newsletter was soliciting comments, so he said he wrote a brief note expressing his disagreement with the initiative.
"Ford was expounding on how proud they were of [support for Globe]," he said. "My first sentence was, 'I don't think you should be proud of this, you should be ashamed of this' … it's offensive and it's disruptive to the workplace and it had nothing to do with manufacturing automobiles."
The full text of his controversial comments read: "For this Ford Motor should be thoroughly ashamed. Endorsing and promoting sodomy is of benefit to no one. This topic is disruptive to the workplace and is an assault on Christians and morality, as well as antithetical to our design and our survival. Immoral sexual conduct should not be a topic for an automotive manufacturer to endorse or promote. And yes-this is historic-but not in a good way. Never in the history of mankind has a culture survived that promotes sodomy. Heterosexual behavior creates life- homosexual behavior leads to death."
Banks claims that the Ford Motor Company didn't appreciate that sentiment.
"A few days later I got an email from someone in HR and they said something had come to their attention and [that] they would like to talk to me, but they didn't say what it was," he said.
A meeting with HR followed on Aug. 4, during which he said a representative for the automotive company told him that he had possibly violated Ford Anti-Harassment Directive B110, which lists "sexual orientation" among attributes that are protected from employee harassment.
"All she asked me was, 'Did I write this comment' that they didn't like and I said I did," Banks said.
He said he received a voicemail later that night informing him that he had been terminated and was stunned. An HR representative for Rapid Global Business Solutions Inc. also told him in an email that he had violated the staffing company's policies as well.
"I had no other issues at Ford," Banks said of his three and a half years on staff. "My performance was good."
While he was aware that his comments likely wouldn't be well-received, he said he assumed he might get a talking-to or a warning, not fired. Banks also said that he wasn't aware that the comment would be posted under his full name.
"When I posted it, I thought I was kind of doing it semi-anonymously — you know, maybe it would just show my Ford ID number, but when it came up it showed my full name and address and everything I [couldn't] just turn pale because now they know who I am," he said, noting that he felt compelled to speak out. "I felt like I had to do it. I couldn't be a coward."
The incident led Banks to file the EEOC discrimination complaint, which he hopes will lead Ford to "adhere to the policy that they proclaim."
"They talk about tolerance, diversity and inclusiveness, but apparently that doesn't include people of faith," Banks told TheBlaze, saying he's fighting back to help protect peoples' religious freedom.
Banks also explained that he's had a tough time finding permanent work since the firing, as he finds himself struggling to explain why he left Ford during job interviews.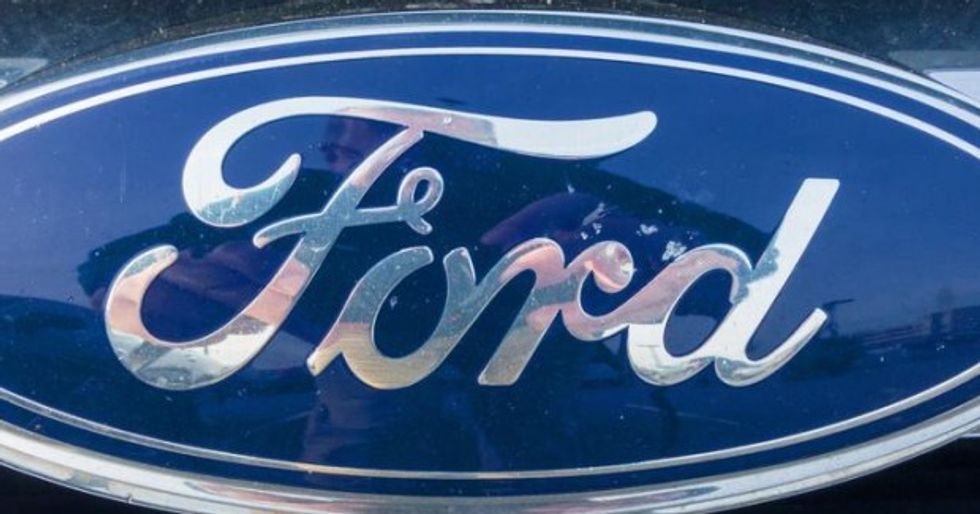 Getty Images
"It seems to me it very well could be a major reason why I'm not securing another job," he said. "I think I've been damaged in a way from this. I have been looking for a job since August when I left Ford."
Banks' attorneys say that they are "shocked" by the details surrounding his termination.
"We are shocked that Ford Motor Company would terminate one of their employees simply because he expressed his faith," Liberty Institute director of litigation Hiram Sasser said in a statement. "If Ford is allowed to get away with firing Mr. Banks over this comment, we fear that every person of faith will be punished for talking about his or her faith in the workplace."
He continued, "At Ford, if you speak about your faith as it relates to the company, even to the company, you may be terminated."
Requests for comment from the Ford Motor Company and Rapid Global Business Solutions Inc. have not been returned to TheBlaze.