President Barack Obama warned Republicans not to put U.S. national security at risk because of their opposition to his immigration actions.
Unveiling his new budget proposal Monday morning, Obama vowed to defend his unilateral actions taken last year, even as Republicans have said that anything tied to funding them is a nonstarter — including functions of the Department of Homeland Security, which oversees various immigration enforcement agencies.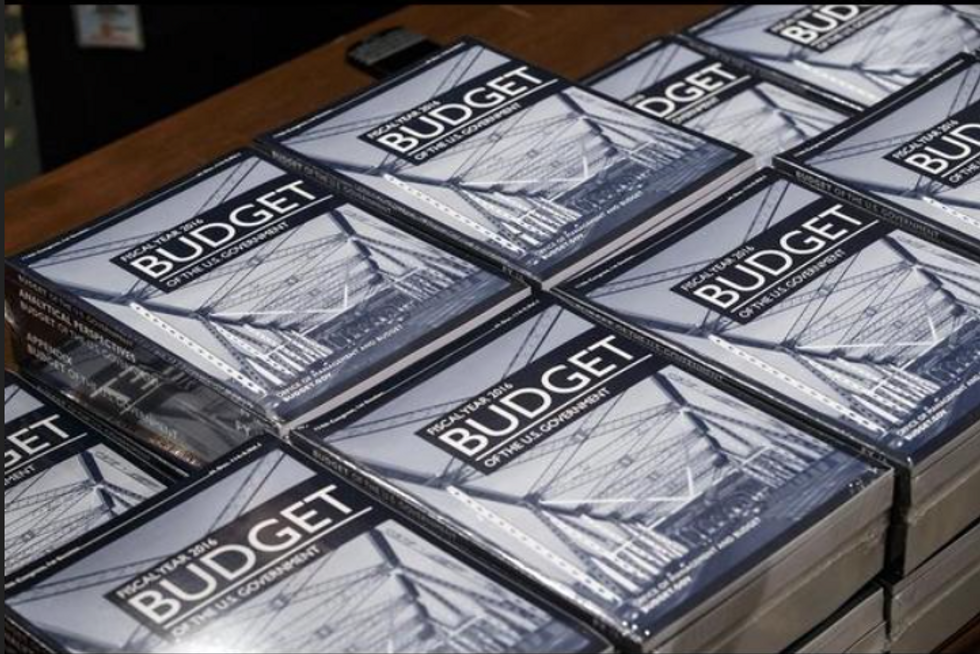 President Barack Obama's new $4 trillion budget plan is distributed by Senate Budget Committee staffer Eric Chalmers as it arrives on Capitol Hill in Washington, early Monday, Feb. 2, 2015. The fiscal blueprint for the budget year that begins Oct. 1, seeks to raise taxes on wealthier Americans and corporations and use the extra income to lift the fortunes of families who have felt squeezed during tough economic times. Republicans, who now hold the power in Congress, are accusing the president of seeking to revert to tax-and-spend policies that will harm the economy while failing to do anything about soaring spending on government benefit programs. (AP Photo/J. Scott Applewhite)
RELATED: 'It never balances': Republicans react to Obama's budget plan
Obama's $4 trillion budget proposal for fiscal year 2016 includes raising taxes on higher earners and a $487 billion public works program.
Republicans in Congress are considering funding all of the government except for the DHS functions that would uphold Obama's November actions, including shielding about 5 million illegal immigrants from deportation.
"We can have this debate, but don't jeopardize our national security over this disagreement," Obama said.
The agencies would not shut down, but various DHS employees including those with Immigration and Customs Enforcement and Customs and Border Patrol would have to work without paychecks for a period of time until Obama and Congress reach an agreement.
Obama administration officials went further Monday afternoon, arguing that legislation on immigration reform is the best avenue for entitlement stability.
RELATED: Here's what a 'sustainable fiscal path' looks like to House Democrats
"On the Social Security trust fund, one of the fundamental problems we are facing is the number of workers that we have relative to the number of retirees we have has been shrinking," said Shaun Donovan, the director of the Office of Management and Budget. "So comprehensive immigration reform is actually one of the most critical things we can do to shore up the longterm solvency of Social Security and as a result to improve our deficit challenges in the long term."
The budget proposal estimates the deficit will be $474 billion in fiscal year 2016, projected to rise to $687 billion by 2025. However, as a percentage of GDP, the budget stays about the same for that time, at 2.5 percent, under the estimate.
The proposed budget estimates the national debt would increase to 73.3 percent of the gross domestic product by 2025. It currently stands at 75.5 percent, according to the OMB. In real numbers, national debt would rise from a projected $18.8 trillion in fiscal year 2016 to $27.8 trillion in 2025. Further broken down, debt held by the public rises from $14.1 trillion to $20.3 trillion, while the federal debt net of financial assets grows from $12.5 trillion in 2016 to $17.7 trillion in 2025.
On the current track, that was projected to reach 81 percent, Donvan said.
Obama also insisted that the budget sequester must go, calling it "mindless across-the-board cuts."
"I'm not going to accept a budget that locks in sequestration," he said.
Pressed on whether the sequester has helped decrease the debt, Jason Furman, the chairman of the president's Council of Economic Advisers, said it has been other factors.
"If you look at the deficit reduction to date, more of it this past year, more of it this past year was because of the tax deal that restored the Clinton-era rates on high income households and the Affordable Care Act. It was the combination of those than from the sequester," Furman said.
This post has been updated.