Senate Democrats on Wednesday refused again to advance a bill funding the Department of Homeland Security, raising questions about whether the Senate will be able to find a way to fund DHS before the money runs out on February 27.
For the second day in a row, Senate Republicans held a procedural vote that's needed to let the Senate start work on the bill. But just as they did Tuesday, Democrats voted against this move, stalling the bill yet again with no clear path forward.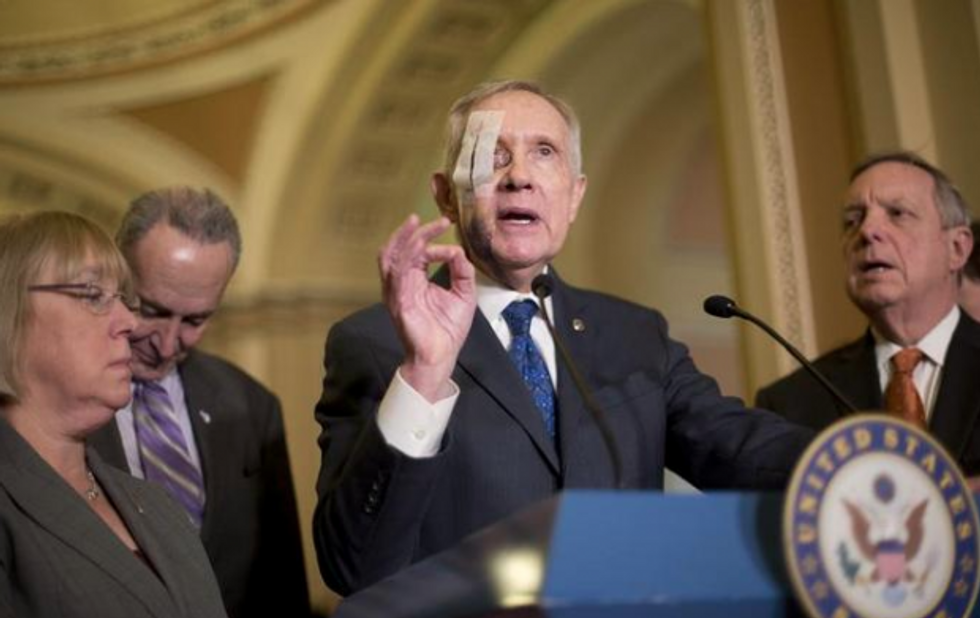 Senate Minority Leader Harry Reid (D-Nev.) and other Democrats again rejected a DHS funding bill, for the second time in two days. Image: AP Photo/Pablo Martinez Monsivais
The Senate voted 53-47 in favor of starting work on the bill, but because 60 votes were needed, the vote failed.
Every Democrat voted against the bill, along with Sen. Dean Heller (R-Nev.) — Heller also voted with Democrats in Tuesday's 51-48 vote.
The vote reflects the ongoing fight between the two parties over immigration. The legislation Republicans are trying to call up was passed by the House, and includes language that would defund President Barack Obama's executive action on immigration.
The White House has said President Obama would veto the bill in that form. Senate Democrats have used that message from Obama to justify their decision not to advance the DHS bill at all.
"The House Homeland Security bill, if taken up by the Senate, would simply be a delaying tactic," said Senate Appropriations Committee Chairwoman Barbara Mikulski (D-Md.). "We would talk, we would debate, we would offer lots of amendments on immigration, and after we did lots of amendments on immigration, it might go to the president, the president would veto it."
But Republicans said Democrats were failing to do their job by refusing to even consider the bill, and said Democrats are holding up efforts to fund a critical agency that protects the country from terrorism and other threats. If successful, the votes over the last two days would not pass the bill, and would only allow the Senate to start debate on the bill.
"What we're saying is, whether it's our colleagues on the House side or whether it's the members of the Senate, let's follow regular order, have the discussion, have the debate, offer amendments and see where we end up," said Sen. John Hoeven (R-N.D.).
Democrats have made the same charge — that it's Republicans who are threatening national security. But so far, those public charges haven't convinced anyone to change their minds.
As of Wednesday afternoon, Senate Republicans appeared to be on course to hold more of these votes in a bid to keep the pressure on Democrats to support the bill.