The institution widely regarded as the premier learning center for Sunni Islam called to brutally punish Islamic State members after the release of the video apparently showing a captive Jordanian pilot being burned alive, an act it described as contrary to the Muslim religion.
The Grand Sheikh of Al-Azhar Ahmed al-Tayib issued a statement following the burning alive of Lt. Muath al-Kaseasbeh saying the brutal act "requires the punishment mentioned in the Koran for these corrupt oppressors who fight against God and his prophet: killing, crucifixion or chopping of the limbs," Agence France-Presse reported.
The head of the Cairo-based institution expressed his "strong dismay at this cowardly act" and referred to the Islamic State as a "satanic, terrorist" organization.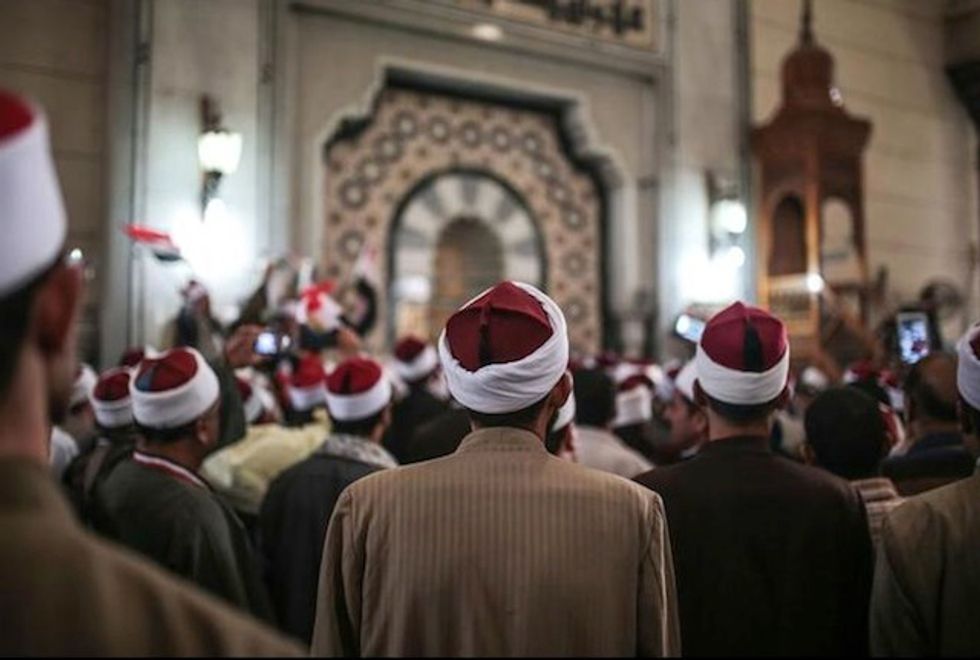 Egyptian clerics from Al-Azhar institution rally to denounce terrorism and show solidarity with the Egyptian government and security forces at a mosque in central, Cairo, Egypt, Tuesday, Feb. 3, 2015. (AP Photo/Mosa'ab Elshamy)
Muslim clerics have emphasized that burning someone to death is considered despicable by the Islamic faith.
Islamic State extremists released a video Tuesday that appeared to show the Jordanian pilot being burned alive in a cage.
Reuters quoted Saudi cleric Salman al-Odah who wrote on Twitter, "Burning is an abominable crime rejected by Islamic law regardless of its causes."
"It is rejected whether it falls on an individual or a group or a people. Only God tortures by fire," Al-Odah wrote.
Reuters reported that the Islamic State posted its own fatwa on Twitter that said that burning an infidel to death is allowed under Islam.
The news agency spoke to a Salafist cleric in Jordan who previously served time in Jordanian prison for jihadist militant activity. The cleric, Mohamed al-Shalabi, said that publicizing the video of the execution by burning would damage the Islamic State's image in the Muslim world.
"This weakens the popularity of Islamic State because we look at Islam as a religion of mercy and tolerance. Even in the heat of battle, a prisoner of war is given good treatment," al-Shalabi told Reuters. "Even if the Islamic State says Muath [the pilot] had bombed, and burnt and killed us and we punished him in the way he did to us, we say, OK but why film the video in this shocking way?"
In retaliation for its pilot's brutal killing, Jordan executed two Iraqi jihadists it was holding prisoner.