Kanye West has done it again — but this time he was in on the joke.
The rapper hopped on stage as alt-rocker Beck was accepting his "Best Album" award during Sunday night's Grammy awards.
As if replaying his infamous "I'm a let you finish" moment, West moved towards the mic — but then turned back and walked offstage.
The crowd seemed initially horrified, but then appeared to appreciate the joke as West stepped down from the stage...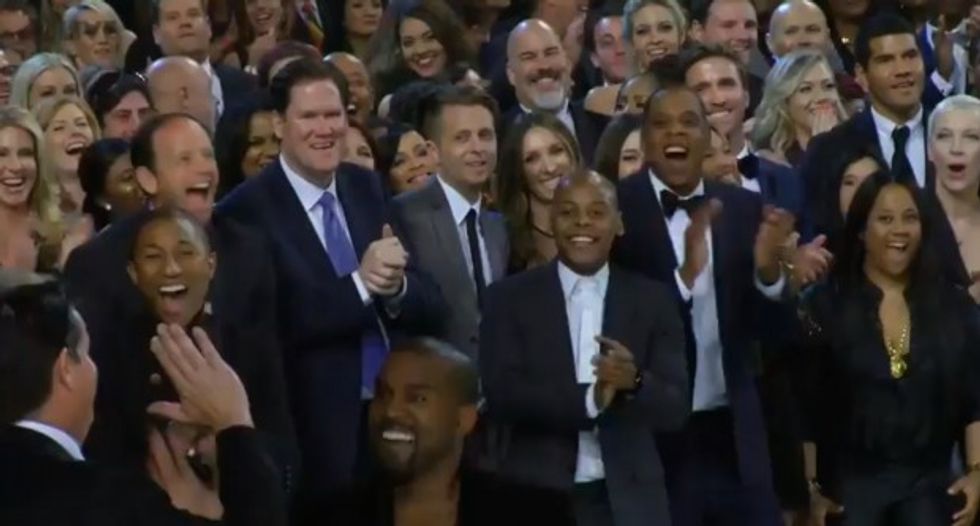 Image via CBS
...while the least perturbed of all seemed to be the man West interrupted, Beck, who actually waved for West to come back on stage.
Before it was clear that West wasn't going to speak, Jay-Z and Beyoncé both looked especially horrified to see him on stage.
But unlike the scene at the 2009 VMAs, where West interrupted a stunned Taylor Swift to sing Beyoncé's praises, West did not actually say a word onstage Sunday night.
He was, however, happy to talk about Beyoncé's music after the fact.
"The Grammys, if they want real artists to come back, they need to stop playing with us," he told E! News. "We ain't gonna play with them no more. Flawless, Beyoncé video, and Beck needs to respect artistry and he should have given his award to Beyoncé."
He added that he didn't launch an on-stage rant for the sake of his business and family.
"And by the way, I got my wife, I got my daughter, and I got my clothing line," he said. "That's the reason I didn't say anything tonight."
All the while, his wife Kim Kardashian West stood by his side, looking less than thrilled.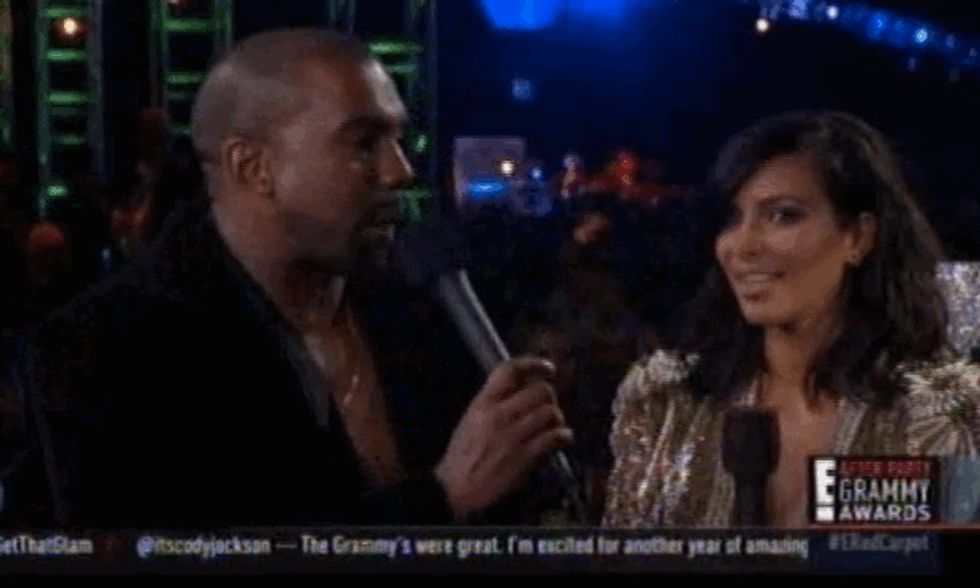 Image via E! News
West has previously spoken out about what he perceives as racism within the music industry, in which awards go to white musicians at the expense of more talented black artists.
Watch a recap of Sunday's shenanigans here...
...and watch the original interrupting West moment from 2009 — the moment that led President Barack Obama to label the rapper a "jackass" — below:
—
Follow Zach Noble (@thezachnoble) on Twitter