When Texas teacher Lindsey Painter decided to transfer from the school district where she had worked for more than a decade, it was in order to be closer to her family. Now, there's another reason she thinks she was called to start teaching at Hoffman Lane Elementary School in New Braunfels.
"It's hard not to feel like this is the way things were meant to be," Painter told KXAN-TV.
In August, Painter met 6-year-old Matthew Parker among her new first-grade students. For the last couple of years, Matthew's family has been searching for a new kidney donor after his body began to reject the one he received when he was 2 years old. After sorting dozens of applicants and family members as potential donors, Painter was found to be a perfect match.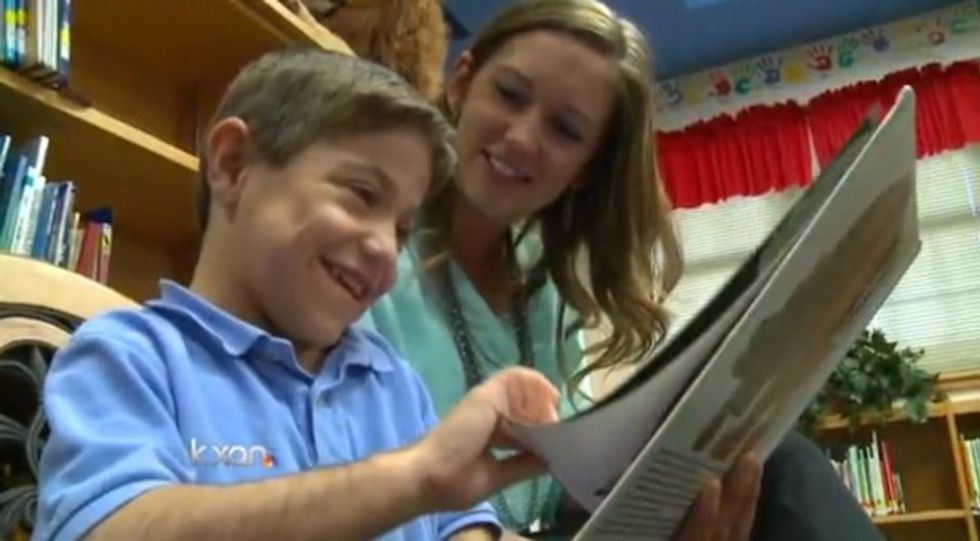 Matthew Parker has been on dialysis for two years, but that all might change in March when his first-grade teacher will donate her second kidney to him. (Image source: KXAN-TV)
"Everything has fallen into place and it's happened that way for a reason," Painter, who plans to donate her second kidney to Matthew in March, told the news station.
For the last two years, Matthew has been on dialysis, hoping for a kidney that doctors said only 1 percent of the population could match, KSAT-TV reported.
"I don't think any words can say how we feel," Lisa Parker, Matthew's mother, told KXAN. "I'm hoping for the best for both of them."
Though the Parker family's insurance will pay for Painter's surgery to donate the kidney to Matthew, she will not be paid for the six weeks of recovery time she will need to take off from work. The school and local community are raising funds and other donations to help the teacher during her recovery period, KXAN reported.
Watch the news station's report of the touching story: