Amid the media flap over Wisconsin Gov. Scott Walker saying he doesn't know if President Barack Obama loves America since he's "never asked the president" about that subject, Walker was apparently grilled again regarding his position on Obama's beliefs.
This time it was about the president's religious faith.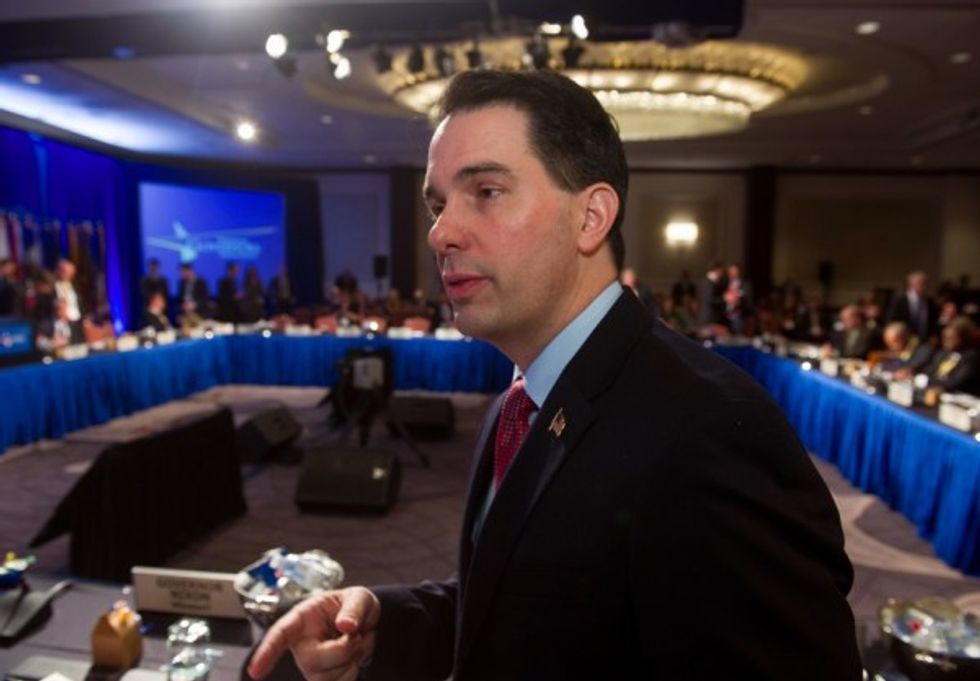 Wisconsin Gov. Scott Walker participates in the opening session of the National Governors Winter Meeting in Washington, Saturday, Feb. 21, 2015. (Image source: AP/Cliff Owen)
Walker, a Republican and possible 2016 presidential candidate, said in an interview Saturday that he didn't know if Obama is a Christian, the Washington Post reported.
The Post article did not quote the text of the apparent question Walker was asked regarding Obama's faith, it did note that Walker was told during the interview that Obama has spoken publicly about his Christian faith.
"I've actually never talked about it or I haven't read about that," Walker said, according to the Post. "I've never asked him that," he added, the paper said. "You've asked me to make statements about people that I haven't had a conversation with about that. How [could] I say if I know either of you are a Christian?"
Walker then offered a retort for the media.
"To me, this is a classic example of why people hate Washington and, increasingly, they dislike the press," Walker said, the Post reported. "The things they care about don't even remotely come close to what you're asking about."
More from the Post:
After the interview was completed, Walker spokeswoman Jocelyn Webster telephoned The Washington Post to say the governor was trying to make a point of principle by not answering such kinds of questions, not trying to cast doubt on Obama's faith.

"Of course the governor thinks the president is a Christian," she said. "He thinks these kinds of gotcha questions distract from what he's doing as governor of Wisconsin to make the state better and make life better for people in his state."
Walker also said he's being held to a different standard by the media.
"Was it (Teamsters president) Jimmy Hoffa that ripped on the tea party and called them unpatriotic, and the president was standing there and nobody asked him that?" Walker recalled, the Post said. "To me, it seems I've had multiple days of an incredible double standard. They don't ask the president about people like Jimmy Hoffa, they don't ask Hillary Clinton about others out there."
Walker added that who believes what or who said what isn't his focus; rather it's "should I choose to get in this election, why I believe we need a fighter."
—
Follow Dave Urbanski (@DaveVUrbanski) on Twitter