The Justice Department argued Monday that by stopping the Obama administration from conferring benefits to illegal immigrants, a federal court is actually making it harder for the administration to enforce U.S. immigration laws.
The argument is likely to ring hollow with opponents of Obama's plan to protect millions of illegal immigrants from deportation and let them work in the United States. Those opponents say Obama's plan skirts U.S. immigration laws, and that last week's court decision to block Obama's plan was an effort to return to the rule of law.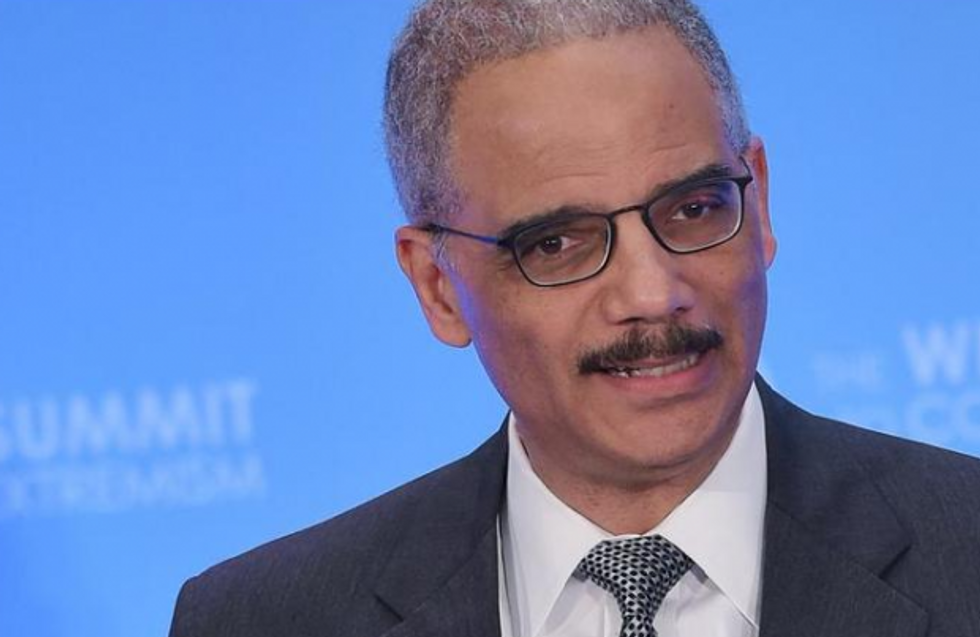 Attorney General Eric Holder's Justice Department sought an emergency stay of a court order that has blocked the administration's effort to implement its immigration plans so far. Image: MANDEL NGAN/AFP/Getty Images
As expected, the Justice Department on Monday sought an emergency stay of that injunction with the same federal court. In its court filing, the department put forward the argument that protecting illegal immigrants and letting them work is an integral part of protecting the border and U.S. national security.
"The preliminary injunction blocks DHS from exercising its authority, conferred by Congress, to establish 'policies and priorities' to enforce the nation's immigration laws," Justice wrote.
"A stay pending appeal is necessary to ensure that the Department of Homeland Security is able to most effectively protect national security, public safety, and the integrity of the border," it added.
Last week, the Texas court said it had no problem with the administration's decision to prioritize which illegal immigrants to deport, and which should be seen as lower-priority illegal aliens because of resource constraints. But it stopped the administration from affirmatively helping those lower-priority immigrants by officially exempting them from deportation, and by giving them work permits.
In its request for an emergency stay of the injunction, the Justice Department said the court was wrong to separate the two pieces, said deferred deportation is an "integral part of the department's comprehensive effort to set and effectuate immigration enforcement priorities."
Specifically, Justice said officials are only able to focus their efforts on higher-priority illegal immigrants once they know who the lower-priority immigrants are, and the latter group is easier to identify by the United States Citizenship and Immigration Services if they have been granted deferred deportation.
"By encouraging certain aliens to come forward, identify themselves to USCIS, and pay for their own background checks, the Deferred Action Guidance advances the objectives of the secretary's comprehensive prioritization efforts," Justice wrote.
"Instead of spending valuable, limited resources to determine whether encountered individuals are enforcement priorities, DHS and its components agencies… can rely on proof of deferred action to quickly and efficiently confirm that they are not," the brief said. "This, in turn, allows the department to focus its limited resources on aliens who are a high priority for removal… rather than on aliens with significant ties to the community and no serious criminal records."
"A stay of the preliminary injunction pending appeal is also necessary to prevent practical impairment to the department's ability to most effectively and efficiently protect the homeland and secure our borders," the brief concluded.
Justice also argued that the court exceeded its authority by imposing an injunction at the request of Texas and other states that have no authority over immigration matters.
The Justice Department brief indicated it wanted the Texas court to reply to its request for an emergency stay by Wednesday, and said it could decide to ask the Fifth Circuit Court of Appeals for a stay if there is no answer at the lower court.
Read Justice's filing here: