On first glance, it's a familiar site: a Brazilian woman smiling ear-to-ear, face painted in bright colors, standing in the shadow of Brazil's iconic flag.
But she's not cheering for the nation's soccer stars: The sign she's holding is calling for a military coup.
There's a sinister element to the protests in Brazil: http://t.co/Nnjy7CdKJB pic.twitter.com/moIV1xjIUE

— Business Insider (@businessinsider) March 16, 2015
More than half a million people took to the streets of 60 Brazilian cities Sunday, protesting the left-wing Workers' Party (Partido dos Trabalhadores, or PT, in Portuguese) of President Dilma Rouseff, the Guardian reported.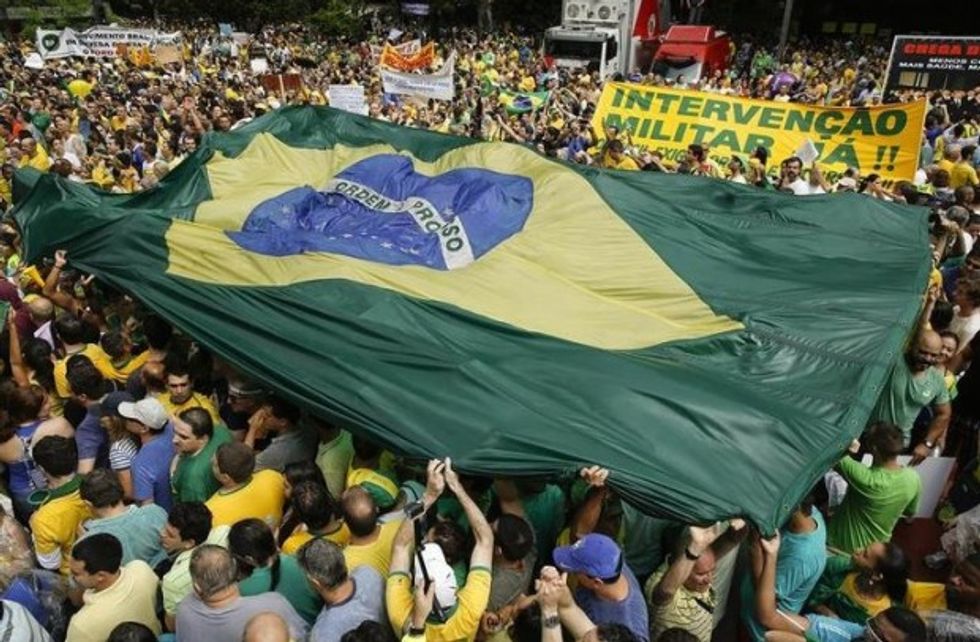 Demonstrators hold a Brazilian flag and a sign that reads in Portuguese, "Military intervention now!" during a march demanding the impeachment of Brazil's President Dilma Rousseff in Sao Paulo, Brazil, Sunday, March 15, 2015. Much protester ire was focused on a kickback scheme at state-run oil company Petrobras, which prosecutors call the biggest corruption scheme ever uncovered in Brazil. (AP/Andre Penner)
Many compared the Workers' Party to communism, saying, "Brazil will not be the next Venezuela," and called for the military to force Rouseff from power.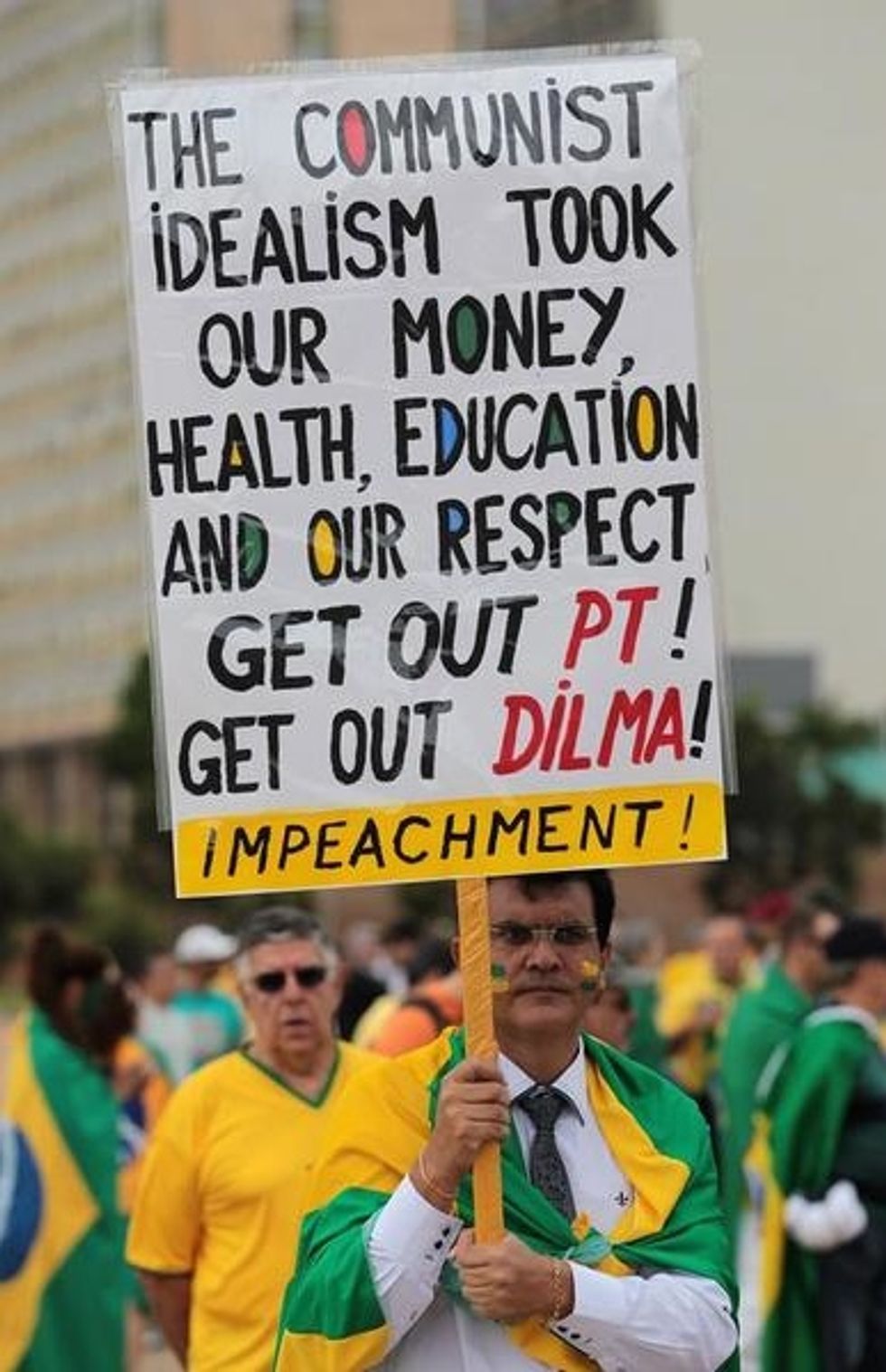 A demonstrator carries a poster during a protest against the government of Brazil's President Dilma Rousseff, in Brasilia, Brazil, Sunday, March 15, 2015. Protests have been called for across Brazil to demonstrate against Rousseff, whose popularity has never been lower as she faces a sputtering economy and a massive corruption scandal. (AP/Eraldo Peres)
Holding a sign reading in English, "Army, navy and air force, please save us once again of [sic] communism," graphic designer Marlon Aymes was one of those calling for a military coup.
"[The Workers' Party] are in power for 16 years," he told the Guardian. "That is like a dictatorship. In 1964 the military of Brazil took a stand against a president who was close to the Kremlin. Today, the PT is in a group that wants a Bolivarian socialist model across Latin America. Common people are protesting and calling for impeachment, but congress is too corrupt to approve that so we need military intervention."
Protesters also demonstrated against corruption in the quasi-state oil company Petrobas, which hiked rates and was then ransacked by the Workers' Party to keep the government running.
As Business Insider's Linette Lopez noted, the call for a military coup is an all-too-real threat in South America — and it signals a failure of democracy.
Lopez wrote:
It isn't difficult to see why Brazilians are calling foul, but to call for military rule, however, is a chilling reminder of what has often been a ready alternative in Latin America. Brazil was controlled by a violent military junta from 1964 to 1985. It was that junta that tortured the sitting president when she was a young activist. Calling for the return of military control is a clear signal that some in Brazilian society feel the democratic process has failed.
—
Follow Zach Noble (@thezachnoble) on Twitter