UPDATE 1:12 a.m. ET: The Times of Israel reports a Netanyahu victory could be bigger than exit polls suggested:
With almost 99% of votes tallied, Likud climbs to 29-24 seat win over Zionist Union in overnight dramatic development; PM promises new coalition with other 'nationalist parties'; Meretz head to quit party over poor showing
----
UPDATE 7:15 p.m. ET: In a speech following Tuesday's exit poll results, Netanyahu vowed to form the next coalition government and said he has already spoken with the heads of all possible coalition partners inviting them to join his government without delay, since "reality doesn't take a time out."
"Against all odds, we achieved a great victory for the Likud … and a major victory for the people of Israel," Netanyahu told his supporters at the Likud's election night headquarters.
"I'm proud of the people of Israel that in the moment of truth knew how to distinguish between the important and the trivial," the prime minister said.
Netanyahu pointed to the serious challenges facing the next government, including tackling the high cost of living and soaring housing prices.
---
UPDATE 6:05 p.m. ET: The head of a centrist party key to Netanyahu being able to build a right-wing coalition government says he won't commit to either the Likud or the left-wing Zionist Union yet. Moshe Kahlon, who heads the Kulanu party, said both Zionist Union head Isaac Herzog and Netanyahu had called him, but he was waiting for an official vote count before committing to either. Kahlon is a former Likud minister; however, he said Tuesday night that his party will join the coalition government that has the best plan to tackle Israel's pressing social and economic problems.
---
UPDATE 5:17 p.m. ET: Netanyahu has already begun calling potential partners to put together a majority coalition.
---
UPDATE 4:55 p.m. ET: Prime Minister Benjamin Netanyahu has declared victory in the tight election.
"Against all odds:a great victory for the Likud. A major victory for the people of Israel," he wrote on Facebook Tuesday.
Original story below
---
The Likud party headed by Prime Minister Benjamin Netanyahu was predicted to narrowly win the largest number of votes in Tuesday's legislative elections, edging out the left-wing Zionist Union, according to an exit poll by Israel's Channel 2 -- but the race was too close to call on Tuesday.
Channel 2 reported that its exit poll showed the Likud was set to secure 28 parliamentary seats versus 27 for the Zionist Union headed by Labor party Member of Knesset Isaac Herzog. Channel 10 had the two tied at 27-27.
Based on the number of Knesset seats exit polls forecast for the smaller parties, Israeli political analysts predicted Netanyahu would be in the best position to form a right-wing coalition government and thus to secure another term as Israel's leader.
"According to the major exit polls, Prime Minister Benjamin Netanyahu is within easy reach of a right-wing coalition," the Times of Israel predicted.
An initial count of paper ballots was not expected until Wednesday. A final count is to be released by Israel's Election Committee Thursday.
The complicated process of putting together a coalition government poses a challenge to predicting the character of the next government, so despite the predictions, it was still too early to tell if the next government would be a right-wing government led by Netanyahu, a centrist unity government bringing together Netanyahu with the Zionist Union or if Herzog might still be able to pull together a left-center coalition.
Once the official count is complete Thursday, Israeli President Reuven Rivlin will tap the politician recommended by more than half the Knesset to form the coalition government. That politician will then have 28 days, plus a possible extension of two weeks, to secure a coalition backed by at least 61 out of 120 members of Knesset.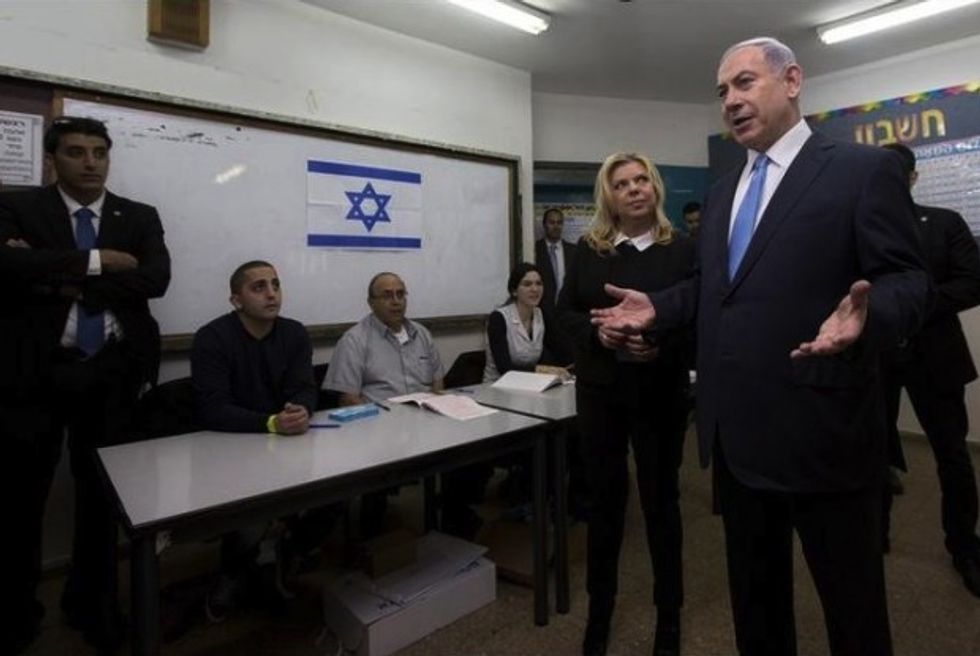 Israeli Prime Minister Benjamin Netanyahu stands with his wife Sara as he speaks to the media, after voting in Israel's parliamentary elections in Jerusalem, Tuesday, Mar. 17, 2015. (AP Photo/Sebastian Scheiner, Pool)
Despite the serious security challenges facing the country from Hamas in Gaza to threats to its existence from Iran, the election campaign was largely about issues of the purse, spurred by the soaring cost of living and housing prices that in some cities have doubled in just six years.
The bitterly fought campaign included harsh portrayals of the rival candidates' leadership abilities.
The campaign included a wide-reaching effort to unseat Netanyahu.
After casting his ballot earlier Tuesday, Netanyahu said that if re-elected, one of the first three calls he planned to make was to President Barack Obama, with whom he has had strained relations.
The left-wing Herzog told reporters after he voted, "The choices are between change and hope, to despair and disappointment," echoing President Barack Obama's "hope and change" campaign slogan.
Polls leading up to Tuesday's vote showed Netanyahu's Likud trailing Herzog's Zionist Union – a merger between the Labor party and Tzipi Livni's Hatnua party – by four Knesset seats out of 120 members of Israel's parliament.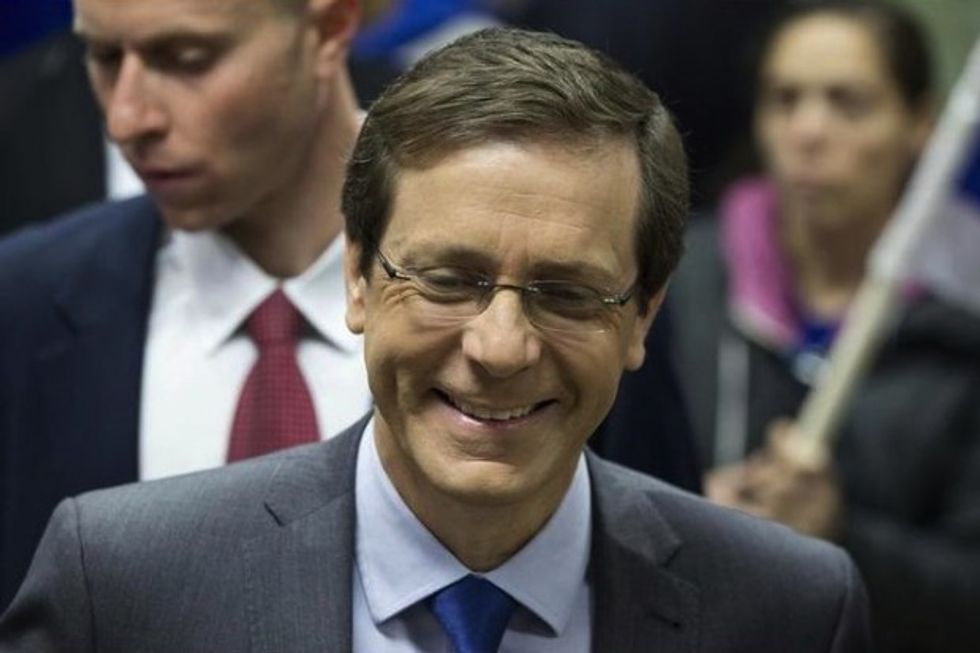 Zionist Union leader Isaac Herzog smiles after voting in Tel Aviv, Israel, Tuesday, March 17, 2015. (AP Photo/Ariel Schalit)
Netanyahu repeatedly charged that foreign governments and donors had meddled in the Israeli election. He pointed specifically to the organization V15, or Victory 15, that was advised by former Obama campaign strategist Jeremy Bird. The group directed a massive get out the vote campaign in neighborhoods most likely to vote against Netanyahu.
OneVoice, a non-profit that funded V15's campaign, previously received State Department grants. Fox News reported Saturday that a Senate investigatory committee had launched a bipartisan investigation into OneVoice's financial support for V15.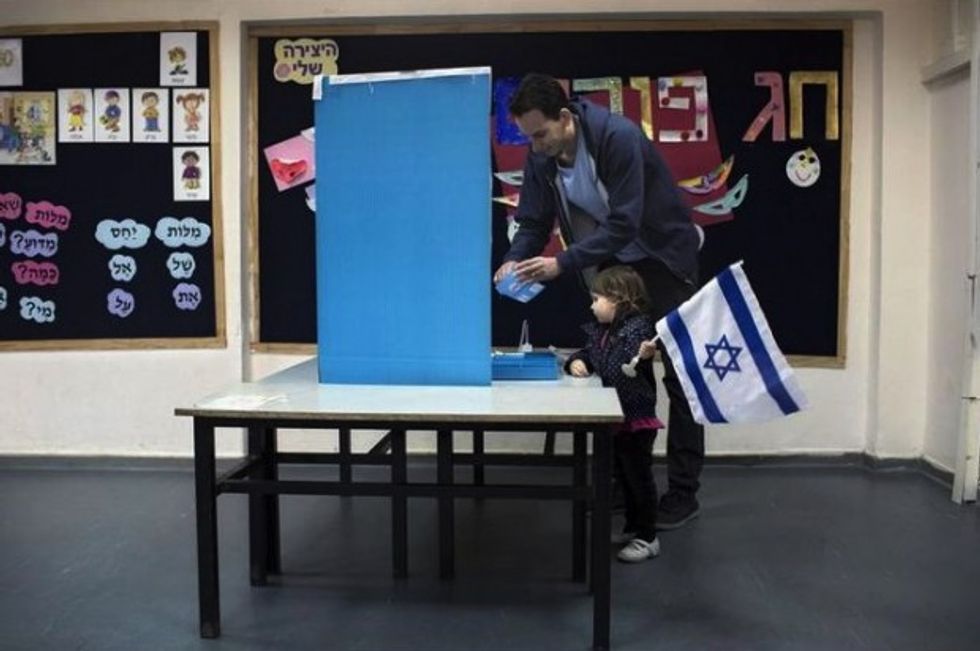 An Israeli man with his daughter prepares to vote in Tel Aviv, Israel, Tuesday, March 17, 2015. (AP Photo/Oded Balilty)
The Joint List – a merger of small left-wing Communist, Islamist and Palestinian nationalist parties representing mostly Israel's Arab population – was predicted by exit polls to be the third largest party elected to the Knesset, a first for the Arab minority.
Netanyahu made a last-minute appeal to supporters who still had not gone to vote Tuesday afternoon, saying they must do so because left-wing organizations were busing to the polls Arab voters who vote nearly universally for left-wing parties.
"The rule of the right is in jeopardy," Netanyahu said.
Netanyahu later clarified his statement after being accused of racism, saying, "There is nothing illegitimate with citizens voting, Jewish or Arab, as they see fit."
"What is not legitimate is the funding, the fact that money comes from abroad from NGOs and foreign governments, brings them en masse to the ballot box in an organized fashion, in favor of the left, gives undue power to the extremist Arab list, and weakens the right bloc in such a way that we will be unable to build a government — despite the fact that most citizens of Israel support the national camp and support me as the prime minister from Likud," Netanyahu added.
It was unclear as of this writing if Israeli Arabs had voted in higher numbers than in previous elections.
Israel's Central Elections Committee said earlier this week that there were 5,883,365 eligible voters.