Police in California were led on quite the high-speed chase Wednesday by a man riding a motorcycle – and performing a few stunts while he was at it.
Phillip Resendez can be seen on camera speeding away from the cops along Los Angeles roads and freeways. At one point, Resendez even stood up on his bike while it was moving. It's something the news crew called "ridiculous."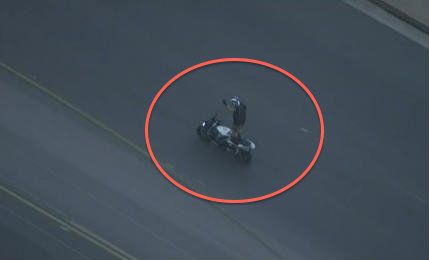 Image source: KNBC-TV

Later in the pursuit, Resendez was seen stopping in the middle of a street. He appeared to adjust his earbuds and helmet just before taking off again, barely missing the door of a police car as the officer began to open it. As he made one turn, it appears Resendez came within just a few feet of sideswiping another turning vehicle.
After one hour, the chase finally ended at a gas station. But Resendez had a few words for the cops before they hauled him away.
"Did you seriously have to kick me off my bike?" Resendez said.
One man who claims Resendez almost hit him while doing a stunt said, "I thought he was crazy. I thought he was some lunatic."
As police led him away in handcuffs, Resendez told a local reporter he was sorry he "disappointed" his family.
But Resendez's bizarre behavior didn't end once he was in the back of the police car. A local reporter posted this photo of him smiling.
Hear from Phillip Resendez, 22 who was standing up on his motorcycle running from officers. @11p @cbsla pic.twitter.com/vDMMo8DB88

— Crystal Cruz (@CrystalCruzCBS) March 19, 2015
Watch as the chase unfolded:
Police arrested and booked Resendez for driving on the wrong side of the road and failure to yield. He is currently being held on $100,000 bond, KNBC reported.
(H/T: KNBC-TV)
–
Follow Jon Street (@JonStreet) on Twitter