Speaking after a week of nuclear negotiations in Switzerland, U.S. Secretary of State John Kerry said "substantial progress" has been made, even as he challenged Iran to make "fundamental decisions" that prove to the world it has no interest in atomic weapons. Kerry added Saturday that "important gaps remain."
Iranian President Hassan Rouhani was more optimistic. "Achieving a deal is possible," he said. "There is nothing that can't be resolved."
But when crowds called for "death to America" during Iran's Supreme leader Ali Khamenei's speech Saturday in Tehran — in which he said the country wouldn't give in to Western nuclear demands — the Times of Israel reported that Khamenei offered this response: "Of course yes, death to America, because America is the original source of this pressure."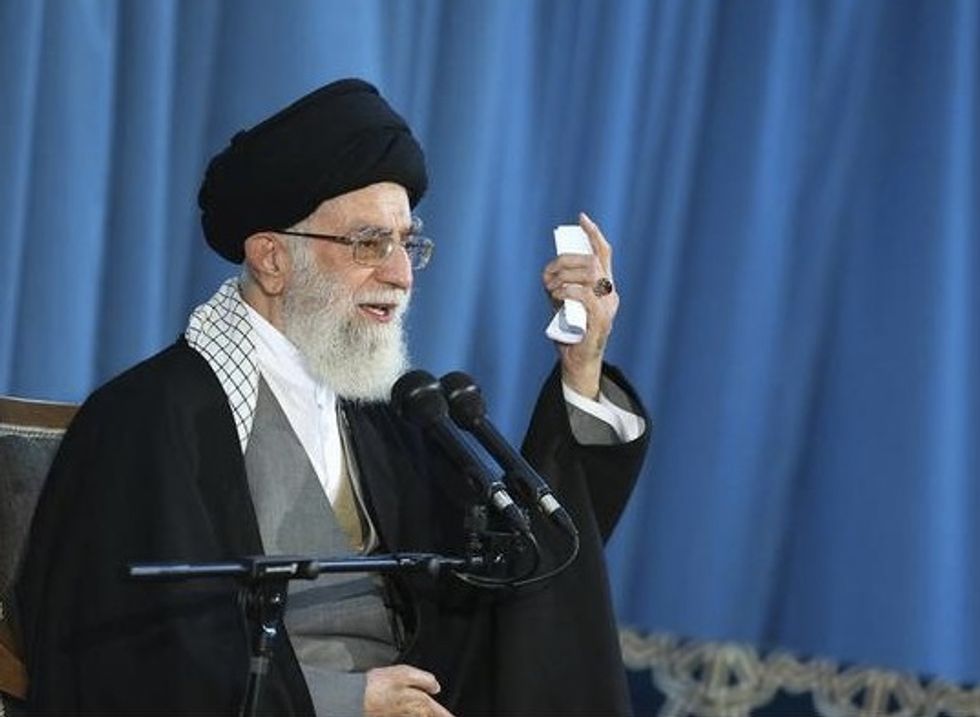 In this picture released by an official website of the office of the Iranian supreme leader, Supreme Leader Ayatollah Ali Khamenei delivers a speech in a public gathering in the city of Mashhad, northeastern Iran, Saturday, March 21, 2015. (AP Photo/Office of the Iranian Supreme Leader)
"They insist on putting pressure on our dear people's economy," he continued, referring to sanctions aimed at halting Iran's nuclear program, the Times said. "What is their goal? Their goal is to put the people against the system."
"The politics of America is to create insecurity," Khamenei added, the Times said.
Khamenei also spoke in the city of Mashhad on Saturday.
Washington has yet to say what it will do if talks miss the March 31 deadline, but the stakes are high. The Obama administration has warned that a diplomatic failure could lead to an ever tougher dilemma: Whether to launch a military attack on Iran or allow it to reach nuclear weapons capacity.
The Associated Press contributed to this story.
(H/T: Weasel Zippers)
—
Follow Dave Urbanski (@DaveVUrbanski) on Twitter