Comedy Central host Jon Stewart invited author and activist Ayaan Hirsi Ali on his show Monday to discuss her new book, "Heretic: Why Islam Needs a Reformation Now," and the conversation quickly turned to the violence being committed in the name of Islam across the world.
Ali said "too many people are dying in the name of Islam, too many women live under oppression, too many Jews are being demonized, too many gays are being killed in the name of Islam, too many Christians are being killed in the name of Islam."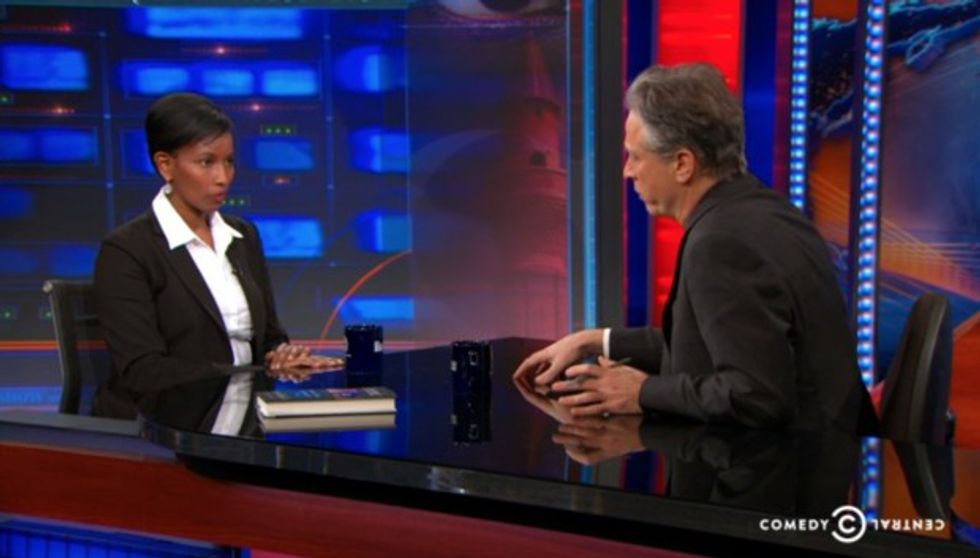 (Comedy Central)
Stewart repeatedly challenged his guest by asserting that Islam appears to be going through the same process that Christianity did during Martin Luther's Christian Reformation, which he said led to a "hundred years of violence and mayhem."
Ali argued there is a "great deal of violence in the name of Islam," but also an "emerging and incredibly important minority of reformers who are risking their lives to try to get this change done." When the author told Stewart she hopes he "stands with them," he replied:
"Right...I guess my point is I think people single out Islam as though there is something inherently wrong with it that wasn't wrong with other religions. So I guess my point is, if Christianity went through almost the exact same process…I get the sense that you think Islam is different than other religions."
Christianity, she replied, has already gone through the process of "reformation and enlightenment" — and Islam isn't there yet.
"The majority of Christians, unlike majority of Muslims, are not subjected to violence," Ali added. "Seventy percent of global violence in the world today, Muslims are responsible."
"Are suffering from it," Stewart cut in.
Watch the segment via Comedy Central below:
(H/T: Mediaite)
---