© 2023 Blaze Media LLC. All rights reserved.
The Stunning Children's Book About Abortion You Just Have to See: 'Sister Is a Happy Ghost
"She lived before me, but Mama couldn't keep her. Mama says she is a ghost."
A children's book available for free on e-flux.com covers a controversial subject matter in a fairly eye-popping way.
The book is "Sister Apple, Sister Pig" from Mary Walling Blackburn, and the topic is abortion. Specifically, it uses a young child to defend the procedure.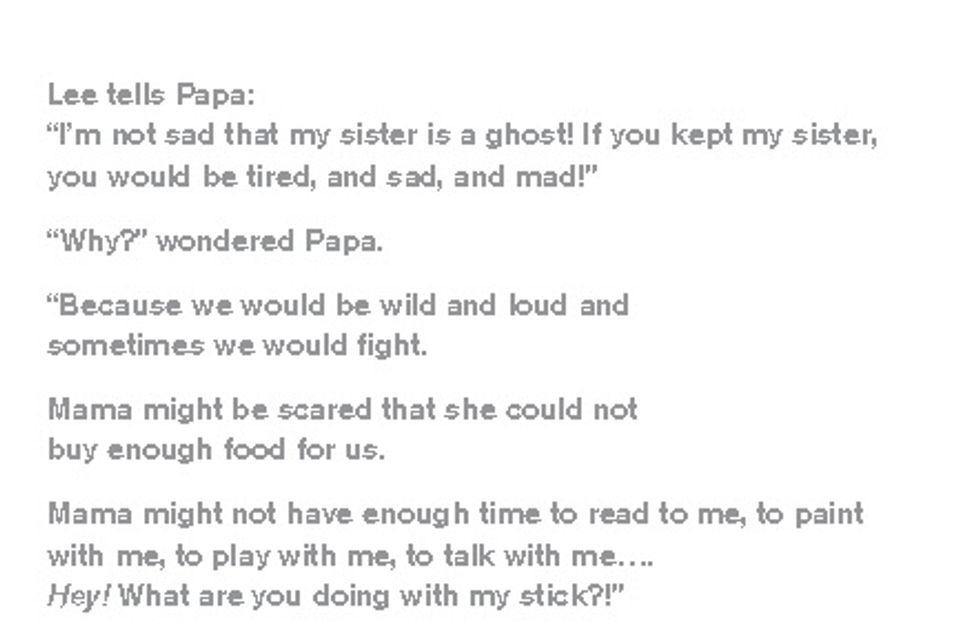 Image source: e-flux.com
The 33-page picture book tells a story of a young boy being taught that his sister, who was aborted before he was born, is still around him as a ghost, or an apple, or perhaps even a pig — and is "happy" because of it.
The story follows 3-year-old Lee as he and his father discuss his unnamed older sister, whom Lee sees as a ghost sitting by his side as dad and mom read stories to him. The young boy believes his sister is a ghost because "she lived before me, but Mama couldn't keep her. Mama says she is a ghost."
Image source: e-flux.com
Lee and his father have an exchange where the young boy tells his "papa" that if his older sister hadn't been aborted, his parents would have a hard time. "You would be tired, and sad, and mad!"
The father wonders why the child thinks his parents would be tired, sad and mad?
Lee explains, "Because we would be wild and loud and sometimes we would fight." The story continues with the boy expressing his concerns about food for the family, "Mama might be scared that she could not buy enough food for us."
Lee points out that another child could have robbed him of quality time with his mother: "Mama might not have enough time to read to me, to paint with me, to talk with me."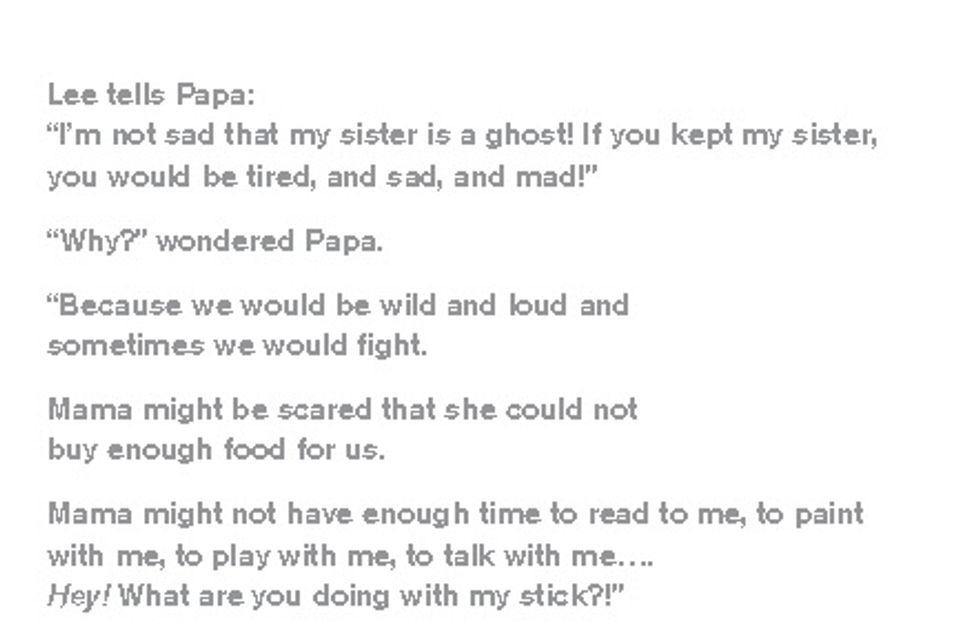 Image source: e-flux.com
Before the story wraps up with a family craft session to make a superhero costume for Lee, the boy's uncle joins the conversation about his ghost sister.
When the uncle asks, "Why is your sister a ghost, Lee?"
The boy responds, "Mama had an abortion before she had me," then reassures his uncle by saying, "Sister is a happy ghost!"

Image source: e-flux.com
The author of the book, Mary Walling Blackburn describes herself as an "artist, activist, teacher, writer, feminist," on her faculty biography page for Southern Methodist University's Meadows School of the Arts where she is employed as an assistant professor of art.
Speaking about the book, Blackburn described it as "'Playing chicken' with the anti-choice people."
In addition to her e-books, Blackburn has created artwork she exhibits around the country. Blackburn's recent art exhibit in San Antonio's Sala Diaz exhibition space, called "Anti-Fertility Garden," also featured a reading from "Sister Apple, Sister Pig."
Blackburn did not return a request for an interview to discuss the book.
Follow Mike Opelka (@stuntbrain) on Twitter
Want to leave a tip?
We answer to you. Help keep our content free of advertisers and big tech censorship by leaving a tip today.
more stories
Sign up for the Blaze newsletter
By signing up, you agree to our
Privacy Policy
and
Terms of Use
, and agree to receive content that may sometimes include advertisements. You may opt out at any time.