Indiana Gov. Mike Pence on Saturday told the Indianapolis Star he'll back legislation to "clarify" the controversial Religious Freedom Restoration Act — specifically that it doesn't foster discrimination against gays and lesbians.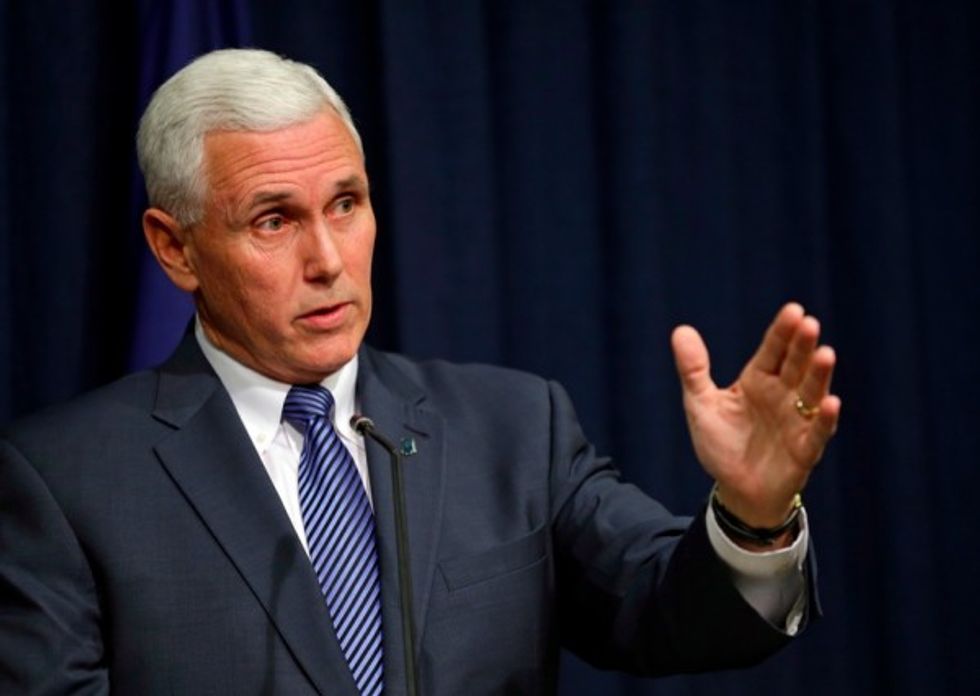 Indiana Gov. Mike Pence (Image source: AP/Michael Conroy)
"I support religious liberty, and I support this law," Pence told Tim Swarens in an exclusive interview. "But we are in discussions with legislative leaders this weekend to see if there's a way to clarify the intent of the law."
While providing no details regarding the possible clarification, Pence said he anticipates the legislation — to hopefully correct "misunderstanding driven by misinformation" — will be introduced this coming week.
More from the Star:
He adamantly insisted that RFRA will not open the door to state-sanctioned discrimination against gays and lesbians. But he did acknowledge that Indiana's image — and potentially its economic health — has been hurt badly by the controversy.
Asked if he thought the bill's passage would generate this much outrage, Pence replied that he was surprised.
"I just can't account for the hostility that's been directed at our state," he told the Star. "I've been taken aback by the mischaracterizations from outside the state of Indiana about what is in this bill."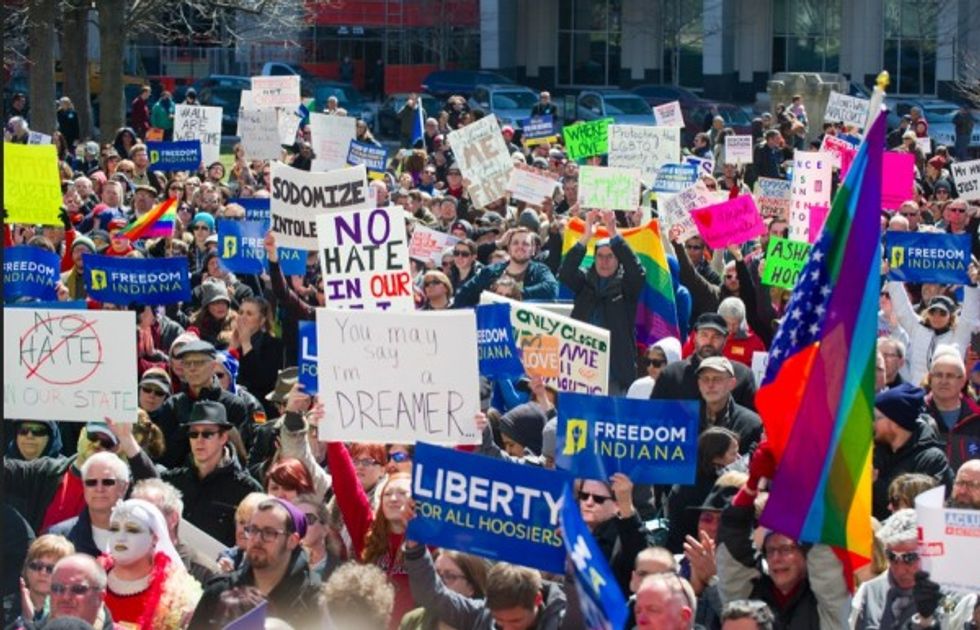 Thousands of opponents of Indiana Senate Bill 101, the Religious Freedom Restoration Act, gathered on the lawn of the Indiana State House to rally against that legislation Saturday, March 28, 2015. Republican Gov. Mike Pence signed a bill Thursday prohibiting state laws that "substantially burden" a person's ability to follow his or her religious beliefs. (Image source: AP/Doug McSchooler)
More from the Star:
In defense of the legislation, he noted that 19 other states and the federal government have adopted RFRA laws similar to Indiana's. And he pointed out that President Barack Obama voted for Illinois' version of RFRA as a state senator.
"Despite the irresponsible headlines that have appeared in the national media, this law is not about discrimination," Pence added. "If it was, I would have vetoed it."
Swarens also asked the governor how he'd address gays and lesbians — and their friends and families — who're wondering if they're still welcome in Indiana.
"First, this law is not about discrimination. It's about protecting religious liberty and giving people full access to the judicial system," Pence told the Star. "But, yes, Hoosier hospitality is about making all people feel welcome in our state. We did that with the Super Bowl and with many other events, and with bringing businesses here. We will continue to do that."
(H/T: The Huffington Post)
—
Follow Dave Urbanski (@DaveVUrbanski) on Twitter