SEYNE-LES-ALPES, France (TheBlaze/AP) — Amid reports that video has been found showing the final moments of the doomed German jet crash in the French Alps, investigators confirmed they have found cellphones among the debris but they have not yet produced any clues about what happened.
Lt. Col. Jean-Marc Menichini said Thursday that the phones that have been found had not yet been thoroughly examined. He would not elaborate further.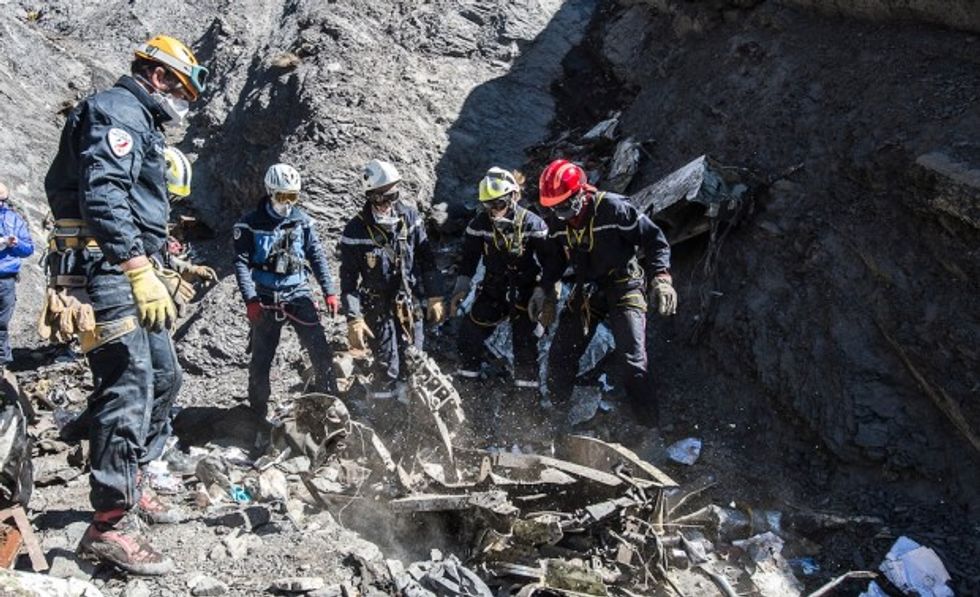 In this photo taken on Tuesday, March 31, 2015 and provided by the French Interior Ministry, French emergency rescue services work among debris of the Germanwings passenger jet at the crash site near Seyne-les-Alpes, France. The heads of Lufthansa and its low-cost airline Germanwings are visiting the site of the crash that killed 150 people amid mounting questions about the co-pilot and how much his employers knew about his mental health. (AP/Yves Malenfer, Ministere de l'Interieur)
Investigators believe co-pilot Andreas Lubitz intentionally crashed the Germanwings A320 into a mountainside, based on recordings from the cockpit voice recorder. Special mountain troops continued searching the area Thursday for personal belongings and the second black box flight recorder.
French magazine Paris-Match and German tabloid Bild reported this week that they had seen a cellphone video from the final moments of the flight. Authorities have said investigators have no such video.
Bild, however, called the authenticity of the video unquestionable.
"One can hear cries of 'My God' in several languages," Paris Match reported of the video it claims to have seen. "Metallic banging can also be heard more than three times, perhaps of the pilot trying to open the cockpit door with a heavy object. Towards the end, after a heavy shake, stronger than the others, the screaming intensifies. Then nothing."
Neither publication included the footage in their online reports.
Menichini told CNN that the claims made by the publications were "completely wrong" and "unwarranted," because the cellphones from the site were still being collected and investigated.