On Sunday, Christians around the globe celebrated Easter in their own ways.
Riders on horseback participated in a traditional procession in eastern Germany...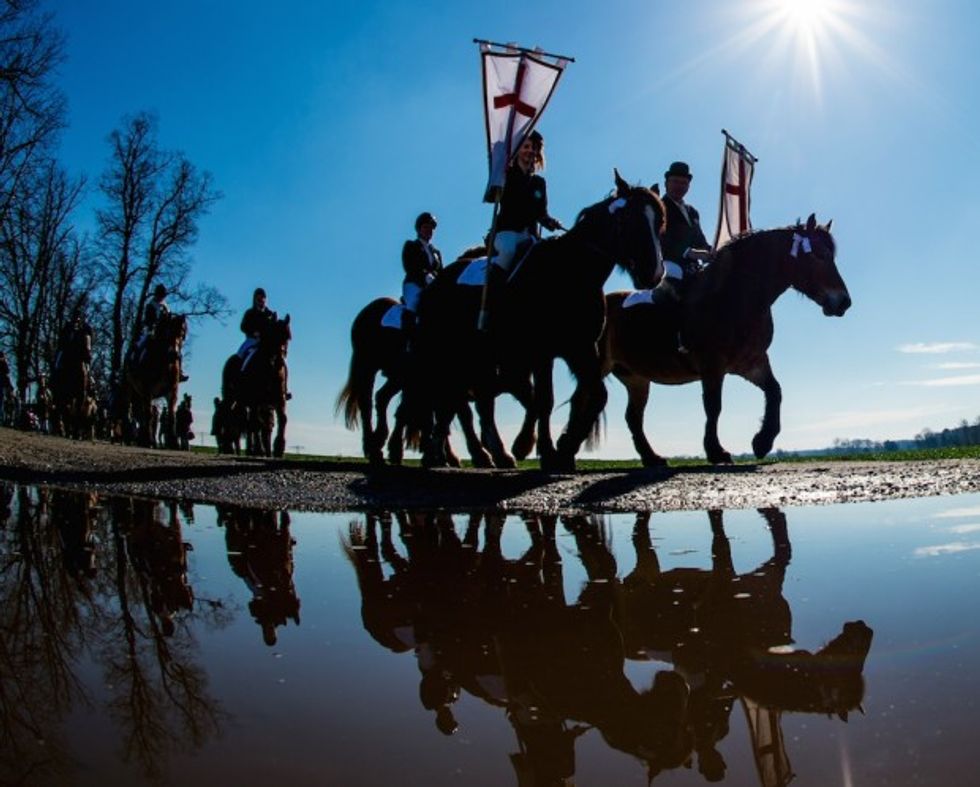 Riders take part in a Easter procession near Zerkwitz, eastern Germany Easter Sunday April 5, 2015. (AP Photo/dpa, Patrick Pleul)
...and many Christians in India and throughout the world were baptized, confirmed or received Holy Communion for the first time.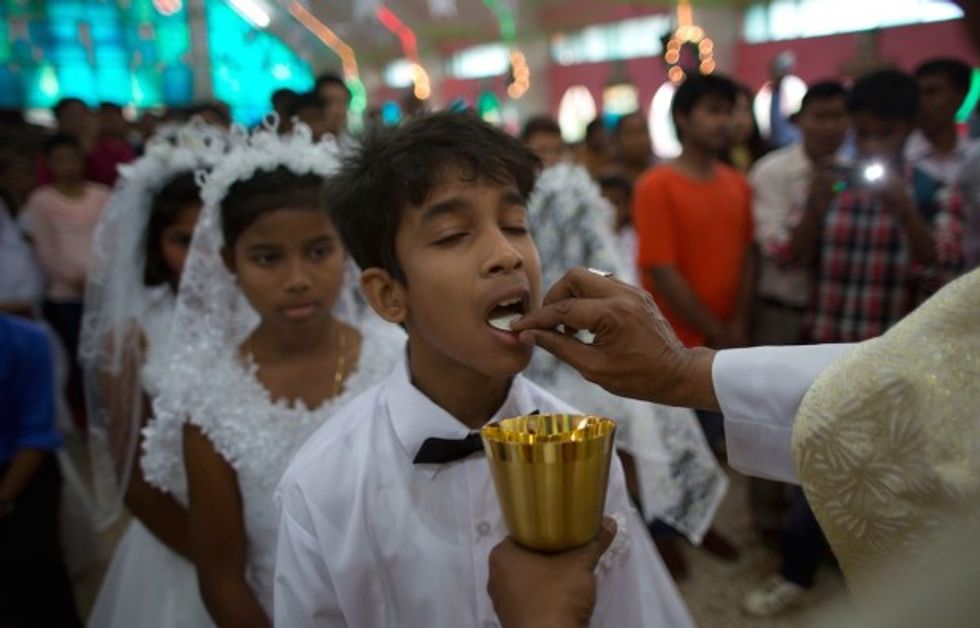 Young Indian Christians receive holy communion from a priest during Easter mass at a Church in Gauhati, India, Sunday, April 5, 2015. Christians around the world are celebrating Easter commemorating the day when according to Christian tradition Jesus was resurrected in Jerusalem two millennia ago.(AP Photo/ Anupam Nath)
The dark clouds of a tropical storm shrouded the sky in the Philippines...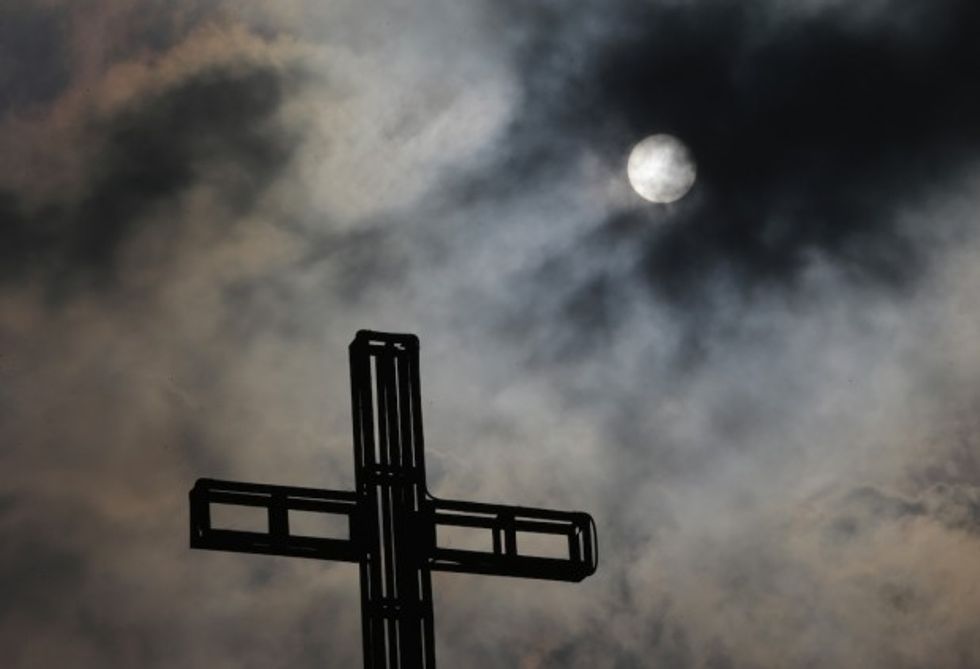 Dark clouds partially cover the sun above a church on Easter Sunday April 5, 2015 in suburban Quezon city, north of Manila, Philippines. Tropical storm Maysak weakened before hitting the Philippines' northeastern coast Sunday, driving away thousands of Lenten holiday vacationers and tourists. (AP Photo/Aaron Favila)
...but at the Vatican in Rome, rain turned to sunshine as Pope Francis prayed for peace.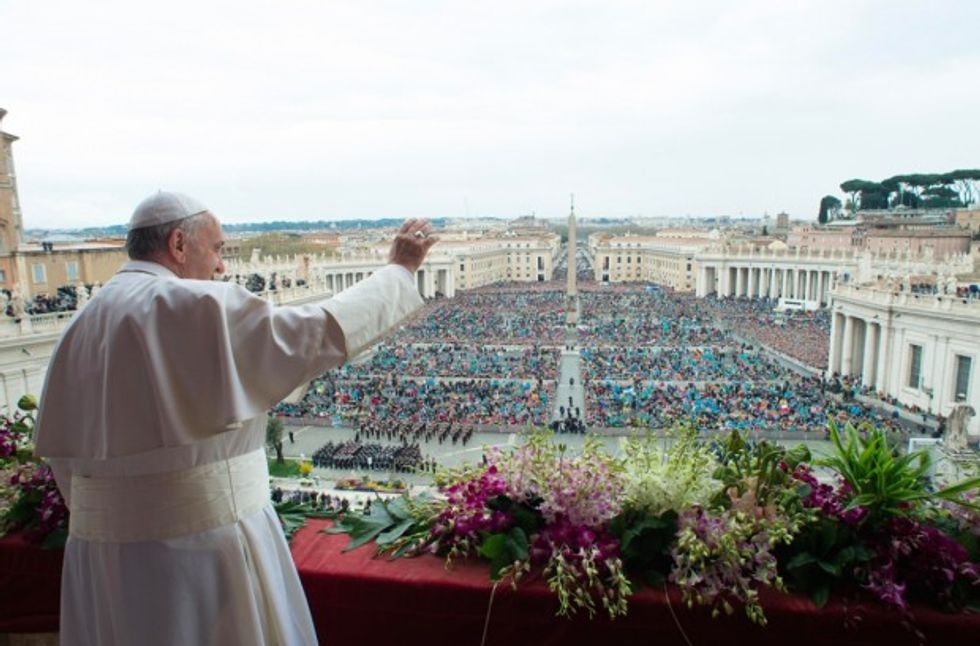 Pope Francis delivers the Urbi et Orbi (to the city and to the world) blessing at the end of the Easter Sunday Mass in St. Peter's Square at the Vatican , Sunday, April 5, 2015. In an Easter peace wish, Pope Francis on Sunday praised the framework nuclear agreement with Iran as an opportunity to make the world safer, while expressing deep worry about bloodshed in Libya, Yemen, Syria, Iraq, Nigeria and elsewhere in Africa. Cautious hope ran through Francis' "Urbi et Orbi" Easter message, a kind of papal commentary on the state of the world's affairs, which he delivered from the central balcony of St. Peter's Square. (AP Photo/L'Osservatore Romano, Pool)
Meanwhile in Egypt...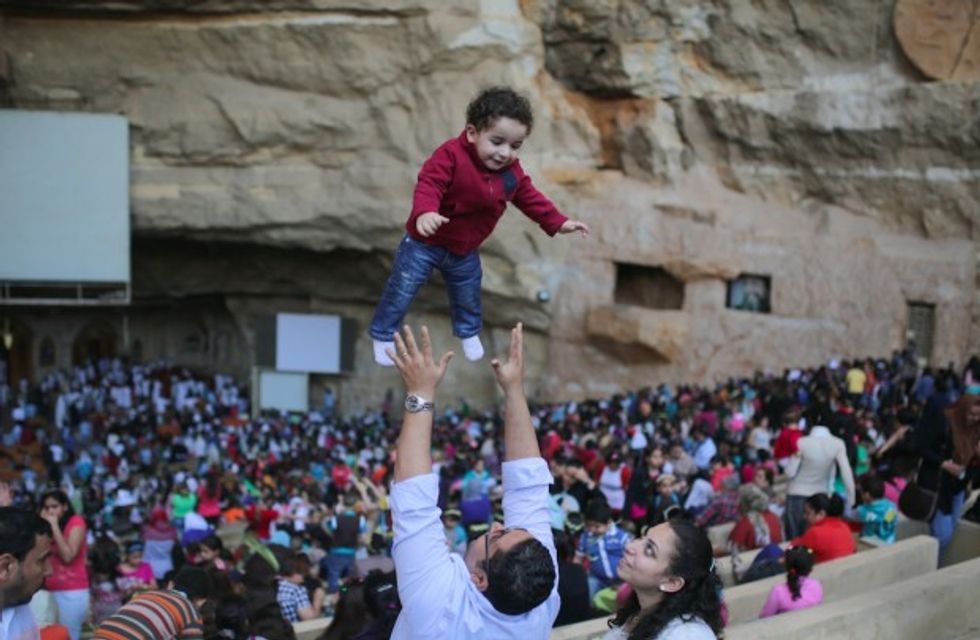 Egyptian Orthodox Christians celebrate Palm Sunday during a service in the Samaan el-Kharaz Church in the Mokattam district of Cairo, Egypt, Sunday, April 5, 2015. For Christians worldwide, Palm Sunday marks Jesus Christ's entrance into Jerusalem, when his followers laid palm branches in his path, prior to his crucifixion. Western Christian churches and most Orthodox Christian churches follow different calendars and observe Easter on different dates. (AP Photo/Mosa'ab Elshamy)
...Israel, and other parts of the world, Orthodox Christians didn't celebrate Easter; they celebrated Palm Sunday. Due to the use of different calendars, Orthodox Christians will celebrate Easter on April 12.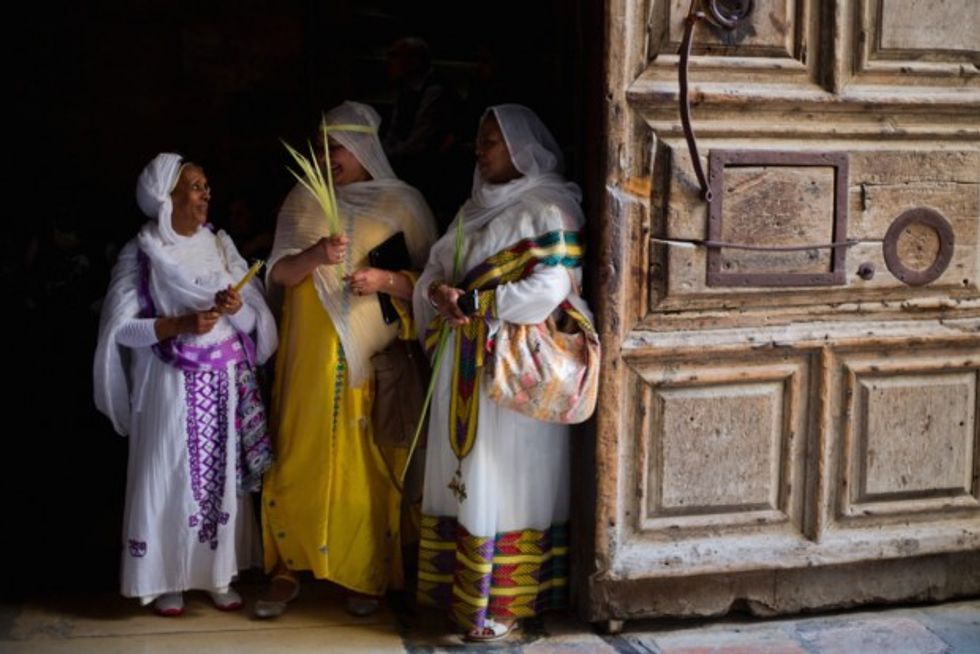 Orthodox Christian women hold palm fond's at the Church of the Holy Sepulcher, traditionally believed by many to be the site of the crucifixion and burial of Jesus Christ during Orthodox Palm Sunday, in Jerusalem, Sunday, April 5, 2015. Christians in the Holy Land and across the world are celebrating Easter, commemorating the day followers believe Jesus was resurrected in Jerusalem 2,000 years ago. (AP Photo/Ariel Schalit)
Members of the U.S. military celebrated Easter at all corners of the globe...
Happy Easter - #US4A and BAF community members celebrated this morning with a Sunrise Service. http://t.co/H5z9yIae0bpic.twitter.com/QmChwk1CdL

— USForces Afghanistan (@USFOR_A) April 5, 2015
...and home in the states, Americans turned out to celebrate Easter across the nation, from Florida...
#Easter Sunday services on the beach in #FortLauderdale#Florida. Photos: http://t.co/5OKYvNJZ4mpic.twitter.com/fp9yzGWyL8

— Sun Sentinel (@SunSentinel) April 5, 2015
...to Colorado...
Happy Easter! Red Rocks sunrise service. #greatideaTheresapic.twitter.com/FZQsttjKEH

— Rick Schlapkohl (@EspincRick) April 5, 2015
...to the sunrise service in the nation's capital.
The 37th Annual Easter Sunrise Service at the Lincoln Memorial #eastersunrisedc@nbcwashington#art#socialmediapic.twitter.com/PuavbTWRpz

— WorthTheTrip (@WorthTheTripDC) April 5, 2015
A view of #Lincoln at the 37th annual #eastersunrisedc service at the Lincoln Memorial @nbcwashingtonpic.twitter.com/TK9e9KICKF

— WorthTheTrip (@WorthTheTripDC) April 5, 2015
The Washington Monument at the #eastersunrisedc at the Lincoln Memorial this morning @nbcwashington#photographypic.twitter.com/1emuCFIfjE

— WorthTheTrip (@WorthTheTripDC) April 5, 2015
All came to celebrate the "amazing" mystery at the center of the Christian faith: Jesus' death and resurrection.
—
Follow Zach Noble (@thezachnoble) on Twitter