They look overjoyed, but a few annotations paint a much darker picture.
The targets: "Neurotology" and "Diametrics," which sound strikingly similar to Scientology and Dianetics.
"Saturday Night Live" lampooned the fake cult in an "updated" music video this week, showing the members of the group cheerfully singing in an early 90s video while notes flash across the screen revealing what had become of the members since the video was shot.
From "lives in a hospital" to "chained to toilet as punishment" to plain old "missing," the video paints a brutal picture of abused cult members — except for a leader or two getting tagged as a "billionaire."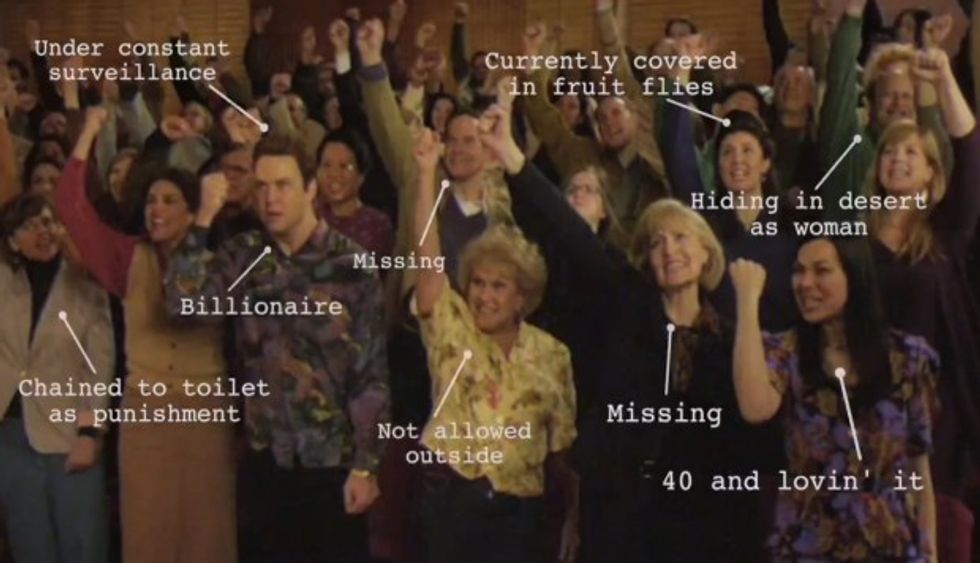 Image via NBC
Watch the clip below:
The clip echoes many of the claims made in the book "Going Clear," which took a look at the inner workings of Scientology, and parallels a Scientology music video featured in the documentary of the same name.
On Twitter, reactions to the "SNL" sketch were resoundingly positive.
That was a pretty great takedown of Scientology, which deserves to be treated like the insane cult it is. #SNL

— Michael Stickings (@mjwstickings) April 5, 2015
Laughing so hard at #SNL's 'Neurotology' skit! Perfect take-off of the Scientology music video in "Going Clear."

— Tori Taff (@Babybloomr) April 5, 2015
At least one person noted that while "SNL" openly mocked the NCAA, the show took a slightly less direct approach to Scientology.
SNL called out Duke and the NCAA by name but changed Scientology's name. Telling. Guess they can only take on so many cults in one night.

— Chad Briggs (@MrChadBriggs) April 5, 2015
—
Follow Zach Noble (@thezachnoble) on Twitter