Vice President Joe Biden will be in a very presidential role on Thursday, addressing U.S. strategy for dealing with the Islamic State a week ahead of the Iraqi prime minister's visit to Washington.
Biden will speak at the National Defense University in Washington, the place where President Barack Obama laid out his anti-terrorism strategy in a 2013 address. The White House announced that Biden "will discuss Iraq's political and military progress, and the work that lies ahead to defeat ISIL and forge a more inclusive Iraq."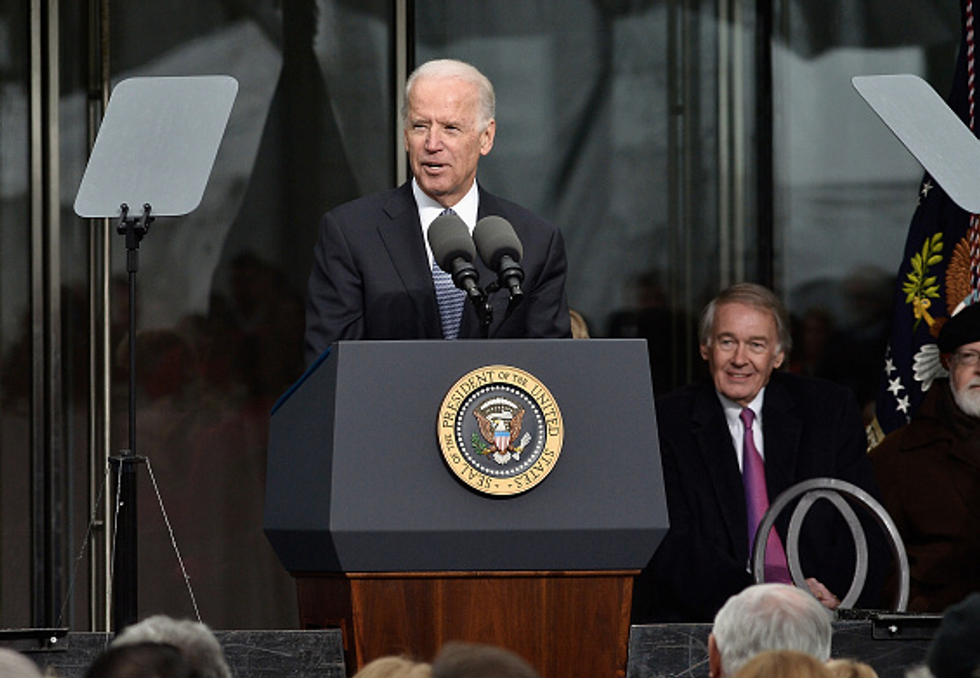 Vice President Joseph Biden speaks at the dedication ceremony of the Edward M. Kennedy Institute for the United States Senate, March 30, 2015 in Boston. (Paul Marotta/Getty Images)
But the White House is offering little information on why it's Biden, and not Obama, who will be talking about issues of such gravity in close proximity to Iraqi Prime Minister Haider Al-Abadi's visit.
Instead, Obama will be out of the country from Wednesday through Friday on a trip to Jamaica and Panama.
TheBlaze asked the White House and the vice president's office why it would be Biden speaking, and if it was a matter of Obama traveling, whether other scheduling arrangements could have been made. A White House representative deferred questions to the vice president's office, which did not respond to inquiries.
Biden will be delivering the remarks about Iraq and the Islamic State, amid continuing speculation that he could challenge former Secretary of State Hillary Clinton for the 2016 Democratic presidential nomination. Biden has already visited key primary states of Iowa, New Hampshire and South Carolina.