A large tornado ripped through northern Illinois Thursday evening, leaving one dead and eight injured.
In Fairdale, an unincorporated town of about 200 residents about 80 miles northwest of Chicago, "17 structures have been determined to be destroyed," Matthew Knott, division chief for the Rockford Fire Department, told The Associated Press. "All of the others have sustained damage of some sort."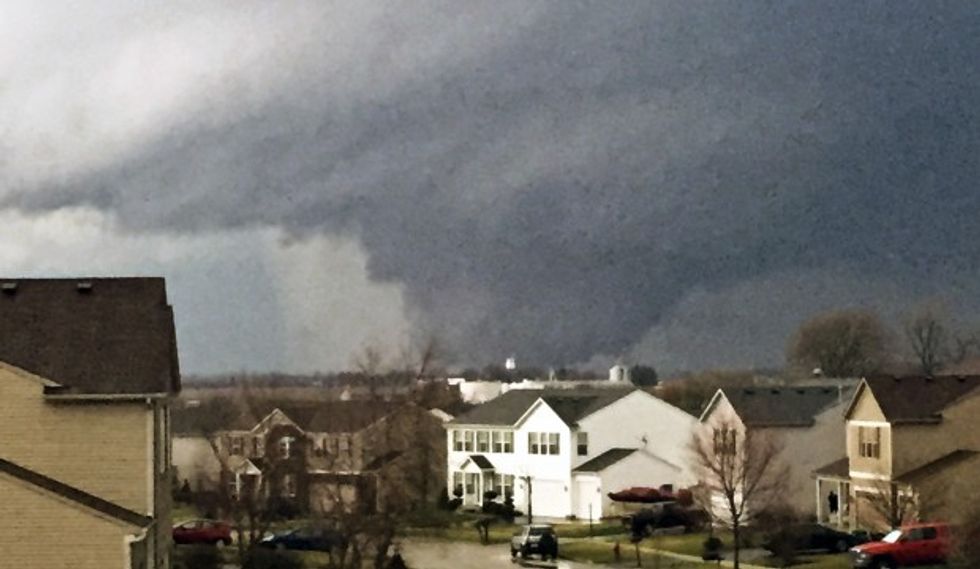 In this photo provided by Emily Mains, a tornado is viewed near Pearl Street from a home in the Kennedy's subdivision in Kirkland, Ill., on Thursday, April 9, 2015. One person was killed in the tiny community of Fairdale, James Joseph with the Illinois Department of Emergency Management said. (AP/Emily Mains)
Kirkland Community Fire District Chief Chad Connell said he watched the tornado move across the area from his porch. Asked to describe it, he was at a loss of words, saying only "it was big" as he shook his head.
"I've never seen anything like it in my life," he continued.
Videos from the natural disaster are terrifying.
Here's one sent to WIFR-TV from a viewer in Rochelle, Illinois, which is about 20 miles from Fairdale:
Here's another from Rochelle that includes the warning sirens:
Though grainy, this video shows just how wide the tornado was:
Here's one from Ashton, Illinois, which is about 32 miles driving from Fairdale:
"Holy crap. That's going through subdivisions":
Head on over to WIFR-TV's Facebook page to see more pictures and videos of the tornado and its aftermath.
—
The Associated Press contributed to this report.