An military activist is coming to the defense of a civilian Druid leader who reportedly received an email earlier this month telling him that he could no longer lead faith gatherings at the Recruit Training Command in Great Lakes, Illinois, calling the Navy's treatment of religious minorities both "repugnant and illicit."
John Chantry, 72, claims that he received notification on April 3, that the religious gatherings he had hosted for between 75 and 250 recruits over the past three years would no longer be allowed to take place under his leadership, the Navy Times reported.
Chantry, a Druid, and leaders from six other minority faiths — including Unitarian Universalists, Buddhists and Christian Scientists — are reportedly being asked to stop services, as they are civilian volunteers who are not officially registered with the military to be chaplains or to serve in a leadership capacity, according to the outlet.
The Druid leader said that he's worried that the amended rules that seemingly take aim at volunteers from outside of the military will harm followers of his faith who, before heading to Recruit Training Command, didn't have others to speak with about their beliefs.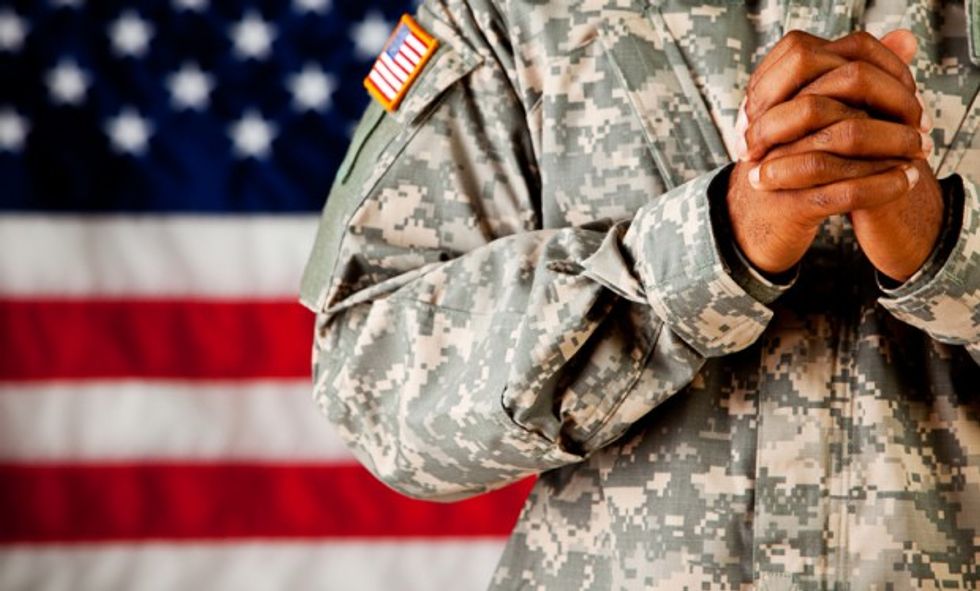 Photo credit: Shutterstock
"We have had people in our earth-centered worship services — whether Druid or Wiccan or heathen — who say that before they came here to RTC, they were solitary in their practice, that they couldn't find anyone who understood them," he told the Navy Times.
If you're not familiar, Druidry is a religion of the ancient Celts. A Druid is defined as "a member of a pre-Christian religious order among the ancient Celts of Gaul, Britain, and Ireland."
"Since Druidry is a spiritual path — a religion to some, a way of life to others — Druids share a belief in the fundamentally spiritual nature of life," Druidry.org explains. "Some will favour a particular way of understanding the source of this spiritual nature, and may feel themselves to be animists, pantheists, polytheists, monotheists or duotheists. Others will avoid choosing any one conception of Deity, believing that by its very nature this is unknowable by the mind."
Druids constitute a minority religion and, as a result, do not have leaders at the Recruit Training Command who can currently operate in accordance with military stipulations.
If a uniformed chaplain is not available, Navy regulations call for a registered military member, a contracted chaplain or, at last resort, a civilian volunteer; the recent changes at the Recruit Training Command were apparently taken to more closely comply with this mandate.
But Chantry has Mikey Weinstein of the Military Religious Freedom Foundation on his side — the leader of a group that regularly pinpoints perceived violations of the First Amendment in the armed forces, with Weinstein penning a letter to commanding officer Capt. Doug Pfeifle.
In his letter, Weinstein told Pfeifle that he has never "seen a commander authorize such a sweeping abuse of the religious freedoms of those under their leadership," saying that it is perfectly acceptable under Navy regulations to allow volunteers to run religious activities for minority faiths on the premises.
"We demand to know why you are essentially raping our 250 Navy recruit clients' constitutionally guaranteed civil rights of free exercise to worship in the time, place and manner which is universally provided to accommodate the 'officially accepted chosen religious faith' of their Navy recruit colleagues," Weinstein wrote. "We demand that you remediate this repugnant and illicit behavior immediately."
But Lt. Matt Comer, a spokesperson for the Naval Service Training Command, said that the rule change doesn't mean that recruits of minority faiths won't be able to worship. Comer said that support, a place to worship and materials will continue be provided, the Navy Times reported.
"The recent change in RTC practice regarding civilian volunteers adheres to Navy policy and reflects the religious accommodation standards and practices of the Fleet," he said. "RTC is currently recruiting uniformed volunteers to support all religious services."
(H/T: Navy Times)
--
Front page image via Shutterstock.com